Long Lake, Maine, USA
Lake Locations:
USA - New England - Maine - Lakes & Mountains -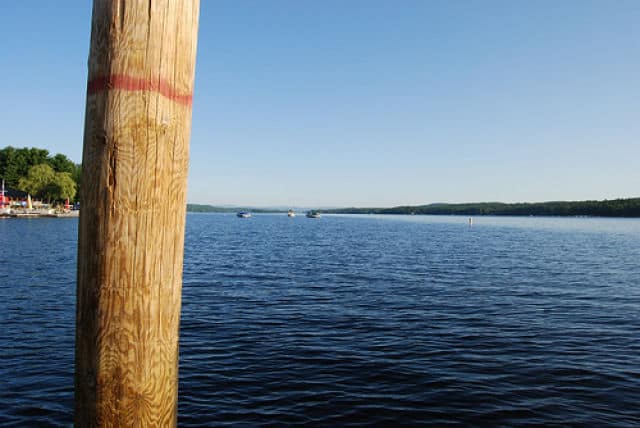 Long Lake is part of the Sebago Lake Region, which includes nearby Panther Pond, Little Sebago, Thompson Lake, Coffee Pond, Brandy Pond, Moose Pond, Pleasant Lake, and Crescent Lake. The lake stretches approximately 11 miles among Naples, Maine and Harrison, Maine. The lake is 1 mile wide at some points with a maximum depth of 59 feet and an average depth of 25 feet. Some sources describe the lake as covering 4,867 acres and others as 5,295 acres. Topographical variations over time and the improved accuracy of satellite mapping may account for these differences.
Located north of the Naples Causeway, Long Lake is conveniently near the many recreational activities centered around the Causeway. Popular activities include seaplane rides, parasailing, windsurfing, and lake tours on the Songa River Queen. Marinas in Naples and Harrison offer boat rentals with the public dock in Naples located within walking distance of shops and restaurants.
Brandy Pond connects Long Lake to the north with Sebago Lake to the south via the Songa River Lock, so boaters have plenty of scenery to explore. The Songa Lock opened in 1830, part of the 27-lock Cumberland-Oxford Canal system that ran from Casco Bay to Sebago Lake. Originally constructed to transport commercial and industrial goods, the canals then transported passenger steam boats after railroads were constructed in the late 1800s. Today the Songa Lock is used for recreational boating and tourism. It is one of the last remaining hand-operated locks in the country. The gates at the Songa Lock serve as the dam for controlling water levels at Long Lake and Brandy Pond. Water levels rose six to seven feet in 1830 after construction was completed. The gates are opened every November and remain opened until the ice melts in the spring, lowering water levels about four feet.
Long Lake lends itself to many recreational activities, one of which is its great fishing. Anglers come to the lake for its excellent smallmouth bass fishing, which is said to be some of the best in the region with its average 2-4 pound catches. Largemouth bass also makes its home in the lake, averaging about 3 pounds, though you shouldn't be surprised to hear stories of 8-pound victories. Also prevalent in Long Lake's waters is landlocked salmon, which finds its way to the lake via narrow channels from West Grand and Big Lake. If you can make it to the lake in September/October, you can fish for salmon while you gaze at the spectacular fall foliage all around you.
The Maine scenery is breathtaking year-round and visitors should make the best of the seasons. The warmer months present you with gorgeous vistas of clear blue water and green foliage. The autumn months paint a palette of reds, oranges, yellows and browns across the landscape. In the winter, snow covers the land and provides stunning photo opportunities. Depending on your preferences and the seasons, these panoramas can be enjoyed from hiking trails, scenic overlooks accessible by car or by water in your canoe or kayak.
Things to do at Long Lake ME
Vacation Rentals
Fishing
Boating
Canoeing
Kayaking
Parasailing
Hiking
Fish species found at Long Lake ME
Bass
Black Bass
Largemouth Bass
Salmon
Smallmouth Bass
---
Long Lake ME Photo Gallery
Long Lake ME Statistics & Helpful Links
Spread the word! Share our Long Lake ME article with your fellow Lake Lubbers!