Kezar Lake, Maine, USA
Lake Locations:
USA - New England - Maine - Lakes & Mountains -
Also known as:  Lake Kezar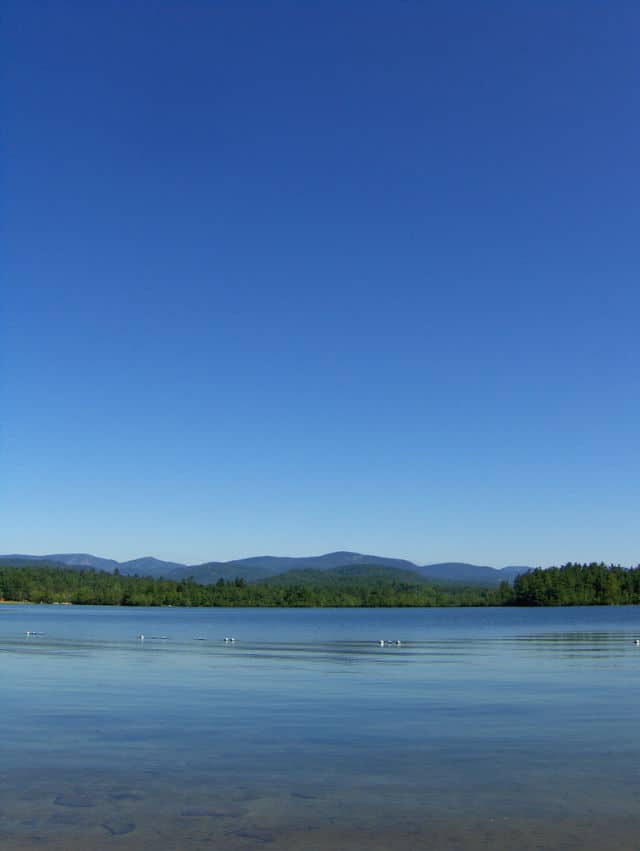 Kezar Lake is set in wondrous scenery with the eastern shores facing New Hampshire's White Mountains Presidential Range. Crystal clear Kezar Lake is also one of the cleanest lakes in the State of Maine. The lake slices through the village of Lovell in the Mountains and Lakes region of western Maine, about 150 miles from Boston and 46 miles from the Portland, Maine airport. Some 850 locals are lightly distributed in and around the villages of Lovell, Center Lovell, and North Lovell, but the summer population quadruples around the lake. The area's predominant industry is, as you might imagine, tourism. Nine miles long and spanning over 2500 acres, Kezar Lake's gorgeous natural aspects attract a multitude of outdoors people and families with an available wide variety of cabins, houses and B&B's for rent. In the 1930s, Rudy Vallee was a frequent visitor, along with his companions. Today, you might see Stephen King walking around Center Lovell. The Kezar Lake Association (KLA) was formed in 1969 by a handful of people at the north end of the lake which now represents the owners of some 200 of the approximately 220 properties around the lake.
Kezar Lake was formed during the glacial period and now has a watershed of over 50 square miles. Its main feeders are Great Brook and Boulder Brook along with a number of smaller streams. The watershed is very well protected and monitored by the Kezar Lake Watershed Association, a very active group in the area, that coordinates efforts to maintain the quality of the lake. Kezar Lake, running nine miles mostly north-south, is really two lakes connected by a narrow section which is spanned by the only bridge across the Lake.
While there are only two public boat access points on Kezar Lake, a marina at the narrows does rent a variety of boats for the many anglers taking part in the great fishing. Principal species are salmon, lake trout, smallmouth bass, white perch, chain pickerel and smelt. The quality of bass fishing is emphasized by the nine state-sanctioned bass tournaments held throughout the year. Ice fishing is a favorite of both locals and visitors, and there are guide services for those anglers who want to take the largest specimens. Besides fishing, swimming, pleasure boating, canoeing, and kayaking are summer favorites. Imagine leaning back in a canoe, gazing at a beautiful Mount Washington in the distance with a light breeze wafting across the water. The outdoors doesn't get much better than this. Kezar Lake is a favorite nesting area for loons, and the evenings are frequently punctuated by their mournful, familiar sounds.
For the more adventurous, there are numerous geocaches in the nearby area, a pleasant diversion from lake activities. Lovell presents some shopping possibilities, but Conway, New Hampshire and North Conway are replete with opportunities.
Yes, Kezar Lake is THE place for a restful summer outdoor experience.
Things to do at Kezar Lake
Vacation Rentals
Fishing
Fishing Tournaments
Ice Fishing
Boating
Swimming
Canoeing
Kayaking
Cabin Rentals
Shopping
Fish species found at Kezar Lake
Bass
Black Bass
Chain Pickerel
Lake Trout
Perch
Pickerel
Pike
Salmon
Smallmouth Bass
Smelt
Trout
White Perch
---
Kezar Lake Statistics & Helpful Links
Spread the word! Share our Kezar Lake article with your fellow Lake Lubbers!