Highland Lake (Bridgton), Maine, USA
Also known as:  Crotched Pond
Welcome to the ultimate guide for history, statistics, local fun facts and the best things to do at Highland Lake (Bridgton).
If you're considering Highland Lake (Bridgton) vacation rentals, we've made it super easy to explore accommodations and nearby hotels using the interactive map below. Simply click on a listing to compare similar properties, best rates and availability for your dates. Or keep scrolling to read our Highland Lake (Bridgton) guide!
Highland Lake (Bridgton) visitor and community guide
Located in the Lakes and Mountains Region of Southwestern Maine, Highland Lake has long been a favored freshwater getaway. Once called Crotched Pond, the lake has spent several generations perfecting the art of making visitors happy. The Greater Bridgton Lakes area around Highland Lake acts as hub for the dozen villages and many, many lakes stretching from Sebago Lake to White Mountain National Park. Only 45 minutes from Portland, Highland Lake is ideally positioned to act as a weekend or summer hideaway. The heavily-wooded lakeshore hides a mix of summer cottages and year-round homes.
Early in the last century, canals were built connecting these rivers and lakes as a method to transport logs to the coast. This method of transport no doubt played a part in the early popularity of the lakes in the Bridgton area as vacation destination. Vacation rentals quickly sprang up around Highland Lake to accommodate the many families who wanted to spend a week or two each summer on an uncrowded sandy beach. The canal is long gone for the most part, but the cottages, cabins and resorts remain, updated and improved, yet in some ways as quaint and nostalgic as they were in past generations. You can still wake to the sound of loons in the morning mist, but now you can sit on the screened porch after dinner and connect your laptop wirelessly to the internet.
The 1300-acre lake is peaceful enough to host a variety of wildlife yet big enough to accommodate water sports such as water skiing, power boating, personal watercraft, sailing, canoeing, kayaking, pontooning and swimming. The nearly 17-mile lakeshore of Highland Lake contains many coves, inlets and islands to explore. There are even vacation rentals available on the lake's islands!
Fishing has always been a favorite sport on Highland Lake. The warm-water fishery teems with smallmouth bass, largemouth bass, white perch, yellow perch, chain pickerel, hornpout, eel, white sucker, minnows and pumpkinseed sunfish. Brown trout are heavily stocked. Local fishermen in town at the bait stores will be more than willing to lend advice on favored hot spots, baits and techniques. Winter doesn't stop the fishing action; warm-weather fishermen no sooner pull their boats from the water than ice fishermen are waiting anxiously for ice thick enough to engage in their favorite sport. Luckily, many of the lodging options are open year-round to accommodate hunting and other winter sports.
The Highland Lake area is nearly as popular in winter as it is in summer: in addition to ice fishing, the Greater Bridgton Lakes area boasts over 600 miles of groomed snowmobile trails, miles of trails for snowshoeing and cross-country skiing and a downhill ski area less than ten miles away. Every winter, Bridgton hosts the annual Mushers' Bowl Winter Carnival.
There is never a shortage of things to do and see in the area surrounding Highland Lake; special events in Bridgton include the Big Night Celebration, July 4th concert, fireworks, road race and parade, Rowing Regatta, Art in the Park Show, Woodworkers and Artisans Show, seasonal Farmers' Market, a Festival of Lights, and craft fairs throughout the year. Bridgton also has artists' studios and art galleries, two ice arenas, four free public beaches and boat launches, five children's playgrounds, golf and hiking and nature trails. One of Bridgton's three museums is the Rufus Porter Museum and Cultural Center, featuring some of the famous murals painted by the local artist who also founded Scientific American magazine. Every summer, the Maine Bluegrass Festival is held in nearby Naples. There are plenty of trails for mountain biking, riding ATVs or just exploring and watching for wildlife.
Those wishing for more exotic excursions can take a trip on a replica steam paddle wheeler leaving from nearby Long Lake and heading down the Sebago-Long Lake Waterway toward big Sebago Lake. A trip to Sebago Lake State Park offers a change of pace for an afternoon. The it's back to Highland Lake to plan tomorrow's adventures. Or, maybe to take in a movie at the Bridgton Drive-in Theater.
The terrain around the lakes area rises away from the coastal plain toward the mountains. Mount Washington, the East Coast's highest peak, is only 25 miles away over the New Hampshire state line. Everything at Highland Lake takes place with the backdrop of the White Mountains in the background. Driving and sightseeing tours are particularly popular in the autumn when the leaves begin their glorious color-changes. Visiting sightseers are always pleased to catch a glimpse of a moose wading along the many creeks and ponds. And, there are hiking trails galore in the White Mountain National Forest. Wise hikers in the area recommend sticking to marked trails and to always let someone know where you are going and when you expect to return: too many adventurers have been lost in this remote wilderness.
Spending a weekend, a week or a summer at Highland Lake restores the soul and refreshes the mind. Vacation rentals and other lodgings such as bed and breakfast establishments are numerous. Once you visit, you will be looking for real estate in the area to make your own. Treat the children or grandchildren to the kind of lake vacations your grandparents gifted you with: come to Highland Lake and enjoy a timeless, classic Maine lake vacation. You'll come away with memories to last a lifetime.
Custom Highland Lake (Bridgton) house decor
Read our full review of these personalized lake house signs.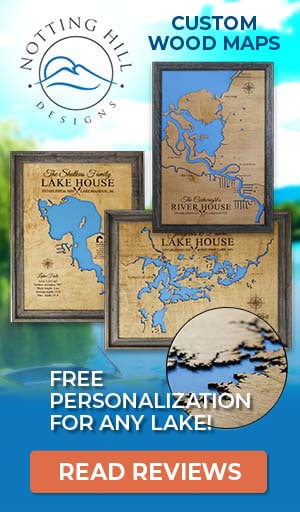 Things to do at Highland Lake (Bridgton)
Vacation Rentals
Fishing
Ice Fishing
Boating
Sailing
Swimming
Beach
Canoeing
Kayaking
Water Skiing
Golf
Cabin Rentals
Hiking
Biking
Downhill Skiing
Cross-Country Skiing
Snowmobiling
Hunting
Wildlife Viewing
State Park
National Park
National Forest
Museum
Playground
Drive-in Theater
Fish species found at Highland Lake (Bridgton)
Bass
Black Bass
Brown Trout
Chain Pickerel
Eel
Largemouth Bass
Perch
Pickerel
Pike
Pumpkinseed
Smallmouth Bass
Sucker
Sunfish
Trout
White Perch
Yellow Perch
---
Best hotels and vacation rentals at Highland Lake (Bridgton)
The Highland Lake (Bridgton) map shown above is a simple and stress-free way to search for trip accommodations. But if you want to take a deeper dive to find the ideal waterfront home, cabin, condo, hotel or resort, visit our favorite lodging partners by clicking the buttons below.
Note: These are affiliate links so we may earn a small commission if you book through them. While there is no extra cost to you, it helps provide resources to keep our site running (thank you)! You can read our full disclosure policy here.
---
Highland Lake (Bridgton) photo gallery
New photos coming soon!
Highland Lake (Bridgton) statistics & helpful links
We strive to keep the information on LakeLubbers as accurate as possible. However, if you've found something in this article that needs updating, we'd certainly love to hear from you! Please fill out our Content Correction form.
Advertise your Highland Lake (Bridgton) vacation rental
LakeLubbers will soon offer homeowners and property managers the opportunity to to showcase their vacation rentals to the thousands of lake lovers searching our site daily for accommodations. If you'd like additional details, please contact our advertising team here.
Looking for the Highland Lake (Bridgton) forum?
LakeLubbers previously offered visitors the ability to create accounts and participate in lake forums. When we overhauled the site's content management system in 2021 we had to disable those features. We're evaluating options and welcome your comments and feedback here.
We also encourage you to join our lake-lovin' community on Facebook and Instagram!
Spread the word! Share our Highland Lake (Bridgton) article with your fellow Lake Lubbers!