Lake Waiau, Hawaii, USA
Lake Locations:
USA - West - Hawaii - Big Island -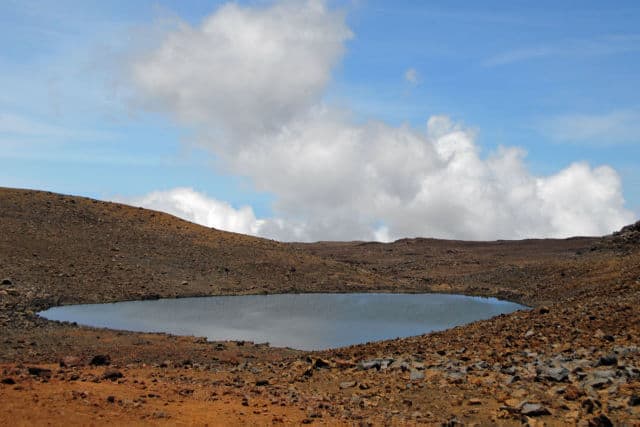 [Full Again: Lake Waiau nearly disappeared, in a shrinking process that extended from 2010 – 2015 with no clear explanation. As of September 2015, it is again full.]
Tiny Lake Waiau on Hawaii's Big Island is one of the highest elevated lakes on the planet. Located at 13,020 feet above sea level, near the summit of Mauna Kea volcano (13,796 feet), Lake Waiau (Hawaiian for "swirling water") lies in the crater of Pu'u Waiau cinder cone in the Mauna Kea Forest Reserve. Its size varies with its water level. It's one of just a very few lakes in the state of Hawaii. Despite its tropical location, Lake Waiau freezes during winter.
Aside from rainwater and snow melt, there is no apparent source of water inflow to Lake Waiau – no underwater spring, no river or creek. Many scientists believe that Lake Waiau's primary water source is permafrost, a thick layer of frozen soil that lies underneath the lake. The permafrost melts as needed to replace water that evaporates from Lake Waiau's surface. If accurate, then Lake Waiau is the only alpine lake in the Hawaiian islands.
Lake Waiau is a 30-45 minute hike off the road that leads to the peak of Mauna Kea. Parking is provided near the path that leads to the lake. Because of the high elevation and a thickly pebbled hiking surface, hiking from the parking area to Lake Waiau is relatively challenging. Pack plenty of water and a picnic lunch to enjoy the moon-like landscape surrounding the lake. Afterwards, drive to the volcano's summit, home to the 500-acre "Astronomy Precinct" established in 1967, where observatories operated by international organizations point their telescopes toward the heavens.
Measuring less than 2 acres and about 300 feet across at "full pond", Lake Waiau raises the question "What is a lake?" Lakelubbers defines a lake as a natural or man-made inland body of water that provides significant recreational or residential opportunities. There's no "accepted" minimum or maximum size of a lake; a "lake" can actually be any body of water that is called by that name. As we build our database, Lakelubbers is focusing mostly on lakes with surfaces that are 640 acres (1 square mile) or larger. But there are thousands of significant recreational lakes on Earth that measure less than 640 acres, including Lake Waiau, and many of them will be described on Lakelubbers.
Lake Waiau is included here because some consider it to be the highest elevated lake in the USA. One lakes enthusiast says that it's just #7 by that measure and says that the USA's highest elevated lake is "Lake Muriel", at 14,100 feet, in Washington state. See the article referenced in the links below to decide for yourself.
Mauna Kea has many similar chemical and physical characteristics as the moon's surface. In conjunction with Hawaii's Pacific International Space Center for Exploration Systems (PISCES), NASA has chosen a spot on Mauna Kea's lower slope that represents a lunar crater. Beginning in 2010, the agencies will simulate the moon's surface and other environments on the ancient slope, and Mauna Kea will become an important step toward future space explorations.
Things to do at Lake Waiau
---
Lake Waiau Statistics & Helpful Links
Spread the word! Share our Lake Waiau article with your fellow Lake Lubbers!