Lake Tapps, Washington, USA
Also known as:  Tapps Reservoir
Welcome to the ultimate guide for history, statistics, local fun facts and the best things to do at Lake Tapps.
If you're considering Lake Tapps vacation rentals, we've made it super easy to explore accommodations and nearby hotels using the interactive map below. Simply click on a listing to compare similar properties, best rates and availability for your dates. Or keep scrolling to read our Lake Tapps guide!
Lake Tapps visitor and community guide
Located in the populous Seattle and Puget Sound Region of Washington, Lake Tapps delivers water supply, recreation and sound fish ecology to residents in the surrounding area. Although a man-made reservoir, there was an original Lake Tapps, much smaller and one of four small lakes in the area. In 1911, a diversion dam was built along the White River near Buckley to divert water to a newly built impoundment nearby. That reservoir drowned the original Lake Tapps and its neighbor-lakes, eventually encompassing a 2800-acre basin surrounded by man-made dikes to hold the water in. The purpose was hydroelectric generation. Called the White River Project, Puget Sound Energy generated electrical power for the surrounding region at the powerhouse located at an outlet in nearby Sumner for nearly 100 years.
The lakeshore of new Lake Tapps was highly irregular, with many arms, islands and coves – and highly attractive to developers who purchased large tracts of land and built new developments at several locations along the shore and the islands. Less than ten miles from Pullayup and only five from Sumner, it wasn't long before Lake Tapps became a sought-after location for summer cottages and year-round homes. Nearly a dozen 'neighborhoods' grew along Lake Tapps' 42-mile shoreline. Most of them still maintain association charters and operate needed services via maintenance committees. These lake associations work together to maintain water quality, provide seasonal and holiday events and entertainment for neighborhood children. Some provide clubhouse space, playgrounds, swim beaches and boat launches. One offers a nine-hole golf course.
Most of the west shoreline is dotted with homes, while portions of the eastern shore are still partially open fields. The large expanses of water are enjoyed for water skiing, jet skis, pontooning, power boating and paddle sports. The Lake Tapps address is increasingly desirable for executives and local commuters to Federal Way, Auburn, Tacoma, Seattle and all of the cities along Puget Sound. Part of the southwest shore of Lake Tapps was annexed by the town of Bonney Lake. The lake is not entirely private, however; Pierce County maintains a county park at the far reaches of one of the northwestern arms. The 80-acre Lake Tapps North County Park provides waterfront access with swimming area and two boat launches. The City of Bonney Lake offers a public lakefront park with ball fields, boat launch, fishing dock, playgrounds, skateboard park, swimming areas, tennis courts, concessions, restrooms and water fountains. Both parks are day-use only at present and heavily used for boat launching.
Water fowl and other birds enjoy this wide expanse of nature in a mainly suburban landscape. Eagles often nest in the trees along the shore and the man-made nesting platforms provided by the county. Both parks offer walking and hiking trails where visitors can explore all that nature has to offer here against the backdrop of the lake and the surrounding mountains.
Lake Tapps has a well-deserved reputation among Washington fishermen for tiger musky and smallmouth bass. The many islands, coves and shoals provide excellent fish habitat for a number of species, including perch, kokanee, rock bass, mountain whitefish, black crappie, rainbow trout, carp and the aforementioned musky and bass. Lake Tapps has very little weed cover, so efforts are underway to improve fish habitat. The water diverted from the White River originates from the Emmons Glacier on Mount Rainier, giving some areas of the lake a typically milky color due to 'glacial flour' or fine rock dust. In the past, the lake has had a very short water residence time, with water constantly being removed for power generation and replaced by water from the White River. There have also been major water level variations due to the same use of water for hydroelectric generation. Both of these have had the effect of limiting the ability of aquatic plants to gain a foothold. All of that is changing, however.
In 2004, Puget Sound Energy closed down the hydroelectric plant as other power sources became available. The power company applied for State permission to sell the water outright as drinking water. This created a serious problem for the homeowners around Lake Tapps: if there were no power generation, there would be no need to divert the water from White River, and the lake would soon go dry. Local Native American tribes in the area wanted the water flow restored to the White River to improve spawning conditions for salmon. Lake Tapps residents entered into a nearly 10-year fight beginning in 1999 – as soon as they heard about the eventual discontinuation of power generation – to save their lake.
Eventually, an agreement that meets the needs of all parties was signed. A new party, the Cascade Water Alliance, purchased the rights to the lake from Puget Sound Energy and made agreements with the homeowner associations and the Muckleshoot and Pullayup tribes to maintain a more equitable water level, increase water flows into the White River, and sell water to eight surrounding communities for drinking purposes. In the process, Lake Tapps homeowners obtained an agreed-upon lake level to be maintained on a set schedule which would reduce the wild fluctuations of the past. The water level will be reduced only in the winter months – a drop of about six feet – and every effort will be made to have the lake refilled to its maximum level by mid-April. The U.S. Army Corps of Engineers has agreed to continue to maintain the diversion dam and associated flume, canal and pipeline that direct water to Lake Tapps.
Lake Tapps has no commercial lodgings in the way of motels or resorts on the lakefront at present, but does offer a number of private residences for weekly rentals. Nearby towns such as Bonney Lake, Sumner and Pullayup contain hotels and motels, while bed-and-breakfast establishments can be found throughout this scenic area. Lake Tapps is an ideal spot for the vacationer who wants to be close to city amenities while still enjoying a waterfront retreat. Real estate is available, much of it as existing housing with a wide variety of price tags. One visit will convince new arrivals that Lake Tapps is the kind of place they want to put down roots . . .roots with their toes in the water and their tops reaching into the mountain heights. Come to Lake Tapps and see for yourself.
Custom Lake Tapps house decor
Read our full review of these personalized lake house signs.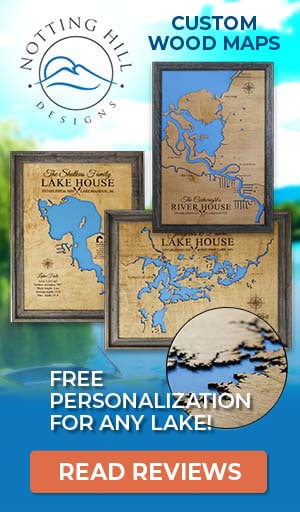 Things to do at Lake Tapps
Vacation Rentals
Fishing
Boating
Swimming
Beach
Jet Skiing
Water Skiing
Golf
Tennis
Hiking
Birding
Playground
Fish species found at Lake Tapps
Bass
Black Bass
Black Crappie
Carp
Crappie
Kokanee Salmon
Perch
Rainbow Trout
Salmon
Smallmouth Bass
Sunfish
Tiger Muskellunge
Trout
Whitefish
---
Best hotels and vacation rentals at Lake Tapps
The Lake Tapps map shown above is a simple and stress-free way to search for trip accommodations. But if you want to take a deeper dive to find the ideal waterfront home, cabin, condo, hotel or resort, visit our favorite lodging partners by clicking the buttons below.
Note: These are affiliate links so we may earn a small commission if you book through them. While there is no extra cost to you, it helps provide resources to keep our site running (thank you)! You can read our full disclosure policy here.
---
Lake Tapps photo gallery
New photos coming soon!
Lake Tapps statistics & helpful links
We strive to keep the information on LakeLubbers as accurate as possible. However, if you've found something in this article that needs updating, we'd certainly love to hear from you! Please fill out our Content Correction form.
Advertise your Lake Tapps vacation rental
LakeLubbers will soon offer homeowners and property managers the opportunity to to showcase their vacation rentals to the thousands of lake lovers searching our site daily for accommodations. If you'd like additional details, please contact our advertising team here.
Looking for the Lake Tapps forum?
LakeLubbers previously offered visitors the ability to create accounts and participate in lake forums. When we overhauled the site's content management system in 2021 we had to disable those features. We're evaluating options and welcome your comments and feedback here.
We also encourage you to join our lake-lovin' community on Facebook and Instagram!
Spread the word! Share our Lake Tapps article with your fellow Lake Lubbers!