Spotted Lake, British Columbia, Canada
Lake Locations:
Also known as:  Osoyoos Lake, Lake Klikuk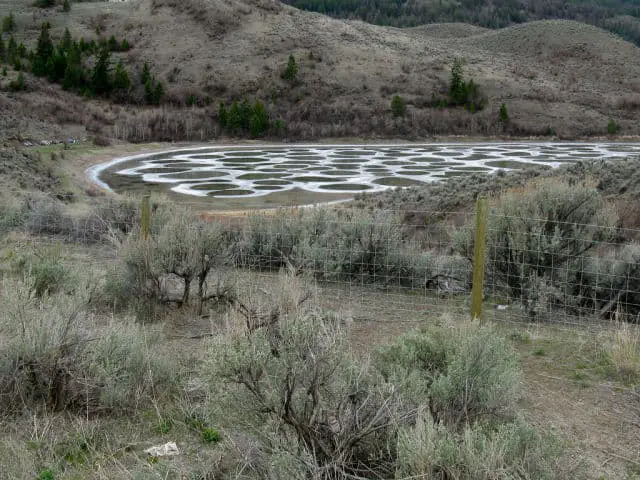 Travel five and a half miles west on Highway 3 from the town of Osoyoos, British Columbia, and you'll come to a most remarkable phenomenon. Spotted Lake is a 38-acre lake which dries up every summer and leaves behind hundreds of crystallized colorful rings.
Spotted Lake or Klikuk (meaning "the spotted lake") was discovered by the First Nation People who bathed in the water and applied the mud from the lake to heal wounds, sprains, skin diseases and body aches. The lake was considered sacred and magical, and different rings were said to cure different ills. Spotted Lake has a high concentration of minerals, including epsom salts, calcium, magnesium, sodium and many other trace minerals. As the summer progresses, the lake evaporates and its mud forms into crystallized white-rimmed circles filled with pale yellow, green or blue water depending on the mineral composition. The lake typically contains 365 circles in various shapes, sizes and depths.
Spotted Lake is on private land owned by the Okanagan Nation Alliance and not accessible for close up observation, but sightseers can get a great view from the shoulder of Highway 3. You may take pictures from the highway, but please respect the property and do not trespass. There are other smaller "spotted lakes" in the region. Continue on Highway 3 towards Keremeos and you should be able to see at least three other spotted lakes on the right hand side. The best time to observe these lakes is from June to mid-September when the lake's spots show the best.
If you'd like to spend some time observing Spotted Lake, the town of Osoyoos has a handful of bed and breakfasts, resorts and vacation rentals. Osoyoos is located in Canada's only desert – the northern most tip of the Sonora Desert and is surrounded by fruit trees and towering mountains. The area's warm winters and hot summers make Osoyoos an ideal vacation spot any time of the year. Lake Osoyoos is the focal point of the town. There are numerous public beaches and parks along the lake which has an average water temperature of 70 degrees F. There are several boat launches and marinas for those who wish to rent water craft. And for those who never leave home without their golf clubs, there are also several public golf courses in the area.
When you've finished taking pictures of Spotted Lake, head to Anarchist Mountain Lookout, east of Osoyoos on Highway 3. The road quickly climbs from 910 feet to 4045 feet, and overlooks the Okanagan Valley and some of Washington State. The view is one of the most spectacular in British Columbia. A lookout spot at the top is great place to enjoy a cool breeze while the valley below is at its hottest.
Things to do at Spotted Lake
Vacation Rentals
Boating
Swimming
Beach
Golf
---
Spotted Lake Photo Gallery
Spotted Lake Statistics & Helpful Links
Spread the word! Share our Spotted Lake article with your fellow Lake Lubbers!