Lake Osoyoos, Washington USA & British Columbia Canada
Lake Locations:
Canada - British Columbia - USA - West - Washington - North Central Washington -
Also known as:  Osoyoos Lake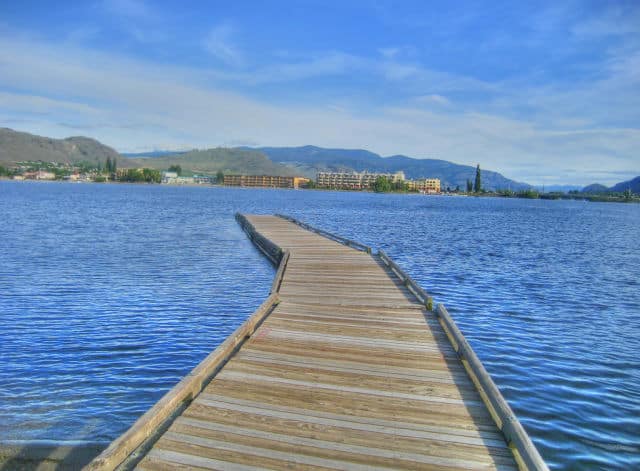 Lake Osoyoos spans more than 5,700 acres and straddles the border of British Columbia, Canada and Washington state in the United States. The Okanagan River flows into Lake Osoyoos in a semi-arid region of British Columbia known as Desert Wine Country. This region has very low annual rainfall and some of the highest average temperatures in Canada. In fact, the lake is the warmest in Canada and is located in Canada's only desert, the northern-most tip of the Sonora Desert.
On the United States side, Lake Osoyoos is located in northern Washington state. Zosel Dam, at the south end of the lake, regulates the water levels. In this hot environment, Lake Osoyoos offers visitors on both sides of the border a welcome oasis with its shady trees, lush lawns, and sandy shores.
Lake Osoyoos was once a primary encampment for Native Americans who came to the area for plentiful fish and hunting. The name Osoyoos (pronounced Oh-Soy-Use) originates from an Indian word "suius" meaning "narrowing of the waters" and refers to the cinched waistline of the lake. The "O" prefix was attached by early settlers who apparently wanted to adapt the name to be attuned with other O-names in the region: Okanagan, Oroville, Oliver, and Omak.
During the 1800's, the region around Lake Osoyoos was on the north-south fur trade route. It then became an important border entry point for cattle drives as well as explorers and gold miners. Lake Osoyoos has evolved into a very popular destination for vacationers and retirees alike. The dry, warm climate is perfect for camping, hiking and golf as well as water sports including fishing, boating, canoeing, waterskiing, and swimming. In winter, visitors enjoy ice skating, ice fishing, playing in the snow, and downhill skiing within an hour's drive of the lake.
Campers will find many campsites on both sides of the border. On the Washington state side, campers can visit Osoyoos Lake State Veteran's Memorial Park, which is a 47-acre camping park with plenty of amenities to make for a comfortable stay. All sites have a picnic table, campfire grill, turf-blanketed tent pads, and a gravel pad for parking. Many camp sites have shade trees, and easy water access. On the Canada side, the shore is dotted with various commercial RV parks and campgrounds with electricity, laundry facilities showers, playgrounds and more.
Visitors to Lake Osoyoos can also enjoy a special wildlife and bird watching experience, as the area is home to white tail and mule deer, moose, elk, bear, turtles, beavers, and otters, as well as eagles, humming birds, ospreys, yellow-headed blackbirds, loons and mallard ducks. For orchardists, the climate is perfect for cherries, apricots, pears, peaches, plums, apples and grapes.
For off-lake attractions, the nearby town of Oliver is considered the wine capital of Canada, with the largest concentration of vineyards and commercial wineries in British Columbia. Annual festivals, wine tastings, and tours make the area a wonderful stop for anyone who appreciates good wine. Another fascinating side trip on the Canadian side of Lake Osoyoos is Spotted Lake. Less than two miles from the northern tip of the lake, Spotted Lake is a photographer's paradise and just plain fun to look at. The lake covers about 38 acres and looks to be full of various colored spots. Due to the extremely high concentrations of minerals such as salts, titanium, calcium, and sulphates, pools of water begin to appear as the lake evaporates in late summer. The lake sits on private land, but is easy to see and photograph from the highway. The best time to check out the spots is between June and mid-September.
On the Washington side, the quaint town of Oroville sits on the shores of Lake Osoyoos. As the name suggests, the town is famous for its gold mines (the Spanish word for "gold" is "oro"). Most of the Oroville's "gold" can now be found in the form of locally grown apples, but visitors can still rent a shovel and a pan and spend an afternoon panning for gold with the whole family.
Lake Osoyoos holds a variety of fish species for the avid angler: Black Bullhead, Black Crappie, Carp, Kokanee Salmon, Lake Whitefish, Largemouth Bass, Largescale Sucker, Mountain Whitefish, Northern Pikeminnow (formerly N. Squawfish), Pumpkinseed, Rainbow Trout, Smallmouth Bass, Sockeye Salmon, Steelhead, and Yellow Perch. For visitors bringing their own boat, the lake features several marinas and boat launches. Or leave the boat home and rent one instead. Rental options include sport boats, paddle boats, seadoo personal watercraft, skidoos, kayaks, canoes and more.
The waters of Lake Osoyoos are highly regulated and subject to international water-sharing agreements. Those agreements are governed by the International Joint Commission whose purpose is to help prevent and resolve disputes about the use and quality of boundary waters of the US and Canada, and to advise the two countries on questions about water resources. The International Osoyoos Lake Board of Control, which was formed in 1946, supervises the operation of the Zosel Dam. Each spring the six-member Board holds a public meeting to decide whether to raise or lower the levels of Lake Osoyoos based on that year's drought conditions.
Vacation rentals including cottages, villas, cabins, homes and condos are available around the Lake Osoyoos shoreline. Plenty of waterfront property and homes are available for those looking to relocate to the area as well. The closest airport is Spokane International Airport 180 miles away. In British Columbia, the Vancouver International Airport is farther, at just over 250 miles away. But with such a wide range of activities in the area coupled with the beauty of the lake and surrounding area, the drive is well worth the effort.
Things to do at Lake Osoyoos
Vacation Rentals
Fishing
Ice Fishing
Boating
Swimming
Canoeing
Kayaking
Jet Skiing
Water Skiing
Golf
Camping
Campground
Picnicking
Cabin Rentals
Hiking
Ice Skating
Downhill Skiing
Hunting
Wildlife Viewing
Birding
Playground
Fish species found at Lake Osoyoos
Bass
Black Bass
Black Bullhead
Black Crappie
Carp
Crappie
Kokanee Salmon
Largemouth Bass
Perch
Pumpkinseed
Rainbow Trout
Salmon
Smallmouth Bass
Sockeye Salmon
Steelhead Trout
Sucker
Sunfish
Trout
Whitefish
Yellow Perch
---
Lake Osoyoos Photo Gallery
Lake Osoyoos Statistics & Helpful Links
Spread the word! Share our Lake Osoyoos article with your fellow Lake Lubbers!