Lake Ozette, Washington, USA
Also known as:  Ozette Lake
Welcome to the ultimate guide for history, statistics, local fun facts and the best things to do at Lake Ozette.
If you're considering Lake Ozette vacation rentals, we've made it super easy to explore accommodations and nearby hotels using the interactive map below. Simply click on a listing to compare similar properties, best rates and availability for your dates. Or keep scrolling to read our Lake Ozette guide!
Lake Ozette visitor and community guide
Nestled in dense forest just a few miles from the Pacific Coast, Lake Ozette sits snuggled into Washington's Olympic Peninsula tourism region, on the coastal strip of Olympic National Park. With few inhabitants and limited road access, Lake Ozette is a very remote destination for those looking to get away from the hustle and bustle of city life. In fact, though Lake Ozette is the third largest natural lake in Washington, it remains largely untouched. Taking advantage of the natural beauty surrounding it, Ozette Lake today serves as headquarters for several trails, great fishing and myriad summer water activities, including swimming, sailing and waterskiing.
Lake Ozette's very early history can be seen at the Makah Museum in Neah Bay. The Makah Tribe, which had a village near Lake Ozette, originally called the region "Osette." In a fascinating discovery in 1970, tidal erosion following a storm exposed artifacts that had been buried in a catastrophic mudslide that occurred around 1700. Excavation of the site continued for 11 years and produced over 55,000 artifacts, including cedar dug-out canoes; whaling, sealing, and fishing gear; basketry and other tools. Many of the artifacts, which were preserved by the unique conditions created by the mudslide, are on display at the museum.
Lake Ozette's more recent history is not as well preserved. Beginning in the late 1800's, Scandanavian settlers made claims around the lake. The area grew quickly, but was hard fought. Settlers cleared the land by hand and endured harsh lives on this remote tip of the country. At the time, as many as 130 homestead families had staked their claim at Lake Ozette. Today, only traces of their home sites remain and the land they cleared by hand has been reclaimed gradually by the earth itself.
The popular trails near Lake Ozette cross the lands once claimed by settlers and provide wonderful wildlife viewing and bird watching opportunties. Beginning on the shores of Lake Ozette, visitors follow a wooden walkway just over three miles through lush coastal forest to Cape Alava, famous for its wildlife sightings. The trail continues another three miles along the rocky beach past Native American petroglyphs at Wedding Rock, offering wonderful ocean views. At Sand Point the trail heads back to Lake Ozette for another three miles on cedar planks. Campsites are available along the trails. Public and private campgrounds can be found all around the lake as well, including Erickson Bay Campground, which can only be reached by boat. There are three islands on Lake Ozette: Tivoli, Garden Island and Baby Island.
Fishing on Lake Ozette is a must as the lake is home to 13 species of fish, including bass, perch, cutthroat trout, sockeye salmon, kokanee salmon and coho salmon. Boat ramps are located on the northern end of the lake and at Swan Bay. The sockeye population is not what it used to be on the lake, so the National Oceanic and Atmospheric Administration has stepped in with a recovery plan aimed at providing improved habitat so that the fish can survive and multiply.
Running nearly the length of the western shores of Lake Ozette, the Olympic National Park provides additional camping, hiking, mountain biking and wilderness viewing opportunities. Much of the interior of the park is accessible only by foot. Numerous trails are available year round leading visitors along the coastline and on to glaciers, hot springs, rugged mountains and a lush rain forest. The park is a well protected state resource, with 95 percent of Olympic National Park's 922,651 acres designated as Wilderness.
Most of the overnight accommodations available around Lake Ozette are at campsites, but some vacation rental properties and cabins are available as well. Available real estate is also limited, as much of the property around the lake is either owned and managed by Olympic National Park or by private owners who are involved in timber production.
Lake Ozette is truly a destination for those looking for peace and quiet. With fascinating trails to follow, remote islands to explore and an area teeming with wildlife, you and your family will have an adventure of a lifetime at Lake Ozette.
Custom Lake Ozette house decor
Read our full review of these personalized lake house signs.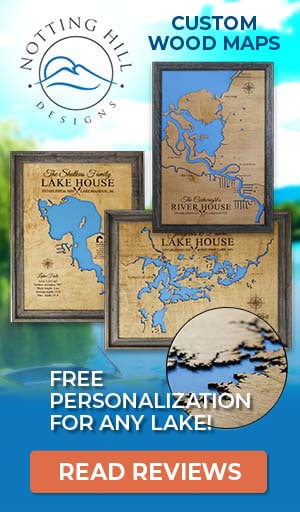 Things to do at Lake Ozette
Vacation Rentals
Fishing
Boating
Sailing
Swimming
Beach
Canoeing
Water Skiing
Camping
Campground
Cabin Rentals
Hiking
Biking
Wildlife Viewing
Birding
National Park
Museum
Fish species found at Lake Ozette
Bass
Coho Salmon
Cutthroat Trout
Kokanee Salmon
Perch
Salmon
Sockeye Salmon
Trout
---
Best hotels and vacation rentals at Lake Ozette
The Lake Ozette map shown above is a simple and stress-free way to search for trip accommodations. But if you want to take a deeper dive to find the ideal waterfront home, cabin, condo, hotel or resort, visit our favorite lodging partners by clicking the buttons below.
Note: These are affiliate links so we may earn a small commission if you book through them. While there is no extra cost to you, it helps provide resources to keep our site running (thank you)! You can read our full disclosure policy here.
---
Lake Ozette photo gallery
New photos coming soon!
Lake Ozette statistics & helpful links
We strive to keep the information on LakeLubbers as accurate as possible. However, if you've found something in this article that needs updating, we'd certainly love to hear from you! Please fill out our Content Correction form.
Advertise your Lake Ozette vacation rental
LakeLubbers will soon offer homeowners and property managers the opportunity to to showcase their vacation rentals to the thousands of lake lovers searching our site daily for accommodations. If you'd like additional details, please contact our advertising team here.
Looking for the Lake Ozette forum?
LakeLubbers previously offered visitors the ability to create accounts and participate in lake forums. When we overhauled the site's content management system in 2021 we had to disable those features. We're evaluating options and welcome your comments and feedback here.
We also encourage you to join our lake-lovin' community on Facebook and Instagram!
Spread the word! Share our Lake Ozette article with your fellow Lake Lubbers!