Lake Okeechobee, Florida, USA
Welcome to the ultimate guide for history, statistics, local fun facts and the best things to do at Lake Okeechobee.
If you're considering Lake Okeechobee vacation rentals, we've made it super easy to explore accommodations and nearby hotels using the interactive map below. Simply click on a listing to compare similar properties, best rates and availability for your dates. Or keep scrolling to read our Lake Okeechobee guide!
Lake Okeechobee visitor and community guide
With over 451,000 blue, watery acres, Lake Okeechobee is a lake with many titles. It is, by surface acreage, the largest lake in Florida. It also holds the distinction of being the fourth-largest lake wholly contained within the USA. (Lake Michigan, Alaska's Lake Iliamna, and Great Salt Lake are larger.)
Nicknamed Florida's Inland Sea, Lake O, and The Big Lake, Lake Okeechobee also surprises by having an average depth of just 9 feet. Lake Okeechobee's name is derived from the Hitchiti words for water (oki) and big (chubi), so the lake's original name was simply "Big Water."
Lake Okeechobee is part of the 154-mile Okeechobee Waterway that extends from the Gulf of Mexico to the Atlantic Ocean. The waterway follows the Caloosahatchee River from Fort Myers to Lake Okeechobee, then continues east to Stuart along the St. Lucie Canal. The U.S. Army Corps of Engineers operates five navigation locks and dams along the Waterway:
*St. Lucie Lock and Dam at Stuart
*Port Mayaca Lock and Dam near Canal Point
*Moore Haven Lock and Dam at Moore Haven
*Ortona Lock and Dam near LaBelle
*W.P. Franklin Lock and Dam near Fort Myers
The Okeechobee Waterway serves many uses, including navigation, year-round recreational facilities, drinking water, agricultural irrigation, and flood control. The Waterway is part of the Central and Southern Florida Flood Control Project.
Lake Okeechobee is a natural lake, believed to have formed about 6000 years ago from the receding ocean. Due to catastrophic storm surges from seasonal hurricanes in the 1920's, the U.S. Army Corps of Engineers constructed levees along the north and south shores of the lake from 1932 to 1938. A major hurricane in 1947 prompted additional flood control efforts. The resulting Herbert Hoover Dike was completed by the Corps in the late 1960's.
Fishing is very good at Lake Okeechobee, especially when you factor in the surrounding canals and rivers. Best known for its catfish, crappie, largemouth bass, and speckled perch, anglers flock to the lake with visions of monster catches dancing in their heads. Several major fishing tournaments are held throughout the year, but you can look forward to year-round angling enjoyment. Rent a boat and go out on your own, or hire a guide to take you around; it's your choice. But bring your gear and your angling dreams, and prepare to make them all come true.
Clewiston, Florida, located on the lake's southern shore is known as "America's Sweetest Town." Clewiston is the most popular destination for area visitors because of its ideal location near fishing locales and tourist attractions. The Sugarland Express tour takes you through a local farm and mill, letting you gnaw some sugarcane and learn some local history. Afterwards, take a three-hour boat cruise to learn about Lake Okeechobee's natural history. In the spring, Clewiston hosts the annual Sugar Festival and throws a grand party with a traditional southern feast. Of course, you'll be treated to a good dose of southern hospitality all year round.
From Clewiston, you can head on over to the incredible 110-mile Lake Okeechobee Scenic Trail, a hiking trail with the uncomfortable acronym LOST. As you climb upwards, you'll be treated to spectacular views of the lake below, rare glimpses of area wildlife, and a front row seat to beautiful and diverse Florida flora.
Water activities abound, and you'll love wiling away the hours speeding over the waves on your jet ski or powerboat, or simply cruising along enjoying the breeze and sun. Lake Okeechobee is large and filled with natural beauty, so pack your bags and plan your trip as soon as possible.
Custom Lake Okeechobee house decor
Read our full review of these personalized lake house signs.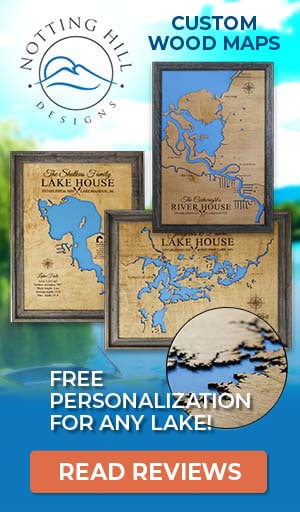 Things to do at Lake Okeechobee
Vacation Rentals
Fishing
Fishing Tournaments
Boating
Jet Skiing
Hiking
Wildlife Viewing
Fish species found at Lake Okeechobee
Bass
Black Bass
Catfish
Crappie
Largemouth Bass
Perch
---
Best hotels and vacation rentals at Lake Okeechobee
The Lake Okeechobee map shown above is a simple and stress-free way to search for trip accommodations. But if you want to take a deeper dive to find the ideal waterfront home, cabin, condo, hotel or resort, visit our favorite lodging partners by clicking the buttons below.
Note: These are affiliate links so we may earn a small commission if you book through them. While there is no extra cost to you, it helps provide resources to keep our site running (thank you)! You can read our full disclosure policy here.
---
Lake Okeechobee photo gallery
New photos coming soon!
Lake Okeechobee statistics & helpful links
We strive to keep the information on LakeLubbers as accurate as possible. However, if you've found something in this article that needs updating, we'd certainly love to hear from you! Please fill out our Content Correction form.
Advertise your Lake Okeechobee vacation rental
LakeLubbers will soon offer homeowners and property managers the opportunity to to showcase their vacation rentals to the thousands of lake lovers searching our site daily for accommodations. If you'd like additional details, please contact our advertising team here.
Looking for the Lake Okeechobee forum?
LakeLubbers previously offered visitors the ability to create accounts and participate in lake forums. When we overhauled the site's content management system in 2021 we had to disable those features. We're evaluating options and welcome your comments and feedback here.
We also encourage you to join our lake-lovin' community on Facebook and Instagram!
Spread the word! Share our Lake Okeechobee article with your fellow Lake Lubbers!