Lake June in Winter, Florida, USA
Also known as:  Lake June, Lake Stearns
Welcome to the ultimate guide for history, statistics, local fun facts and the best things to do at Lake June in Winter.
If you're considering Lake June in Winter vacation rentals, we've made it super easy to explore accommodations and nearby hotels using the interactive map below. Simply click on a listing to compare similar properties, best rates and availability for your dates. Or keep scrolling to read our Lake June in Winter guide!
Lake June in Winter visitor and community guide
Lake June in Winter, often referred to simply as Lake June, is a 3,504 acre freshwater lake in the Lake Placid area of south-central Florida. Formerly known as Lake Stearns, the multi-recreational lake is the second largest in Highlands County, Florida.
In the early 1920s the Lake Childs Company was established in the town of Lake Stearns, FL in order to develop land in the area. The company was aided by Dr. Melvil Dewey, who owned the Lake Placid Club of New York and was looking to establish a Lake Placid Club South in the Lake Stearns area. He requested that the name of the town be changed to Lake Placid, and that two lakes in the area, Lake Childs and Lake Stearns, be renamed Lake Placid and Lake June in Winter respectively. Dewey had a summer home on Lake June in New York, and the lake in Florida was to be its winter counterpart.
The water levels of Lake June in Winter are controlled by the Southwest Florida Water Management District. Lake June's overflow waters are released through Stearns Creek and into Jack Creek via a canal and water control structure built in the 1960s. The water is then received by Lake Francis.
A large portion of the land adjacent to Lake June is used for residential development or citrus production. Three miles of the shoreline are claimed by Lake June in Winter Scrub State Park, an 845 acre park that offers glimpses of rare species of wildlife. Years ago the Lake Placid area was partially covered with water, leaving a few islands exposed. Plants and animals that evolved on the islands were different from mainland wildlife, and this evolution has been able to continue with careful preservation of certain areas including the park. It is a solitary escape for true nature lovers, offering very little in the way of facilities or resources. There is no running water but a composting toilet is available, and there is a picnic area with a shelter and tables but no grills. Visitors to the park can enjoy the trails of white sand and rare vegetation, with a chance of spotting a scrub lizard, gopher tortoise, bobcat, or even a bald eagle flying overhead. Two other parks on Lake June, Bishop Park and Lake June Park, offer public swimming areas, picnic areas and boat ramps.
Visitors to Lake June can also enjoy the other sights and activities of the Lake Placid area. Lake June is just one of 27 freshwater lakes around Lake Placid. These lakes can range greatly in depth, offering diverse fish populations for anglers. The town of Lake Placid is known as the "Caladium Capital of the World" and even hosts a Caladium Festival every July. The town has so many murals gracing its buildings that it has earned another nickname, "Town of Murals." There is also a museum in Lake Placid's renovated railroad depot.
The clear water and white sandy bottom of Lake June in Winter invite a heavy stream of boaters, swimmers and anglers. The area's great weather and unique wildlife boost the appeal of Lake June, making it one of the most frequented lakes in the area.
Custom Lake June in Winter house decor
Read our full review of these personalized lake house signs.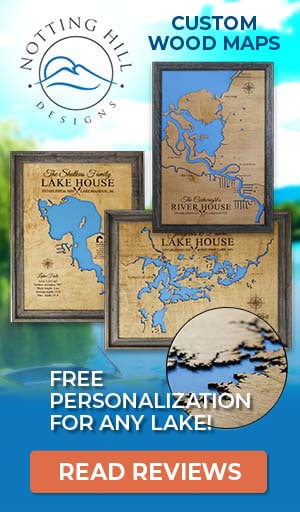 Things to do at Lake June in Winter
Vacation Rentals
Fishing
Boating
Swimming
Picnicking
Hiking
Wildlife Viewing
Birding
State Park
Museum
---
Best hotels and vacation rentals at Lake June in Winter
The Lake June in Winter map shown above is a simple and stress-free way to search for trip accommodations. But if you want to take a deeper dive to find the ideal waterfront home, cabin, condo, hotel or resort, visit our favorite lodging partners by clicking the buttons below.
Note: These are affiliate links so we may earn a small commission if you book through them. While there is no extra cost to you, it helps provide resources to keep our site running (thank you)! You can read our full disclosure policy here.
---
Lake June in Winter photo gallery
New photos coming soon!
Lake June in Winter statistics & helpful links
We strive to keep the information on LakeLubbers as accurate as possible. However, if you've found something in this article that needs updating, we'd certainly love to hear from you! Please fill out our Content Correction form.
Advertise your Lake June in Winter vacation rental
LakeLubbers will soon offer homeowners and property managers the opportunity to to showcase their vacation rentals to the thousands of lake lovers searching our site daily for accommodations. If you'd like additional details, please contact our advertising team here.
Looking for the Lake June in Winter forum?
LakeLubbers previously offered visitors the ability to create accounts and participate in lake forums. When we overhauled the site's content management system in 2021 we had to disable those features. We're evaluating options and welcome your comments and feedback here.
We also encourage you to join our lake-lovin' community on Facebook and Instagram!
Spread the word! Share our Lake June in Winter article with your fellow Lake Lubbers!