Lake Placid, Florida, USA
Lake Locations:
USA - South - Florida - South -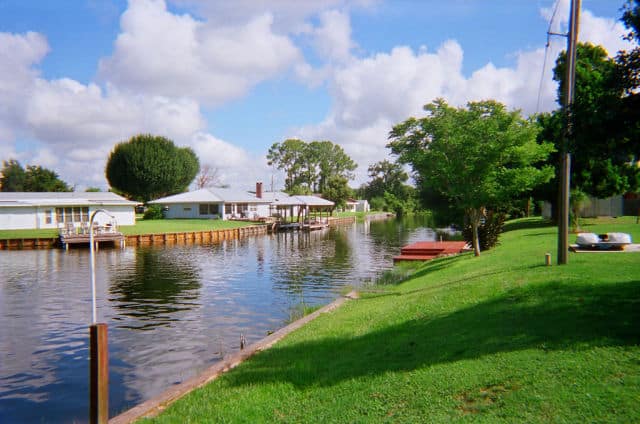 Lake Placid is a large sandy-bottom, freshwater lake located in south central Florida. The lake is ideally located between the Gulf and Atlantic Coasts and less than two hours from all the major Orlando-based attractions. The area is teeming with lakes and natural beauty. In fact, the greater Lake Placid area includes 27 pristine freshwater lakes. Along with its white sandy beaches, the size and depth of Lake Placid makes it a popular destination for vacationers. Visitors will enjoy fishing, boating, sailing, water-skiing, swimming and other water sports, along with hiking, camping and horseback riding at nearby parks. The area, also referred to as "The Ridge" is blessed with spectacular sunsets and is one of the most scenic areas in the Sunshine State.
Lake Placid has two unregulated inflows, which enter at the south end. Lake outflow is via Catfish Creek which is a two mile, weir-regulated canal that connects with Lake June-in-Winter. The weir is regulated by the Southwest Florida Water Management District. This agency is responsible for water quality, flood control, water supply and environmental restoration. Weir control is important in Florida, as the state is very flat with little elevation change, so there are few dams from higher elevation to lower elevation. Instead, water flow is controlled through weirs, gates, and canals. A weir, also known as a low head dam, is used to raise the level of a river, stream or lake. Gates and canals regulate the release of water.
Excellent management of the state's natural resources is one of the reasons Florida is known as the Fishing Capital of the World, and Lake Placid is no exception. The fishing is great at Lake Placid, which specializes in largemouth bass, bream and black crappie. Crappie fishing is especially good at night from November to April. In the spring, the fringe of vegetation that encircles the lakes attracts spawning fish. During the remainder of the year, fish move offshore into the deeper water where there are drop offs and submerged weed beds. Artificial fish attractors have been installed, which concentrate largemouth bass and are marked by buoys. Lake access can be found on the northeast and west shores of Lake Placid.
Of course tourism is huge in Florida, where visitors can usually count on great weather and lots to do. Lake Placid is located in the South tourism region of Florida, about halfway between Orlando and Lake Okeechobee. In addition to the major entertainment attractions of Orlando and Tampa nearby, visitors to Lake Placid can enjoy golf at any number of golf courses in the area, including a championship golf course minutes away. Racing enthusiast will also enjoy car racing at the oldest permanent road racing track in North America.
For camping enthusiasts, RV and overnight camping facilities are available around Lake Placid as well as at the Highlands Hammock State Park, just a half hour away. This park is one of the oldest parks in Florida and features the Florida Civilian Conservation Corps (CCC) Museum. Visitors can see an old-growth bald cypress swamp from an elevated boardwalk that meanders through ferns, bromeliads, and orchids. The beautiful old woods are a special treat at the park, with some trees believed to be over a thousand years old. One oak in particular, with a girth of over 36 feet, is possibly the largest oak in Florida. Nine trails provide hiking and biking opportunities, and an 11-mile equestrian trail is wonderful for horse lovers. The kids will enjoy seeing the wildlife including turtles, otters and wading birds.
The area around Lake Placid has a fun and colorful history to recount in addition to having had multiple name changes. Between the mid 1800's and the early 1900's the settlement changed names several times, including Lake Buck, Lake June, Lake Stearns, and Wicco. With the arrival of Dr. Melvil Dewey in 1927, the area began a new phase. Dr. Dewey, who was creator of the Dewey Decimal System for cataloging library books, found the area to be much like the area he was from, Lake Placid, New York. He had opened a resort in the Adirondack Mountains called the Lake Placid Club and decided to open one in his new hometown which he called Lake Placid Club South. At Dr. Dewey's urging, the town was renamed Lake Placid. Today Lake Placid is known for its friendly small town atmosphere as well as for its many murals. With over 1,500 acres of caladiums growing in the area, it is also known as the "Caladium Capital of the World", complete with an annual festival in July.
Visitors will have no problem finding a place to stay. With the many lakes in the area, vacation rentals with lake views are plentiful and several small resorts can be found around the Lake Placid area. Residential growth has seen an increase in recent years along the shores of the lake. Year-round and part-time residents enjoy Lake Placid with its mild temperatures, friendly attitude and quiet surroundings.
With plenty of outdoor activities and nearby family attractions, Lake Placid is a well-rounded destination for the whole family. The central location makes it an ideal base for you next vacation. It is far enough away from metropolitan areas to provide a tranquil vacation, but close enough to include day trips for shopping, fine dining, and entertainment.
Things to do at Lake Placid FL
Vacation Rentals
Fishing
Boating
Sailing
Swimming
Beach
Water Skiing
Golf
Camping
Hiking
Biking
Horseback Riding
Wildlife Viewing
Birding
State Park
Museum
Shopping
Fish species found at Lake Placid FL
Bass
Black Bass
Black Crappie
Catfish
Crappie
Largemouth Bass
---
Lake Placid FL Photo Gallery
Lake Placid FL Statistics & Helpful Links
Spread the word! Share our Lake Placid FL article with your fellow Lake Lubbers!