Lake Nuangola, Pennsylvania, USA
Lake Locations:
USA - Mid-Atlantic - Pennsylvania - Northeastern Mountains -
Also known as:  Nuangola Lake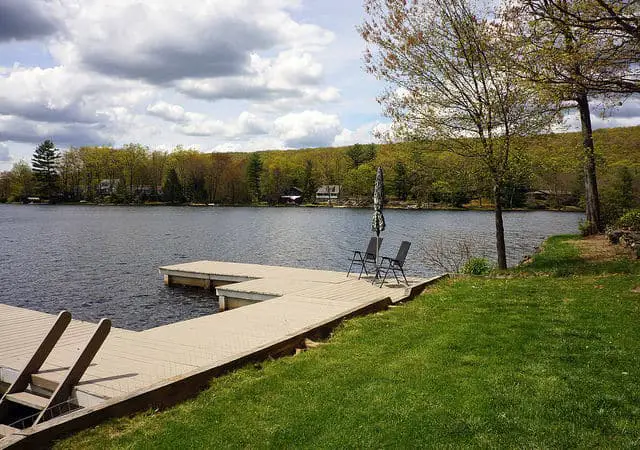 Lake Nuangola, also known as Nuangola Lake, is located in Luzerne County in the Northeastern Mountain Region of Pennsylvania. At just over 1165 feet in elevation, this heart-shaped lake is named for the borough (Nuangola) in which it resides. The name Nuangola derives from an Algonquin language spoken by Native Americans. One legend is that a Native American maiden named Nuangola drowned in the lake, while another story states that Nuangola is the Algonquin word for "Three-Cornered Lake".
Lake Nuangola is a natural glacier-carved and spring-fed lake with beautiful views of the hills of northeastern Pennsylvania. A cranberry bog is central to the borough of Nuangola, which has an area of 1.3 square miles with approximately 700 permanent residents.
Activites at Nuangola Lake include fishing, boating, paddling, bird watching, and wildlife viewing. Expect to catch largemouth bass, smallmouth bass, crappie, sauger, walleye, and catfish. To catch the most catfish, head to the lake during the summer months when the blue catfish, flathead catfish, and channel catfish spawn. Your best bet is to go where there are downed trees, holes in the bank, or sunken barrels and tires.
Lake Nuangola was home to the Grove Theater or the Nuangola Playhouse from 1934 to 1959, when it was widely known as a popular summer stock theater. Actor Kirk Douglas made his acting debut at the Grove in 1941, when he performed for 18 weeks before moving to New York City. The theater was sold in the late 1950's to the Diocese of Scranton and was converted into St. Ann's Church. In April 2001, the Grove was restored and is currently the center for community and arts.
Other towns near Nuangola Lake include Mountain Top, White Haven, Wilkes-Barre, and Dalton. Mountain Top, east of Lake Nuangola, offers mountain streams for fishing, public golf courses, and woods for hunting. While in Mountain Top, visit the F.M. Kirbys home, a 26-room mansion built in 1915 that is now used as an Episcopalian Church. White Haven, located off Interstate 80 is home to Lehigh Gorge State Park, a 4,548-acre park with hiking, bicycling, sightseeing, and photographic opportunities. One of the highlights of the park are the Class III whitewater rapids on this section of the Lehigh River.
For shopping, head to the Wilkes-Barre/Scranton area where you can spend an entire weekend browsing the small, mom-and-pop shops. Besides great shops and restaurants, Wilkes-Barre is close to Harvey's Lake, the largest natural body of water in eastern Pennsylvania. With nine miles of shoreline, the lake offers easy access to swimming, fishing, water skiing, motor boating, and scuba diving.
For a wildlife experience, head to Hawk Mountain Sanctuary near Drehersville. Located on the migratory path of over 14 species, this sanctuary is a temporary home to bald eagles, coopers hawks, ospreys, kestrels, and golden eagles. There is an eight-mile trail system that provides access to Appalachian forests and the renowned 2,700-mile Appalachian Trail.
Vacation Rentals and real estate are available on the shores of Lake Nuangola for those who wish to take life a little slower. What better way to start your day than to wake up to cool mountain breezes and a full day fishing Lake Nuangola.
Things to do at Lake Nuangola
Fishing
Boating
Swimming
Canoeing
Kayaking
Water Skiing
Scuba Diving
Golf
Hiking
Biking
Hunting
Wildlife Viewing
Birding
State Park
Shopping
Fish species found at Lake Nuangola
Bass
Black Bass
Blue Catfish
Catfish
Channel Catfish
Crappie
Flathead Catfish
Largemouth Bass
Perch
Sauger
Smallmouth Bass
Walleye
---
Lake Nuangola Photo Gallery
Lake Nuangola Statistics & Helpful Links
Spread the word! Share our Lake Nuangola article with your fellow Lake Lubbers!