Lake Harmony, Pennsylvania, USA
Lake Locations:
USA - Mid-Atlantic - Pennsylvania - Northeastern Mountains -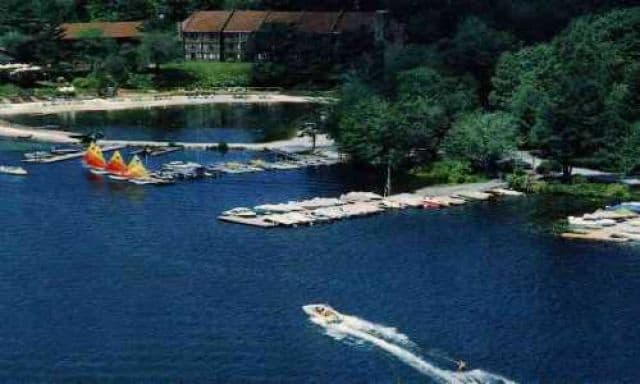 People have been fleeing the city for the solitude of Lake Harmony for over a hundred years. With its clear mountain water, natural beauty and wide range of amenities, Lake Harmony still draws people today. The lake is located in Carbon County in the Pocono Mountains region of northeastern Pennsylvania. Lake Harmony is within two hours from both Manhattan and Philadelphia, making a fantastic destination for a weekend or a second home.
Originally known as Big Pond, Lake Harmony is a natural glacial lake with a dam. The two and a half mile long lake is privately owned by Lake Harmony Estates. Unlike its sister lake, Big Boulder Lake, power boats are allowed on Lake Harmony with plenty of boating, water skiing, and jet skiing.
Lake Harmony Estates has a boat dock and marina. There are tennis courts, beaches, and designated swimming areas. Although access to Lake Harmony is only through the Estates, there are plenty of short-term vacation rentals. Accommodations in the area range from condos to townhomes and single family houses. Lake Harmony Estates also hosts holiday socials and has a very active homeowner's association working to build a strong community.
Summers temperatures rarely top 90 degrees, so Lake Harmony has a long history as a resort community. In 1941 the Lehigh Coal and Navigation Company built the Split Rock Lodge as a hunting and fishing club. The lodge is still in operation today. The fishing in Lake Harmony is very good, and there are healthy populations of bass, rock bass, sunfish, bluegill, trout and perch.
In the late 1940's the first commercial ski slope in Pennsylvania opened at Lake Harmony. The average snowfall in the area is 60 inches, and although the mountains aren't as high as the Rockies, the downhill skiing is still very good. Ice skating, sledding, and snowmobiling are nearby.
Just a short drive from Lake Harmony, Hickory Run State Park is 15,990 acres in the western foothills of the Pocono Mountains. The area that became the park was originally called "shades of death" by early settlers. It had dark forests and lots of swampy and unfarmable land. Loggers eventually cleared the forest, and in 1935 the National Park Service bought the land. They established a National Recreation Demonstration Area and a Civilian Conservation Corps Camp in 1939. It became Hickory Run State Park in 1945. There are over 40 miles of hiking trails with abundant wildlife. The park is largely glacial moraine, and the boulder field is a good example of the forces that shaped the area. Literally a field of boulders, it is National Natural Landmark.
In addition to the area's natural attractions, restaurants, shopping, golf courses, and NASCAR's Pocono Raceway are nearby. Lake Harmony is also the name of the village between Lake Harmony and Big Boulder Lake.
Lake Harmony is a four-season destination for the entire family.
Things to do at Lake Harmony
Vacation Rentals
Fishing
Boating
Swimming
Beach
Jet Skiing
Water Skiing
Golf
Tennis
Camping
Hiking
Ice Skating
Downhill Skiing
Snowmobiling
Hunting
Wildlife Viewing
State Park
National Park
NASCAR
Shopping
Fish species found at Lake Harmony
Bass
Bluegill
Perch
Sunfish
Trout
---
Lake Harmony Photo Gallery
Lake Harmony Statistics & Helpful Links
Spread the word! Share our Lake Harmony article with your fellow Lake Lubbers!