Lake Naomi, Pennsylvania, USA
Lake Locations:
USA - Mid-Atlantic - Pennsylvania - Northeastern Mountains -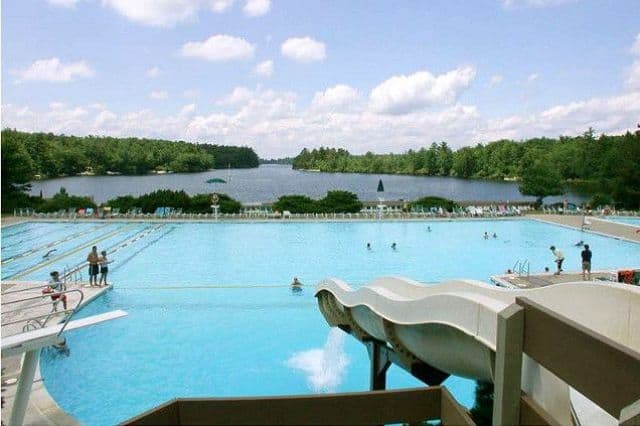 Lake Naomi, located in the Pocono Mountains of northeastern Pennsylvania, offers residents and visitors alike four seasons of recreation. During every summer weekend, sailboats glide across the clean mountain water. In winter snow frosts the mountains, and skiers take off for the nearby slopes. Lake Naomi was built in the tradition of the great Poconos resorts.
Lake Naomi is a private lake, and at 277 acres it is one of the largest private lakes in the Poconos. In 1895 the Pocono Pines Corporation built a dam on the Upper Tunkhannock Creek, creating a recreational lake that would become Lake Naomi. The lake and its facilities were donated by the original community developer, Logan B. Steele, to the Lake Naomi Club in 1986. The club manages the resources for two lakeside communities, Lake Naomi and Timber Trails. The 2,500-acre resort communities are surrounded by 25,527 acres of state forest and game lands. The state lands provide a natural buffer, ensuring that development around Lake Naomi cannot expand. In addition, a 100-foot green buffer around the lake adds to the secluded atmosphere of Lake Naomi.
Motor boats are not allowed on Lake Naomi, further enhancing its peaceful nature. There is, however, a significant sailing program with regattas held every Saturday and Sunday during the season. The sailing association also offers lessons. Three smaller lakes and several marinas are also part of the Lake Naomi resort. Four small islands in the lake (Comfort, Pancake, Snake, and Penny) are great places to explore by canoe or kayak.
Lake Naomi also includes a trout stream and pond, and the Upper Tunkhannock Creek has excellent trout fishing. The bass fishing in the lakes is very good, and there are also healthy populations of walleye. There are fly fishing programs all season long and several bass tournaments. The Youth Fishing Derby is a popular Lake Naomi event.
Swimming beaches dot the shoreline. Other Lake Naomi amenities include outdoor swimming pools, a community center with indoor pool, and a clubhouse with restaurant overlooking the lake, fitness center, and game room. The Lake Naomi Club hosts dances and socials throughout the year. There is a tennis complex with platform tennis courts and sports fields on the grounds, including sand volleyball and basketball. A nine-hole golf course is on-site with several other courses nearby. Stables and horseback riding are also nearby.
Lake Naomi has miles of trails for hiking, biking, and cross country skiing. Ice skating is popular during the winter, and several ski slopes are within minutes of the community. Both Philadelphia and Manhattan are less than two hours away, making Lake Naomi very accessible as a weekend destination.
Lake Naomi is a resort for all seasons with unsurpassed recreation opportunities. It is the perfect family destination for a vacation or second home. Children who grew up vacationing at Lake Naomi are bringing there own families back today.
Things to do at Lake Naomi
Vacation Rentals
Fishing
Fishing Tournaments
Boating
Sailing
Swimming
Swimming Pool
Beach
Canoeing
Kayaking
Golf
Tennis
Hiking
Ice Skating
Biking
Cross-Country Skiing
Horseback Riding
State Forest
Fish species found at Lake Naomi
---
Lake Naomi Statistics & Helpful Links
Spread the word! Share our Lake Naomi article with your fellow Lake Lubbers!