Lake Nasser, Egypt
Also known as:  Aswah High Dam Reservoir
Welcome to the ultimate guide for history, statistics, local fun facts and the best things to do at Lake Nasser.
If you're considering Lake Nasser vacation rentals, we've made it super easy to explore accommodations and nearby hotels using the interactive map below. Simply click on a listing to compare similar properties, best rates and availability for your dates. Or keep scrolling to read our Lake Nasser guide!
Lake Nasser visitor and community guide
Lake Nasser, in Egypt's Upper Region, is a modern technological marvel with ancient roots. In Egypt's extremely arid climate, the Nile and its annual floods have provided fertile sediments since before the time of recorded history. Attempts to dam the Nile have been on-going since at least the year 1000 when Fatimid Caliph, Al-Hakim bi-Amr Allah summoned Iraqi engineer Ibn al-Haytham to control the flooding of the Nile. When al-Haytham realized the impossibility of the task, he wisely feigned madness until the Caliph died. A dam was finally completed in 1902 by British engineers. The height of the dam was raised twice due to flooding and when the Nile again flooded in 1946, it was determined a new, larger dam was needed. Planning began in 1954 after the Egyptian Revolution and incited an international incident of major proportions; the new Egyptian leader, Nasser made a weapons agreement with the USSR over the United States. The dam was funded and completed with the help of Russian engineers and the USSR. The resulting 2,030 square mile lake extends into the Sudan where it is called Lake Nubia.
The flooding that was scheduled to occur after dam construction created major cultural and archaeological problems. It flooded much of lower Nubia and over 90,000 people were displaced. Archaeological sites such as the fort at Buhen were flooded by newly formed Lake Nasser. A massive international effort moved some famed ruins such as the Temple of Philae to higher ground. Loss of the yearly floods and fertile sediment deposited has lowered the fertility of the Nile Valley and reduced fisheries in the Mediterranean Ocean. Reduced river outflow allows salt water from the Mediterranean to encroach farther upstream, ruining existing fields. The majority of water flowing past the dam is now used for irrigation. The dam itself generates a large portion of Egypt's electricity and has improved living standards for many of the smaller villages.
Lake Nasser has developed into an excellent sport fishery. Anglers travel from around the world to try their luck with the giant Nile perch that reach nearly 400 pounds. The aggressive tiger fish and vundu catfish are also favorites. The huge size of these game fish require special tackle and equipment. Most fishermen engage one of the local guides and cruise services to facilitate their once-in-a-lifetime fishing trip. As with most Egyptian cruises and tours, it is far cheaper to arrange these before arriving in the country.
Any travel in the Lake Nasser area requires travel by boat a matter of necessity: generally, foreigners are not allowed to travel in private vehicles or taxis on the road from Aswan to Abu Simbel and are instead required to stick with vans, buses and microbuses with police escorts. Most visitors take the tourist trains or a plane. Ferries take passengers and vehicles between Aswan in Egypt and Wadi Halfa, where the railway goes to Khartoum, capital of Sudan. Since it is prohibited to cross the Sudan-Egypt border on land, and no paved roads connect the two countries, the ferries are the only alternative to air travel. Despite travel difficulties, Egypt has managed to develop the Lake Nasser area as a tourism center. Vacation rentals in the form of hotels and some private villas are available. The city of Aswan a few miles downstream is usually the lodgings center for visitors to Lake Nasser. Many times, tours and cruises arrange lodgings as part of the tour. As many visitors fly into Cairo, most tourists visit the Valley of The Kings to explore the Sphinx and the major pyramids before heading to Lake Nasser.
Lake Nasser has many activities of interest to the visitor from afar. Of interest to the bird watcher, more than 100 species of birds have been recorded: wild ducks, pelicans, herons, egrets, Egyptian geese, and various species of hawks, falcons, kites and eagles will be among the birds seen along with yellow-billed stork, African wagtail, African skimmer and Kittliz's plover. Many are amazed at the variety of wildlife that thrive in this arid land: In most areas there are crocodile and monitor lizards, along with desert fox, jackals, Dorcas gazelle, and various desert mammals. Tours can be found catering to all of these interests.
No trip to Lake Nasser would be complete with out a sail on the ancient traditional Nile sailboat, the felluca. These Nile sailboats have been in use for thousands of years and are common for both Nile river and Lake Nasser travel. Overnight cruises on a felluca are available but accommodations are somewhat primitive. Most visitors opt for day cruises instead. In some areas, fellucas are available for rent by the hour but the adventurous visitor should be aware that these boats sail differently than the usual sailboat. Sailing the Nile is facilitated by the prevailing winds that blow upstream and the current easing the trip downstream.
Side trips on Lake Nasser include both the relocated Temple of Philae and the stunning Temples of Abu Simbel, both which are only accessible by water. The Temple of Philae is considered one of the most picturesque in Egypt. The main temple at Abu Simbel has four gigantic statues of Ramses II at the entrance. The intricately decorated walls inside the temple depict the great victories of ancient Egypt's greatest king. The smaller temple is dedicated to Ramses II favorite wife, Nefertiti and features two statues of the queen and four statues of Ramses.The preservation of such magnificent works of ancient art assures visitors that the expense and effort of moving them was well worth the price.
No visitor can leave the Lake Nasser area without visiting the town of Aswan. The local souks, or markets which sell produce, hand-crafted goods and general household needs are a must-see, as is the Corniche along the Nile. After experiencing the excellent weather and the friendly Egyptian people, it is easy to see why the Agha Kahn came here to live out his life. Agatha Christie penned her novel, "Death on The Nile" at the Old Cataract Hotel here. In fact, many visitors make Aswan their headquarters for their Lake Nasser visit as it is an old, old tourist area with many amenities for European visitors and plenty of historical charm.
A visit to Lake Nasser is a once-in-a-lifetime adventure. The beautiful lake is the perfect backdrop for the ancient temples and the varied exotic wildlife. Choose your destinations, cruises and vacation rentals today. Real estate may be available in some areas. You, like the Agha Kahn, may decide to spend the rest of your life here.
Custom Lake Nasser house decor
Read our full review of these personalized lake house signs.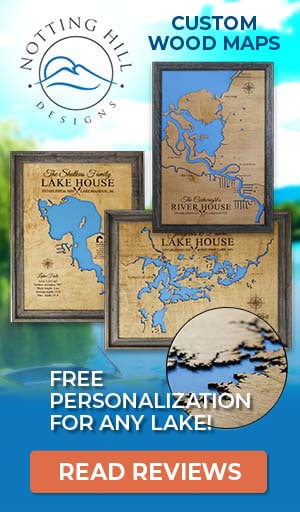 Things to do at Lake Nasser
Vacation Rentals
Fishing
Boating
Sailing
Wildlife Viewing
Birding
Ruins
Fish species found at Lake Nasser
---
Best hotels and vacation rentals at Lake Nasser
The Lake Nasser map shown above is a simple and stress-free way to search for trip accommodations. But if you want to take a deeper dive to find the ideal waterfront home, cabin, condo, hotel or resort, visit our favorite lodging partners by clicking the buttons below.
Note: These are affiliate links so we may earn a small commission if you book through them. While there is no extra cost to you, it helps provide resources to keep our site running (thank you)! You can read our full disclosure policy here.
---
Lake Nasser photo gallery
New photos coming soon!
Lake Nasser statistics & helpful links
We strive to keep the information on LakeLubbers as accurate as possible. However, if you've found something in this article that needs updating, we'd certainly love to hear from you! Please fill out our Content Correction form.
Advertise your Lake Nasser vacation rental
LakeLubbers will soon offer homeowners and property managers the opportunity to to showcase their vacation rentals to the thousands of lake lovers searching our site daily for accommodations. If you'd like additional details, please contact our advertising team here.
Looking for the Lake Nasser forum?
LakeLubbers previously offered visitors the ability to create accounts and participate in lake forums. When we overhauled the site's content management system in 2021 we had to disable those features. We're evaluating options and welcome your comments and feedback here.
We also encourage you to join our lake-lovin' community on Facebook and Instagram!
Spread the word! Share our Lake Nasser article with your fellow Lake Lubbers!