Sea of Galilee, Israel
Also known as:  Lake Galilee, Lake Tiberias, Lake Kinneret
Welcome to the ultimate guide for history, statistics, local fun facts and the best things to do at Sea of Galilee.
If you're considering Sea of Galilee vacation rentals, we've made it super easy to explore accommodations and nearby hotels using the interactive map below. Simply click on a listing to compare similar properties, best rates and availability for your dates. Or keep scrolling to read our Sea of Galilee guide!
Sea of Galilee visitor and community guide
The Sea of Galilee holds a special position in the history of the modern age. Also known as Lake Kinneret, this is the body of water where Jesus lived and performed most of His miracles. The Sea of Galilee has also allowed Israel to produce miracles of cropland, gardens, farms and an entire modern culture based upon irrigation from its waters. This large freshwater lake – the largest freshwater body in the country of Israel – is actually the centerpiece of an entire water system that has allowed this small country to thrive in the desert. A full 50% of the water used in Israel comes from the Sea of Galilee. That may be changing, however, as years of drought and water overuse have endangered the ancient lake.
For many years, the Sea of Galilee has provided the main source of both water and recreation to Israeli citizens and visitors. Tourists to Israel seldom miss spending a day or two along its shores. From the ancient city of Tiberius to the smallest village, the lake offers swimming, boating, fishing and water sports. Tiberius (named after the Roman emperor Tiberius who ruled from 14-37 AD) is the largest city around Lake Kinneret; although established after Jesus' death, it is assumed to have been built upon the site of a former village referred to in biblical stories. Certainly, the mineral baths for which Tiberius is known have been in heavy use for thousands of years due to their perceived healing properties. Sprawled on its western shore, Tiberius' location produces a beautiful view of the entire Lake Kinneret and the Golan heights.
It is Tiberius where most Holy Land tours spend their time on the Sea of Galilee. Not only is the city historically important, its position on the huge lake allows it to offer such attractions as cruise boats from the local marina, well-maintained swimming beaches and opportunities for watersports such as water skiing, tubing, wind surfing and personal watercraft. It is at Tiberius more than other shoreline cities where you will find the sailing crowd. The city is well-supplied with hotels and resort lodgings, both upscale and modest. In Tiberius, visitors can windsurf in the morning and have a luxurious spa massage in the afternoon before heading out in the evening for either a round of nightclubs or a visit to museums holding art or artifacts of great historic significance.
There is something for everyone to see or experience at Tiberius. Visitors can cast a line into the Sea of Galilee and catch some of the same types of fish that the Christian disciples (and generations of Israelis) have angled for. Or, one can spend the day in the older parts of the city investigating shrines, historic churches and synagogues, admiring the architectural elements added by two thousand years of conquering rulers. Indeed, all of the cities and towns surrounding the Sea of Galilee have historic paths, shrines and religious artifacts. Many towns which are no longer on the Sea have lost their historical shoreline status due to dropping lake levels caused by an earthquake in 363. Everywhere one sees sights made famous in the religious lore of both Jews and Christians alike.
Another ancient city along the shore is Capurnaum, which is referred to in many religious texts as home to many biblical fishermen. Again, the city holds its historical buildings, sites and artifacts in great reverence. A third town along the coast is Ginosar, where a 2000-year-old fishing boat uncovered by the receding coastline can be seen in what is known as 'The Jesus Boat Museum'. There is no evidence that Jesus ever used this particular boat, but it is considered a very typical example of the boats used by fishermen during His lifetime. Hiking opportunities are common along the shoreline of Lake Kinneret, and more adventurous visitors will enjoy camping and paragliding in the Golan Heights area.
Israel is a very modern nation and a leader in technology. One of the reasons for the country's success has been the plentiful fresh water provided by the Sea of Galilee. Irrigation projects allowed the desert to bloom with orchards, farm fields, greenhouses and vegetable plots. Lake Kinneret provides water for drinking and industry. At one time, hydroelectric power from the power station at Degania Dam (built in 1932) utilized the flow from the Sea of Galilee into the Jordan River and south to the Dead Sea. As the Sea has regular, major water fluctuations, and the entire area experiences multiple disagreements over land and water with its neighbors, hydroelectric power from the Sea soon became unreliable. In 1964, Israel began operating a pipeline that diverts water from the Sea of Galilee, a major Jordan River water provider, to the National Water Carrier system. Also in 1964, Jordan constructed a channel that diverted water from the Yarmouk River, another main tributary of the Jordan River. Syria has also built reservoirs that catch the Yarmouk's waters. This has seriously reduced the water flow out of the Sea of Galilee toward the Dead Sea.
Due to over-utilization and natural drought cycles, water levels in the Sea of Galilee are currently very low. The Degania Dam sits high and very dry, the water not reaching its base much of the time. This is of major international concern; the reduced flow into the Jordan River and downstream is causing the Dead Sea to dry up. The lower the water levels get, the more evaporation takes place, further lowering the surface of the water in both bodies, although the situation at the Dead Sea is far worse. Although the Sea of Galilee has hosted a thriving commercial fishery for thousands of years, catch levels have reduced so much due to overfishing and reduced habitat that the Israeli Government is seriously considering prohibiting fishing for a period of years to try to rebuild the fishery.
The entire area around the Sea of Galilee is below sea level by some 685 feet. Low water levels have caused the lake's surface to reach as much as 705 feet below sea level in recent years. Salt water streams flow underneath the bottom of the lake, with only the pressure of the water above keeping them breaking through as springs and contaminating the fresh water above. There is serious scientific concern that if water levels become much lower, salt water will change the salinity of the lake, destroying its delicate ecological balance. Therefore, the entire Jordan River system is of serious worldwide concern and will no doubt contribute to further destabilization of the Middle-East balance of peace if the situation is not corrected. Israel and the State of Illinois have recently signed a 'Sister Lakes' agreement between Lake Kinneret and Lake Michigan, with the hope of future technology transfers and water quality help.
Visitors wanting to visit the Sea of Galilee will find that there are all types of lodgings available, from youth hostels to kibbutz rooms to modern resort hotels, complete with mineral baths and spas. Although there are plenty of tours scheduled to Israel on a regular basis, those wishing to visit on their own should have no problem finding a vacation rental or planning an itinerary. Some real estate is always available near the lake, although the most common offerings are apartments with a lake view. So come visit the Sea of Galilee at your earliest opportunity. It will be the trip of a lifetime!
Custom Sea of Galilee house decor
Read our full review of these personalized lake house signs.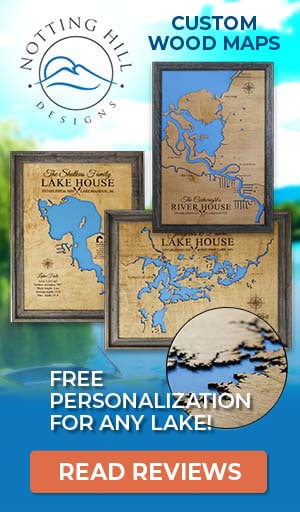 Things to do at Sea of Galilee
Vacation Rentals
Fishing
Boating
Sailing
Swimming
Beach
Water Skiing
Wind Surfing
Tubing
Camping
Hiking
Museum
---
Best hotels and vacation rentals at Sea of Galilee
The Sea of Galilee map shown above is a simple and stress-free way to search for trip accommodations. But if you want to take a deeper dive to find the ideal waterfront home, cabin, condo, hotel or resort, visit our favorite lodging partners by clicking the buttons below.
Note: These are affiliate links so we may earn a small commission if you book through them. While there is no extra cost to you, it helps provide resources to keep our site running (thank you)! You can read our full disclosure policy here.
---
Sea of Galilee photo gallery
New photos coming soon!
Sea of Galilee statistics & helpful links
We strive to keep the information on LakeLubbers as accurate as possible. However, if you've found something in this article that needs updating, we'd certainly love to hear from you! Please fill out our Content Correction form.
Advertise your Sea of Galilee vacation rental
LakeLubbers will soon offer homeowners and property managers the opportunity to to showcase their vacation rentals to the thousands of lake lovers searching our site daily for accommodations. If you'd like additional details, please contact our advertising team here.
Looking for the Sea of Galilee forum?
LakeLubbers previously offered visitors the ability to create accounts and participate in lake forums. When we overhauled the site's content management system in 2021 we had to disable those features. We're evaluating options and welcome your comments and feedback here.
We also encourage you to join our lake-lovin' community on Facebook and Instagram!
Spread the word! Share our Sea of Galilee article with your fellow Lake Lubbers!