Caspian Sea
Also known as:  Mazandaran Sea, Khazar Sea, Khvalyn Sea
Welcome to the ultimate guide to Caspian Sea — things to do, where to stay, fun facts, history, stats and more. Let's dive in!
Topics we cover in this article:
Looking for Caspian Sea cabins or other accommodations? Save time and use this interactive map to find, compare and book at the best rates. Or explore our comprehensive list of favorite travel partners.
All About Caspian Sea
With the largest volume of any saltwater "lake" on earth, the Caspian Sea holds well over 62 billion acre-feet of saltwater. Many classify the Caspian Sea not as a lake, but as an inland sea. (There is no widely accepted definition of "lake," but most exclude bodies of saltwater.)
Considered by many to be one of the world's few ancient lakes, the Caspian Sea sits atop some of the world's largest oil and natural gas reserves and holds approximately 90 percent of world's prized sturgeon reserves. Surrounded by ancient cultures, beautiful water and rugged coastline, the Caspian Sea offers unforgettable adventures and travel opportunities.
The history of the Caspian Sea begins 50-60 million years ago, when it was the Parathetis/Paratethys Gulf and part of the ancient Thetis Ocean. Through many geological epochs, the earth's plates moved and the gulf became surrounded by land. Many lakes preceded the Caspian Sea as glacial periods came and went, with today's Caspian Sea forming five-to-seven thousand years ago. Archeological findings in Iran, along the Caspian Sea's southern coast, have provided evidence of human habitation as early as 75,000 years ago.
Over the past centuries, the rich resources surrounding the Caspian Sea have been the source of competition and tension among nations worldwide. Today the 3,467-mile shoreline is shared by five bordering countries: Kazakhstan and Turkmenistan to the east, Azerbaijan to the west, Iran to the south and Russia to the northwest within its Northern Caucases and Povolzhsky Regions.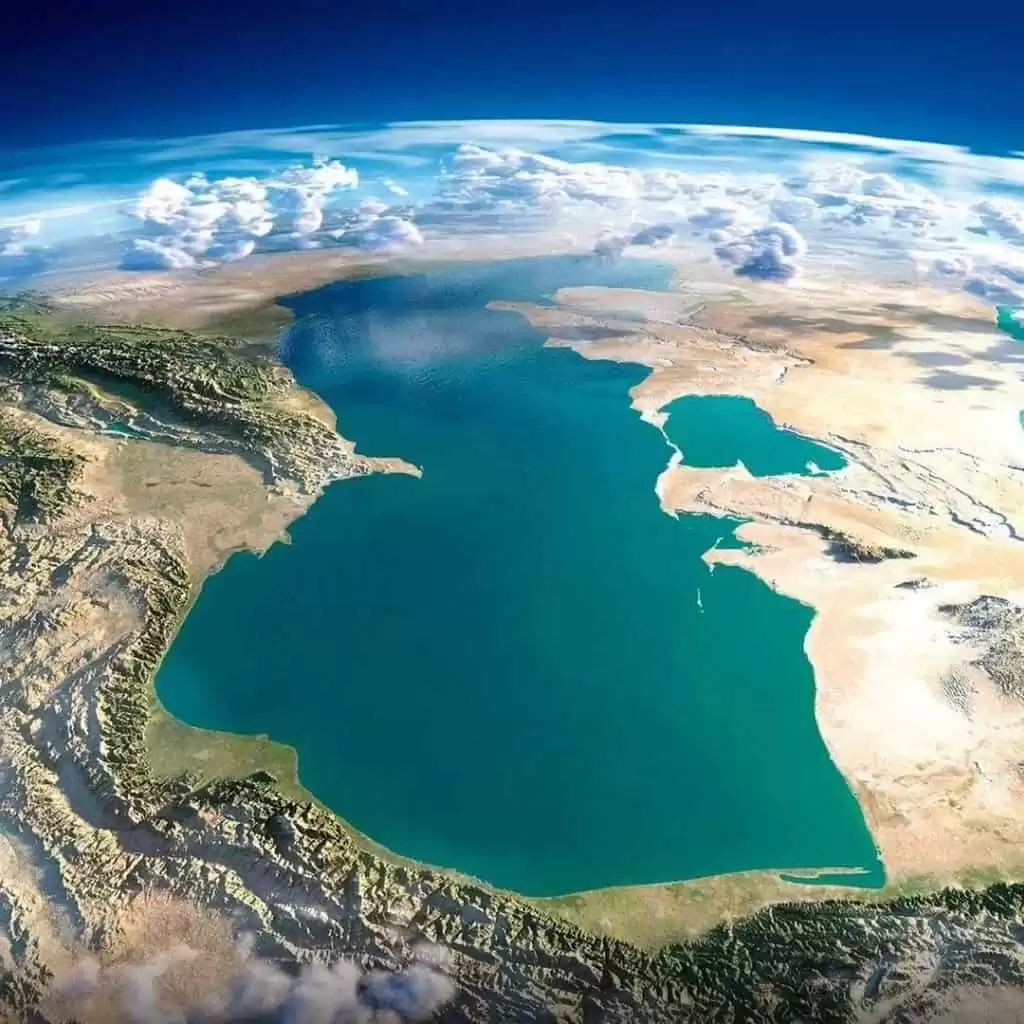 Caspian Sea
The shores of the Caspian Sea have excellent beach clubs, from the Absheron Peninsula resorts easily reached from Baku to the water sports center of Shuraabad.
PLAN YOUR TRIP
If you purchase, we may earn a commission at no additional cost to you.
Mainly for political reasons, and interpretation of laws of the seas, a debate continues as to whether the Caspian Sea is a lake or a sea. It is correct to identify the Caspian Sea as a lake, although its size and salinity are also characteristics of seas. The Caspian Sea is a terminal lake, an enclosed body of water with no outlet. Water levels are determined by inflow from more than 130 rivers, with 80 percent of the water coming from Russia's Volga River.
With a surface area covering well over 107 million acres, the Caspian Sea is divided into three regions of similar size. The Northern Caspian holds just under one-third of the lake's area and has an average depth of 20 feet. It is the shallowest region, making up less than one percent of the water volume. The Middle Caspian holds approximately 35 percent of the lake's volume and maintains an average depth of 574 feet. The Southern Caspian holds 64 percent of the lake's volume and the deepest part of the lake at 3,363 feet. A fourth distinguishing feature plays a vital part in balancing the salinity and water level of the Caspian Sea: Kara-Bogaz-Gol, a gulf separated from the Middle Caspian by a strait of land, lies twelve feet lower than the Caspian Sea. Evaporation rates in this very arid climate make it a "natural desalter" for the Caspian Sea.
In general, ocean salinity is three times that of the Caspian Sea; salinity also varies substantially within the Caspian Sea. Inflow from the Volga River lowers salinity to freshwater levels along North Caspian deltas. Lower salinity can also be found in the South Caspian near the Kura, Sefidrud and Atrek Rivers, with highest concentrations of salinity appearing in Kara-Bogaz-Gol.
Environmental and pollution problems have plagued the Caspian Sea for decades and continue to be a challenge today. The loss of fish species, pollution from industry, and consequences of damming rivers that feed the Caspian Sea are apparent throughout the lake. While individual nations increase their preservation efforts, competing interests between the region's geopolitical partners make regional agreements an ongoing challenge. In an effort to restore sturgeon populations, fishing for the prized species has been banned or greatly restricted on the Caspian Sea. Herring, Kutum (Caspian white fish), mullets, carp, bream, zander, roach and salmon are among the species that can be fished in the Caspian Sea today.
Travel warnings and restrictions exist through much of this region, yet the beauty of the Caspian Sea continues to attract visitors. Areas of concern lie in Iran and Russia, where border patrols monitor the coastline of the Mazandaran Sea. For those intrepid travelers who seek adventure, a number of nations are creating vacation retreats.
Avaza, Turkmenistan's tourist area, lies along the eastern coast of the Khvalyn Sea. Plans for resorts and vacation properties are being developed along with needed improvements in transportation and services. South of the bustling city of Aktau, in western Kazakhstan, visitors and local citizens enjoy summer retreats along the Khazar Sea's sandy beaches. Vacation rentals, real estate properties and resorts can be found along the coast. Within the city of Aktau, you can hike water-front trails, tour museums, enjoy theatre productions, stroll through local parks and browse city shops. Nabran, Azerbaijan has also become a popular vacation destination. The resort community lies along the western coast of the Caspian Sea, where beaches meet forested hills. Western amenities may be limited but hotels, restaurants and entertainment are available for guests seeking international adventures.
The Caspian Sea is a land of many contrasts. As you move nation-to-nation and mile-by-mile, you see the hills of the north turn into rugged southern mountains, scenery changes from deserts to forests, below freezing winter temperatures cause the Northern Caspian to freeze while the southern border remains temperate, and cultures clash and nations rival for resources. It is not a land easily traveled, but locating vacation rentals or real estate properties offer residents a lakeside retreat and foreign travelers a unique opportunity to see and explore interesting cultures, scenic lands and ancient waterways.
Things to Do at Caspian Sea
Vacation Rentals
Fishing
Swimming
Beach
Hiking
Museum
Fish Species Found at Caspian Sea
Carp
Roach
Salmon
Sturgeon
Zander
Find Places to Stay at Caspian Sea
If you're considering a Caspian Sea lake house rental or hotel, we've made it super easy to find the best rates and compare vacation accommodations at a glance. Save time using this interactive map below.
Recommended Sites to Book a Caspian Sea Vacation
If you want to take a deeper dive to find waterfront lake cabins, cottages, condos, hotels or resorts, check out our favorite Caspian Sea lodging partners.
Note: These are affiliate links so we may earn a small commission if you book through them. While there is no extra cost to you, it helps provide resources to keep our site running (thank you)! You can read our full disclosure policy here.
Caspian Sea Statistics & Helpful Links
We strive to keep the information on LakeLubbers as accurate as possible. However, if you've found something in this article that needs updating, we'd certainly love to hear from you! Please fill out our Content Correction form.
Shop Caspian Sea Gifts
Advertise Your Caspian Sea Business or Vacation Rental
LakeLubbers will soon offer businesses the opportunity to advertise and homeowners and property managers the ability to showcase their vacation rentals to the thousands of lake lovers searching our site daily. If you would like additional details, please contact our advertising team.
Looking for the Caspian Sea Forum?
LakeLubbers previously offered visitors the ability to create accounts and participate in lake forums. When we overhauled the site's content management system in 2021 we had to disable those features. We're evaluating options and welcome your comments and feedback here. We also encourage you to join our lake-lovin' community on Facebook, Instagram and Pinterest!
Caspian Sea Photo Gallery
New photos coming soon!
Spread the word! Share our Caspian Sea article with your fellow Lake Lubbers!