Lake Nipigon, Ontario, Canada
Lake Locations: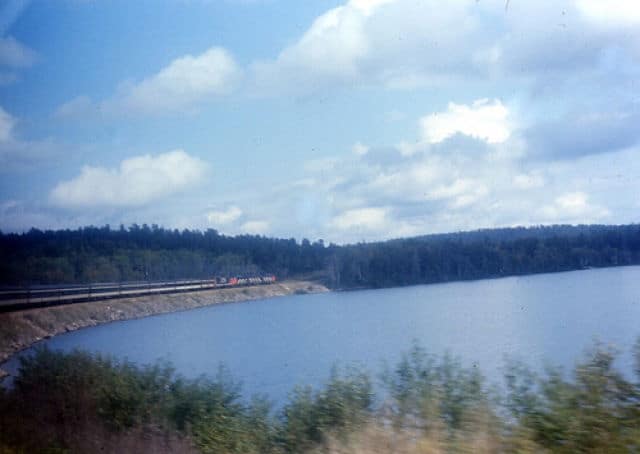 Located in Ontario Canada's Sunset Country, Lake Nipigon is a destination into a remote area of pristine wilderness and the largest lake entirely within the boundaries of Ontario. With towering cliffs, hundreds of islands to explore, and the unusual greenish-black sandy beaches, Lake Nipigon is outdoor enthusiast's paradise.
The word Nipigon means "deep clear water" as named by the First Nations people who live in the area and have called it their home since 8000BC. These people relied on the lake area for fishing, wild plants, and small and large game for food and clothing. Fur traders moved to the area in the mid 1600s and discovered the vast abundance of beaver, otter, fox, and muskrat and began to settle the area with numerous trading posts and forts. Because of the remoteness of Lake Nipigon, the beauty has been relatively unchanged since those early days.
Lake Nipigon Provincial Park is located on the eastern side of the lake and is considered a natural environment park which protects the landscapes and special features of the area while providing access to the public. As you gently float through the cool water, you will be awed by the large caribou roaming the area, the numerous bald eagles soaring over the towering cliffs, and the endangered white pelicans sitting on their nests.
Throughout the secluded areas are vacation rentals for visitors from resorts, isolated cabins, campgrounds, and outfitters' lodges that offer everything from hunting trips, fishing guides, or kayaking tours. The shores of Lake Nipigon offer opportunities for swimming, boating, canoeing, kayaking, hiking trails and vantage points for just sitting still, breathing fresh air, listening to nature and enjoying the landscape or stars and northern lights. Once you visit, you may not want to leave this heaven on earth, so perhaps you may decide to purchase a piece of this water front real estate for your own.
Noted for the world's largest brook trout caught at over 14 pounds, Lake Nipigon is an angler's paradise. With over 500 islands, numerous bays and coves, fish habitats are too numerous to count. Walleye, northern pike, lake trout, rainbow trout, Coho, Chinook, pink salmon, whitefish, and perch are all waiting to take your bait. The lake freezes in late December and the ice breaks up in late April to early May, so ice fishing is great here too.
All around Lake Nipigon, the wondrous land of Ontario's Sunset Country boasts an area of thousands of lakes, thick forests, wilderness landscapes, and abundant wildlife. Hunting for bear, moose, and whitetail deer is excellent and as well as the thousands of great fishing spots for anglers. The area is also known world wide as a top ice climbing area.
Roaming moose, soaring eagles, Northern Lights, pristine beauty all await your arrival. Pack your gear and head to Lake Nipigon in Ontario, Canada.
Things to do at Lake Nipigon
Vacation Rentals
Fishing
Ice Fishing
Boating
Swimming
Beach
Canoeing
Kayaking
Camping
Campground
Cabin Rentals
Hiking
Ice Climbing
Hunting
Wildlife Viewing
Birding
Provincial Park
Fish species found at Lake Nipigon
Brook Trout
Chinook Salmon
Lake Trout
Northern Pike
Perch
Pike
Pink Salmon
Rainbow Trout
Salmon
Trout
Walleye
Whitefish
---
Lake Nipigon Photo Gallery
Lake Nipigon Statistics & Helpful Links
Spread the word! Share our Lake Nipigon article with your fellow Lake Lubbers!