Lake Michigamme, Michigan, USA
Welcome to the ultimate guide for history, statistics, local fun facts and the best things to do at Lake Michigamme.
If you're considering Lake Michigamme vacation rentals, we've made it super easy to explore accommodations and nearby hotels using the interactive map below. Simply click on a listing to compare similar properties, best rates and availability for your dates. Or keep scrolling to read our Lake Michigamme guide!
Lake Michigamme visitor and community guide
Located in Michigan's Upper Peninsula, Lake Michigamme's name derives from the Ojibway word for 'big water', the same Native American word that gives the state its name. With over 4,300 acres of water, it certainly is big. Although the lake is located next to one of the main highways (US 41/M28) in the northernmost part of the state, much of the lakefront is heavily wooded and undeveloped with some cottages, a state park, and a few resorts along the 36-mile shoreline. If the lake were farther south in the Lower Peninsula, visitor numbers would be much larger. The Upper Peninsula is like that: rugged, uncrowded and beautiful.
Lake Michigamme gained its earliest European population with loggers and miners who arrived to harvest the vast natural resources found in this remote place. Only a dozen or so miles south of Lake Superior, iron ore was discovered early, and the dense stands of pine and hardwoods were harvested and shipped south via the Great Lakes to build cities like Chicago. Copper mining became important on the Keweenaw Peninsula just to the north, and workmen filled their free time with fishing and hunting the vast empty lands. One major drawback was the long and harsh winters. The area gets a wealth of snow, and summer is relatively short. So, when settlers tried farming in the area, the dense tree covering, the rocky surface, thin topsoil and short growing season soon dissuaded them. The little town of Michigamme grew at the west end of the lake, housing primarily mining-related residents. Despite the difficulties of living in such a seemingly inhospitable place, the area around Marquette and Baraga counties gained a determined population of intrepid pioneers who put down roots and couldn't be budged from the beautiful area. The descendants of some of them still remain here and can be found at Lake Michigamme.
A few hundred cabins and cottages dot the shoreline of Lake Michigamme, clustered in groups with long stretches of forest between them. Much of the shoreline is rocky, with a few sand beaches located on the eastern end of the lake. Several islands dot the surface, but none appear to be inhabited. Much of the undeveloped shoreline is not served by any kind of road. Several small resorts offer cabins or campgrounds and at least one rents boats, pontoons, canoes, kayaks and paddleboats. A small rock dam to maintain summer water levels has replaced an older, failing concrete dam; the dam is owned by the Lake Michigamme Property Owners Association.
Van Riper State Park occupies the eastern arm of Lake Michigamme. The 1,044-acre park offers a variety of amenities and lodging choices to the discerning camper, including a modernized camper cabin, several handicap-accessible mini-cabins, electrical service including 50 amp for larger RVs, playgrounds, beach, beach house, boat launch, picnic tables, RV dump station, picnic shelters, concession store, wifi, ball fields, rustic campsites with pit toilets, a rustic cabin on the Peshekee River, and trails for mountain biking, cross-country skiing, snowmobiling, wildlife watching and hunting in season. There are five short walking trails within the park that are suitable for families. Spurr Township Park is located at the far west end of the lake with a boat launch; a third boat launch is located on the north side of the lake off Brown Road.
Fishing draws a good number of anglers, although the surrounding thin, acidic soils make the lake relatively unproductive, so there is little food or breeding cover in the lake. Recently, discussion has centered around creating some artificial fish attracting structures to improve fishing. Over the years, the Department of Natural Resources has stocked several species of sport fish, but few appear to reproduce well naturally. Northern pike appear to be one of the better producing fish, and walleye, rock bass, yellow perch, smallmouth bass, black crappie, burbot, lake whitefish, pumpkinseed, largemouth bass, brook trout, muskellunge and tiger muskellunge are all found in the lake. In winter, ice fishing is often a favored activity, as long as the angler knows where the best fishing holes can be located.
Winter sports are nearly as popular as summer activities in this area of the Upper Peninsula. Several snowmobile trails in the area connect to larger trail networks in Marquette County. Wildlife watching is popular year round, with the luckiest few observers having the opportunity to spot one of the rarely-seen moose in the area. The moose were air-lifted into the area from Canada in the 1980s to increase the numbers of what had originally been a high natural population of the large animals. The efforts were relatively successful, but the elusive moose are seldom seen by visitors. Their reintroduction is celebrated annually as part of several festivals held in Michigamme. There is even a cafe in the town named for the memorable 'moose-drop'.
There is no shortage of things to see and explore in this historic area. As iron ore was first discovered in 1845 a few short miles to the east of Lake Michigamme, evidence of this history is everywhere one looks. Several trails north of the highway next to Lake Michigamme wander past the ruins of several mining ventures. The Michigamme Historical Museum has displays of photographs, artifacts and interesting items from 125 years of the area's history. On the mining theme, the Michigan Iron Industry Museum is located at Negaunee, 25 miles to the east. If copper mining is of interest, the A. E. Seaman Mineral Museum is about 70 miles away at Michigan Tech/Houghton. Here you can view the Guinness World Record 17-ton native copper slab on permanent loan from the State of Michigan. The Coppertown Mining Museum is a few miles north of Houghton in Calumet. In keeping with the area's history of Great Lakes travel, the Marquette Maritime Museum is also about 25 miles from Lake Michigamme in Marquette. From larger ports in the area, Great Lakes excursion boats and fishing charters can be arranged.
If sports interest the family, the U.S. Ski & Snowboard Hall of Fame and Museum is located in Ishpeming, 25 miles from Lake Michigamme. An unusual extreme sport, Guts Frisbee holds its US National Championships in Marquette each summer. Guts is a home-grown Upper Peninsula sport that has gained worldwide attention in recent years, with a large fan base in Japan and Great Britain. Due to the popularity of GUTS, the International Frisbee Association Hall of Fame is located at Calumet Coliseum. And for scenic hikes, follow the waterfall trail. A map of some of the lovely waterfalls in this part of the Upper Peninsula will lead visitors to them.
If camping isn't your favorite form of lodging, there are several property owners who regularly rent their cottages by the week or longer. Many also provide a boat or canoe for enjoying the beautiful lake. Hotels can be found in the larger cities, and small motels and cottage resorts can be found along the main roads throughout the area. Many are small with only a few cabins and often are reasonably priced, with decor maintained to bring back 1950s nostalgia. Real estate can be found if you check with local realtors in nearby towns. So, come discover the Upper Peninsula that caused hundreds of thousands of mid-westerners to travel by car and car ferry to visit in years past. The lure of a true 'up-north' vacation will beckon you back again and again.
Custom Lake Michigamme house decor
Read our full review of these personalized lake house signs.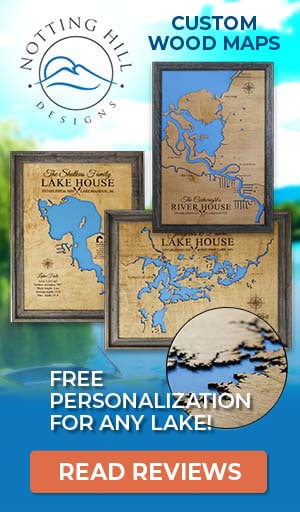 Things to do at Lake Michigamme
Vacation Rentals
Fishing
Ice Fishing
Boating
Swimming
Beach
Canoeing
Kayaking
Camping
Campground
Picnicking
Cabin Rentals
Hiking
Biking
Cross-Country Skiing
Snowmobiling
Hunting
Waterfall
Wildlife Viewing
State Park
Museum
Ruins
Playground
Fish species found at Lake Michigamme
Bass
Black Bass
Black Crappie
Brook Trout
Burbot
Crappie
Largemouth Bass
Muskellunge
Northern Pike
Perch
Pike
Pumpkinseed
Smallmouth Bass
Sunfish
Tiger Muskellunge
Trout
Walleye
Whitefish
Yellow Perch
---
Best hotels and vacation rentals at Lake Michigamme
The Lake Michigamme map shown above is a simple and stress-free way to search for trip accommodations. But if you want to take a deeper dive to find the ideal waterfront home, cabin, condo, hotel or resort, visit our favorite lodging partners by clicking the buttons below.
Note: These are affiliate links so we may earn a small commission if you book through them. While there is no extra cost to you, it helps provide resources to keep our site running (thank you)! You can read our full disclosure policy here.
---
Lake Michigamme photo gallery
New photos coming soon!
Lake Michigamme statistics & helpful links
We strive to keep the information on LakeLubbers as accurate as possible. However, if you've found something in this article that needs updating, we'd certainly love to hear from you! Please fill out our Content Correction form.
Advertise your Lake Michigamme vacation rental
LakeLubbers will soon offer homeowners and property managers the opportunity to to showcase their vacation rentals to the thousands of lake lovers searching our site daily for accommodations. If you'd like additional details, please contact our advertising team here.
Looking for the Lake Michigamme forum?
LakeLubbers previously offered visitors the ability to create accounts and participate in lake forums. When we overhauled the site's content management system in 2021 we had to disable those features. We're evaluating options and welcome your comments and feedback here.
We also encourage you to join our lake-lovin' community on Facebook and Instagram!
Spread the word! Share our Lake Michigamme article with your fellow Lake Lubbers!