Lake Independence, Michigan, USA
Lake Locations:
USA - Midwest - Michigan - Upper Peninsula -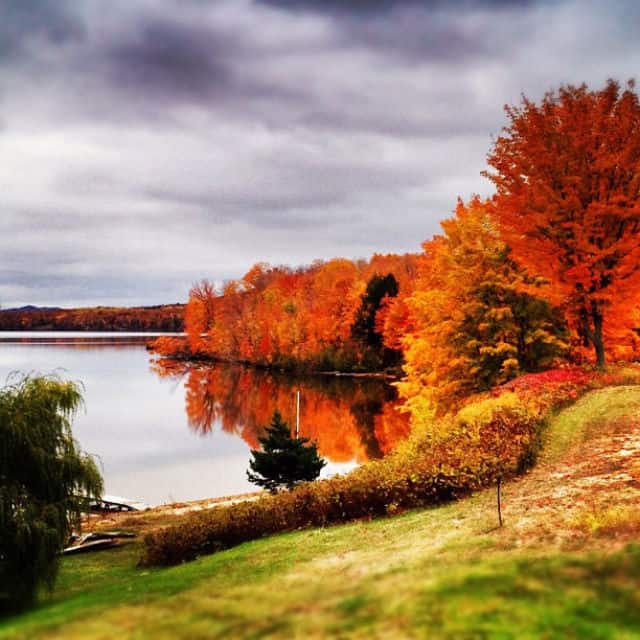 Tucked up against Lake Superior, 1,860-acre Lake Independence is an exceptional recreation destination on Michigan's Upper Peninsula. Fed primarily by the Yellow Dog River, Lake Independence is a natural lake made larger by construction of a dam on its main outflow, the Iron River. The Iron River continues slightly over a mile before emptying into Lake Superior. The fish-filled waters of Lake Independence combine with the rich maritime history of the Great Lakes to form a perfect place to live, work and play.
Lake Independence and the surrounding area were originally known as Yellow Dog Swamp. The Ojibway called it "sosawagamee" or "yellow water." Approximately 3,500 acres of swampy land stretched across the mouth of the Yellow Dog River. In the early 1930's, construction of the Lake Independence Dam raised water levels creating Lake Independence. With a maximum depth of 30 feet, it is still a fairly shallow lake. The swamp area was reduced to approximately 1,600 acres most of which is owned by the State of Michigan. Efforts have been made to establish watershed preserves on some of the privately held land.
The lake has more than enough water for swimming, boating, waterskiing and fishing. Lake Independence's flooded weedy nature provides ample fish habitat and anglers can challenge themselves against the lake's black crappie, bluegill, small mouth bass and brown trout. Abundant populations of cisco, northern pike, rock bass, yellow perch and walleye also live in the lake.
Originally built to generate power, Lake Independence Dam is in Powell Township in Marquette County. It is no longer used for hydroelectric power, but water levels are maintained by the Marquette County Drain Commission to preserve lakefront property values. The county of Marquette also maintains a park on the western shore of the lake. Perkins Park has a campground with RV and tent sites as well as a picnic area. Cabins, homes and vacation rentals are scattered along the shore of the lake, and there is real estate available for sale. Established in 1904, the Town of Big Bay sits along the northwest corner of Lake Independence and has any amenity a visitor might need.
In the spring, the gentle blooming colors of wildflowers blanket the countryside around Big Bay, and forest trails turn green. Summer is dedicated to playing on the water of Lake Independence with swimming, boating and fishing. Nearby, Lake Superior significantly expands the water recreation opportunities. Big Bay Point Lighthouse is open for tours, and the Marquette Lighthouse is operated by the Marquette Maritime Museum, both of which provide the perfect Great Lakes backdrop. Falls colors burn fiery oranges, reds and golds with miles of trails for hiking and biking through the changing colors of the leaves. Just a few miles from Big Bay, hiking the walking trail to Yellow Dog Falls is a beautiful way to spend a fall day. In the winter, there are trails in the area around Lake Independence for snowmobiling, cross country skiing and even dog sledding.
Lake Independence is a year round destination with access to all the recreation opportunities of Lake Superior and Michigan's Upper Peninsula. Almost two thousand acres of water for swimming, boating, and fishing will make it a favorite for the entire family and a destination to return to over and over again.
Things to do at Lake Independence
Vacation Rentals
Fishing
Boating
Swimming
Water Skiing
Camping
Campground
Picnicking
Cabin Rentals
Hiking
Biking
Cross-Country Skiing
Snowmobiling
Dog Sledding
Museum
Fish species found at Lake Independence
Bass
Black Crappie
Bluegill
Brown Trout
Cisco
Crappie
Northern Pike
Perch
Pike
Smallmouth Bass
Sunfish
Trout
Walleye
Yellow Perch
---
Lake Independence Photo Gallery
Lake Independence Statistics & Helpful Links
Spread the word! Share our Lake Independence article with your fellow Lake Lubbers!