Lake Huron, Great Lakes of Michigan & Ontario, Canada
Lake Locations:
Canada - Ontario - Great Lakes - USA - Midwest - Michigan - East Central - Northeast - Upper Peninsula -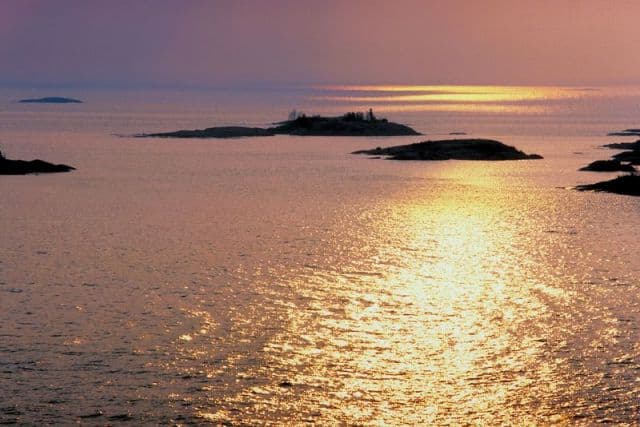 A glacial lake of epic proportions, Lake Huron is the second largest of the five Great Lakes by surface area, boasting 23,010 square miles and an incredible 3,825-mile shoreline. The massive lake is the third largest of the Great Lakes by water volume, containing 850 cubic miles of fresh water within its basin. Such enormous stretches of water, combined with the lake's rocky rip-rapped shoreline and sandy beaches, have made Lake Huron a hotspot for vacationers, part-time residents, and full-time residents that delight in the sun and water fun that this Great Lake provides.
Before European discovery, Lake Huron was inhabited by Native Americans, namely the Algonquin and Iroquois, who had been rivals for centuries. In 1612, French explorers arrived to the lake's shores, and having not yet found any of the other Great Lakes, named it La Mer Douce, or the Freshwater Sea. The Lake was often labeled as Lac des Hurons, Lake of the Huron Indians, on early maps. By 1615, the French had developed relationships with the lake's Native American tribes, and had learned some of their customs and trades, building their wealth with timber, fishing, mining, and fur production. Of course, these industries and the pursuit of wealth eventually led to the French and Indian War, and seven years of fighting tore the region apart. Today, the lake has recovered from the abuses of the past and is ripe again with wildlife, fish, and many other natural treasures.
Lake Huron's shores seem to stretch out forever, and can be intimidating at first. What to do, where to go, and how to schedule your time are questions to ask yourself when planning your visit. If you're approaching the lake from its Michigan side, consider beginning your trip on Michigan's Sunrise Coastal Highway, a 10-mile strip of road that runs along the lake's shoreline, providing asphalt-paved trails for bikers, skaters, and walkers. The paths begin in Rogers City, and soon wind their way to the lake's shore, just feet away from Lake Huron's gentle, lapping waters and soft sandy beach. The street path finally drops you off at Hoeft State Park, a beautiful 300-acre wildlife preserve whose own trails hook up with the Huron Sunrise Trail, making an ideal transition for continued hiking and biking.
Alpena, Michigan on Lake Huron's Thunder Bay is the "Shipwreck Capital of the Great Lakes". More than 200 shipwrecks lie on the bottom of Thunder Bay, the result of the bay's shallow waters and the merciless thunderstorms that gave Thunder Bay its name. Alpena is home to the Thunder Bay National Marine Sanctuary, the only freshwater national marine sanctuary designated by the National Oceanic and Atmospheric Administration (NOAA). Visitors can view many of the shipwrecks by water on the glass bottom charter boat, the Lady Michigan. On land, the Great Lakes Maritime Heritage Center is a Sanctuary visitor center with interactive exhibits such as a full-size wooden replica of a schooner shipwreck where visitors can walk the decks, experience the feel of a Great Lakes storm, and even touch the timbers of a shipwreck on the lake bottom without getting wet.
Lake Huron is home to many species of flora and fauna, and nature lovers will enjoy exploring the lake's several parks and preserves. Mackinac Island State Park is a special treat: the island park is like a trip back into the 19th century, allowing no cars, but plenty of horse-drawn carriages, bicycles, and walkers to traverse its trails. Visit a quaint little village, a historic fort, and bustling harbor before heading out to investigate nature's own creations of unique rock formations, incredible blue waters, and plenty of birdwatching for the careful viewer.
If you ache for knowledge, head to the historic towns of Cedarville and Hessel, starting point for a foray onto the lake and a visit to the 36 nearby islands. The islands are accessible by boat only, and plenty of guided tours, as well as kayak and canoe rentals are available locally. The islands were named Les Cheneaux by the French, and were first populated by the Ojibwa Native Americans thousands of years ago. After French arrival and European settlement, they became small communities in the 1800s, home to Scandinavian, Irish, and Italian immigrants. Two museums — The Historical Museum and the Maritime Museum — are close to the Cedarville waterfront, and are full of Lake Huron history, European influences, and many other tidbits that are sure to whet a history buff's appetite.
In addition to its historical adventures, Lake Huron is known also for excellent fishing, and is regarded as one of the best walleye fishing spots in the United States. If you're serious about catching walleye for dinner, head out to Saginaw Bay (Michigan) in the summer, when walleye fishing is at its peak. However, fishing is good year-round, and anglers can rely on catches of salmon, bass, musky, and trout, in addition to the teeming populations of walleye that have helped make Lake Huron famous.
Things to do at Lake Huron
Vacation Rentals
Fishing
Boating
Swimming
Beach
Canoeing
Kayaking
Hiking
Biking
Horseback Riding
Wildlife Viewing
Birding
State Park
Museum
Fish species found at Lake Huron
Bass
Perch
Salmon
Trout
Walleye
---
Lake Huron Statistics & Helpful Links
Spread the word! Share our Lake Huron article with your fellow Lake Lubbers!