Lake Lure, North Carolina, USA
Lake Locations:
USA - South - North Carolina - Mountains -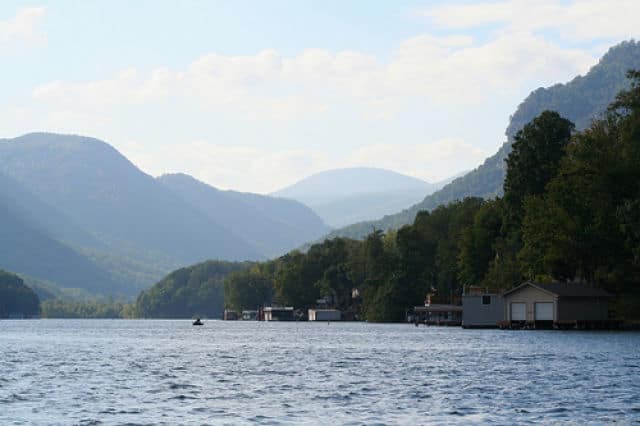 Snuggled into the emerald mountains of western North Carolina, Lake Lure's 720 acres sparkle in the sunlight. Clean water, beautiful scenery, and rural charm are some of the many reasons why this pristine lake was chosen by the makers of 'Dirty Dancing' to film scenes here. The lake has attracted vacationers for more than 85 years, including Franklin D. Roosevelt and F. Scott Fitzgerald. Today, the lake functions as both a hydroelectric dam and favorite recreation spot to many.
Lake Lure began in the imagination of Dr. Lucius B. Morse, who envisioned a resort community in western North Carolina. After securing financial support from his brothers, Dr. Morse purchased an initial 400 acres, and created Chimney Rock Park. Over the next several years, additional acreage was purchased, bringing the total to about 8,000 acres. At that point, Dr. Morse decided to build a dam on the Rocky Broad River to create a sapphire blue lake, perfect for year-round enjoyment. The dam was completed in 1926, and the lake filled to capacity in 1927. Dr. Morse's wife gave the lake its name. The Town of Lake Lure was incorporated in 1927, and the hydropower plan began operations in 1928.
Perched high above the ground on a giant boulder in Chimney Rock Park, overlooking Hickory Nut Gorge and the Rocky Broad River, you are witness to the awesome beauty and wonder of nature. The river below flows from just east of Asheville, racing through the mountains to form Hickory Nut Gap, later flowing into Lake Lure. If you listen closely enough, you can almost hear the river roaring below, and hawks and eagles swoop through the sky. Thanks to its "Thermal Belt" location, Lake Lure and the valley below are bathed in sunlight, and the blue sky seems to stretch for miles. These are the sights and sounds of Lake Lure and its surrounding area, welcoming you to its outdoor playground.
A favorite activity at Lake Lure has long been fishing, and anglers swear by the bluegill, brown trout, catfish, crappie, largemouth bass, rainbow trout, smallmouth bass, sun perch, and white bass that frequently find their way onto hooks. Fishing on Lake Lure is a contract with nature for hours of enjoyment on one of the most beautiful lakes in the state. Make sure you get your fishing license for lake fishing, trout stamps for creek and river fishing, and, as always, a boat permit.
If you love the water, but fishing isn't your chosen activity, Lake Lure offers many other options to satisfy. All visitors should get out on the waters in one way or another, so consider renting a speed boat, pontoon boat, canoe, or kayak, depending on your speed preferences. On a lazy day, drop anchor and take a mid-lake swim, enjoying the beautiful rolling mountains and peaceful nature around you. If you're looking to pump up your adrenaline, strap on some waterskis or grab tight to a tube, and take a fast-paced ride around the lake's 21 miles of shoreline. Whatever your pleasure, make sure to see the lake from its best vantage point before your stay is over. Personal watercraft (PWCs) are not permitted on Lake Lure.
Though Lake Lure offers incredible beauty, you should plan to drag yourself away for at least a few hours to enjoy the magnificent vistas of Chimney Rock State Park. The park offers five main trails that vary in difficulty. All prove to be interesting hikes, promising amazing views, incredible rock formations, and a maze of stairways that will amuse and challenge you. When you reach the summit, looking out from the top of the Chimney, you'll be greeted with 75-mile views that are hardly believable, so take your camera and your sense of awe, because these views are sure to wow you.
Many visitors to Lake Lure are true outdoor enthusiasts, and the reservoir does not disappoint. Sprinkled around its shores are five different campgrounds, offering everything from primitive camping to RV hookups. Whatever your camping pleasure, though, sleeping outdoors is a treat at Lake Lure, something you'll realize as the sunsets and the moon's reflection over the lake becomes the best nightlight you've ever had.
Lake Lure takes its reputation to heart, dressing her best for all of her visitors and residents. From hiking and fishing to sunbathing and swimming, this North Carolina lake offers something for everyone, promising to make your next visit one you'll never forget.
Things to do at Lake Lure
Vacation Rentals
Fishing
Boating
Swimming
Canoeing
Kayaking
Tubing
Camping
Campground
Hiking
Birding
State Park
Playground
Fish species found at Lake Lure
Bass
Black Bass
Bluegill
Brown Trout
Catfish
Crappie
Largemouth Bass
Perch
Rainbow Trout
Smallmouth Bass
Sunfish
Trout
White Bass
---
Lake Lure Statistics & Helpful Links
Spread the word! Share our Lake Lure article with your fellow Lake Lubbers!