Lake Powhatan, North Carolina, USA
Lake Locations:
USA - South - North Carolina - Mountains -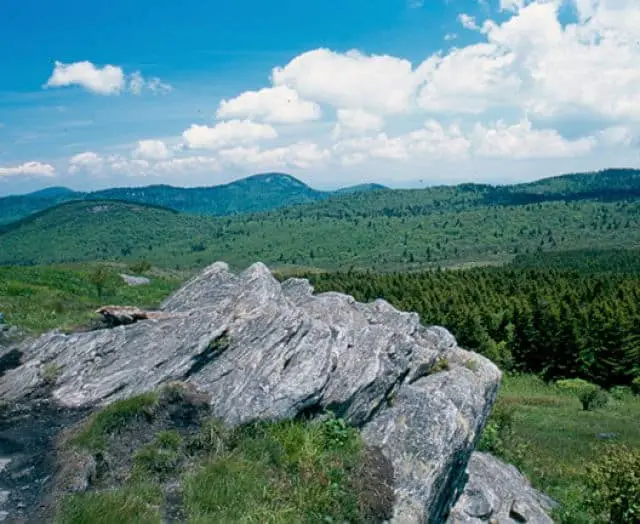 Just outside of Asheville in North Carolina's Mountains region, little Lake Powhatan offers a refreshing change of pace to the city. The reservoir lies completely within the Pisgah National Forest and boasts a popular National Forest campground that is in major demand. The 13-acre lake was created when Bent Creek was dammed in 1942 to provide for recreation, fishing and wildlife conservation. It is particularly fitting that the campground is located adjacent to the 6000-acre Bent Creek Experimental Forest and is operated by the Cradle of Forestry In America Interpretive Association. Only 10 miles from Asheville, Lake Powhatan is a favorite among hikers, mountain bikers and nature lovers.
Lake Powhatan offers nearly 100 campsites with varying levels of amenities and can even handle a few larger RVs. A sandy beach area is perfect for children, while the heavily wooded campground offers spectacular views of the surrounding Blue Ridge Mountains. Located only a short distance from the popular Blue Ridge Parkway, the entire campground blends perfectly with the surrounding forests. The serenity is unmarred as the small lake doesn't permit boats of any type. Instead, fishermen angle for rainbow trout, brook trout, brown trout, largemouth bass and bluegill in the clear waters. There is an accessible pier near the dam and places for shoreline fishing. A special trout fishing license is required for all anglers. Non-campers can access the lake for fishing and swimming by paying a daily fee. A one-mile trail around Lake Powhatan is an easy and pleasant walk.
This area of western North Carolina is steeped in history. The lake was named after Chief Powhatan, rumored to be the father of Pocahontas and a widespread subject of Native American folklore across much of the South. The Cradle of Forestry, originally the Biltmore Forest School, was the first school of forestry in the United States, begun over a hundred years ago. The school was first created and operated under the direction of the builder of the Biltmore Estate, George Washington Vanderbilt II. The Biltmore Forest School played an important role in the formulation of the U.S. Forest Service. The campground at Lake Powhatan is only one of several campgrounds operated in the area by the Cradle of Forestry. A few miles away, the Cradle of Forestry operates a Forest Discovery Center with interpretive exhibits and historic information on this famous forest 'experiment'.
Also not far away, the Pisgah Visitors Center, located at the Pisgah Rangers Station, provides campground information, guides to the Pisgah National Forest, gifts, and hiking and biking trail maps. The trails in the area draw thousands of visitors each year.
The many trails in the Bent Creek Experimental Forest can easily be reached via Lake Powhatan or the highway near the North Carolina Arboretum. Lake Powhatan Campground visitors find it a comfortable mile walk to the Arboretum with its many colorful and interesting gardens and exhibits. Bent Creek Experimental Forest is the favorite location of mountain bikers as the trails can easily be accessed from Asheville, and they are varied and of differing levels of difficulty. Some of the best are considered to be Boyd Branch-0.7 miles, Campground Connector-0.6 miles, Deerfield Loop-0.8 miles, Deer Lake Lodge-1.4 miles, Explorer Loop-3 miles, Greens Lick-2.5 miles, Hardtimes Connector-0.9 miles, Homestead-1 mile, Ingles Field Connector-0.3 miles, Ingles Field Gap-1.5 miles and several more. The trails intersect, and one could spend days riding the many connected trails. Because so many mountain bikers arrive here to take advantage of the trails on weekends, the area's trails are patrolled by the Southeastern Mountain Bike Patrol. Hiking is common in the area, with autumn color one of the most popular times for walking the many trails. Both guided mountain bike tours and horseback trail riding can be arranged in the surrounding area. Bent Creek itself is a well-known trout fishing destination.
Part of the reason Lake Powhatan and the campground are so popular is easy access to Asheville with the city's many food and entertainment venues. Nearly every Lake Powhatan first-time visitor will want to tour the nearby 8,000-acre Biltmore Estate and explore the 250-room Biltmore House, gardens, winery and farm. There is enough to see at Biltmore, the country's largest privately-maintained mansion, that most local residents have made numerous visits. An auto tour of nearby waterfalls is also a popular side-trip. Nearby, the Great Smoky Mountains National Park is an international Biosphere Reserve and a World Heritage location.
Asheville shopping and entertainment provides a wide variety of unique shops, restaurants, galleries and museums. The River Arts District is the ideal place to view and shop for locally created art. Not all shopping venues are pricey. Asheville has outlet shopping and a district that features thrift shops and unique small shops. Craft breweries are numerous and popular. Professional theater productions are available at NC Stage Company. Asheville is home to the Thomas Wolfe Home museum and the Colburn Earth Science Museum. Festivals are scheduled year round, and everyone will find at least one favorite to delight their senses.
There is no shortage of lodging opportunities with the wealth of mountain scenery surrounding Lake Powhatan. Inns, campgrounds, guest resorts, spas, bed & breakfasts, luxury hotels, guest cottages and private vacation rentals can be found. Real estate is available bordering the nearby creeks with beautiful views of the surrounding mountains. So, plan a visit to Lake Powhatan to swim in the cool waters and enjoy the many trails in the area.
*Official statistics for Lake Powhatan are not available. Our statistical information comes form another commercial website with no sources listed.
Things to do at Lake Powhatan
Vacation Rentals
Fishing
Boating
Swimming
Beach
Camping
Campground
Hiking
Biking
Horseback Riding
Waterfall
Wildlife Viewing
National Park
National Forest
Museum
Shopping
Fish species found at Lake Powhatan
Bass
Black Bass
Bluegill
Brook Trout
Brown Trout
Largemouth Bass
Rainbow Trout
Sunfish
Trout
---
Lake Powhatan Photo Gallery
Lake Powhatan Statistics & Helpful Links
Spread the word! Share our Lake Powhatan article with your fellow Lake Lubbers!