Lake Lida, Minnesota, USA
Lake Locations:
USA - Midwest - Minnesota - Central -
Also known as:  North Lake Lida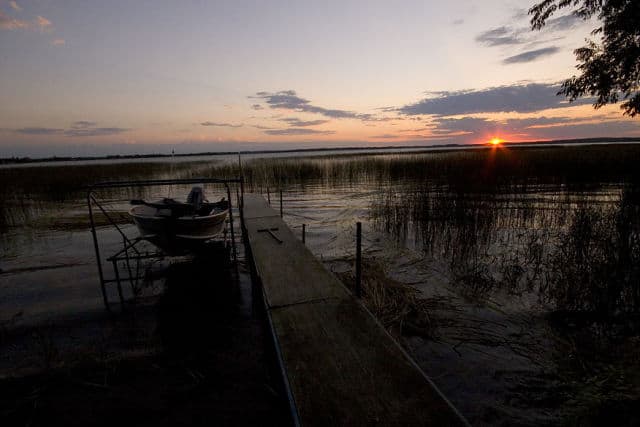 Located in the Central Region of Minnesota, Lake Lida (also known as North Lake Lida) is a 5,564-acre lake known for its prime walleye fishing. With a maximum depth of 58 feet and an average depth of 16 feet, the lake is a popular playground for water activities in Otter Tail County. The lake is connected to South Lake Lida (an 856-acre lake) by a navigable culvert under State Highway 108. Managed by the Minnesota Department of Natural Resources, Lake Lida is also connected to Lake Lizzie by a non-navigable culvert under County Road 4. The majority of Lake Lida's shoreline has been developed with cottages, homes, and resorts that provide lodging as well as real estate opportunities.
For the outdoor enthusiast, activities on the lake include boating, water skiing, fishing, ice fishing, hiking, jet skiing, swimming, picnicking, and sailing. Anglers should expect to catch walleye, black crappie, largemouth bass, rock bass, northern pike, bluegill, yellow perch, and hybrid sunfish. There is a public boat ramp located on the north end of the lake off County Road 4 and fishing piers and lake access in Maplewood State Park on the shores of Lake Lida. For fish consumption guidelines, please refer to the Minnesota Department of Natural Resources website.
Maplewood State Park has eight major lakes and numerous ponds within its confines and is a great place to relax and enjoy the changing of the leaves in the fall and the cool water during the summer. The park, which is home to over 150 species of bird and 50 species of mammals, has an extensive trail system for hikers (25 miles), horseback riders (20 miles), and cross country skiers (20 miles). There is also a 3 mile snowshoe trail for winter adventurers. Facilities include campsites, picnic area, a picnic shelter, golf course, warming house, fishing pier, swimming beach, and boat access to Lake Lida.
Other attractions in the area include Big Stone National Wildlife Refuge, Detroit Lakes Wetland Management District, and Fergus Falls Wetland Management District. Big Stone is located in the tallgrass prairie's historic region of west-central Minnesota and encompasses over 11,500 acres of native plant grassland that was set aside for the waterfowl of the region. The Detroit Lakes Wetland Management District and the Fergus Falls Wetland Management District have also been set aside as wetland areas for the local waterfowl that call Minnesota home.
Located five miles west of Lake Lida is Pelican Rapids, a small town of just over 2,300 people that was established in 1868 as a trading post for the British Northwest Company. Visitors to Pelican Rapids can now see the "World's Largest Pelican", a 250-foot suspension pedestrian bridge, and two city parks connected by a common walkway. Pelican Rapids is also home to the oldest human skeleton found on the North American continent when the bones of a 10,000 year old woman were dug up in 1931 during the building of the highway.
For a truly changing-of-the-leaves experience, head to Lake Lida during the autumn as the trees change to shades of orange, red, and gold. The lake is perfect for a summer get-away as well as, a winter wonderland making the lake ideal for year round fun.
Things to do at Lake Lida
Vacation Rentals
Fishing
Ice Fishing
Boating
Sailing
Swimming
Beach
Jet Skiing
Water Skiing
Golf
Camping
Picnicking
Hiking
Cross-Country Skiing
Horseback Riding
Wildlife Viewing
National Wildlife Refuge
State Park
City Park
Playground
Fish species found at Lake Lida
Bass
Black Bass
Black Crappie
Bluegill
Crappie
Largemouth Bass
Northern Pike
Perch
Pike
Sunfish
Walleye
Yellow Perch
---
Lake Lida Statistics & Helpful Links
Spread the word! Share our Lake Lida article with your fellow Lake Lubbers!