Lake Koocanusa, Montana USA & British Columbia, Canada
Lake Locations:
Canada - British Columbia - USA - West - Montana - Glacier Country -
Also known as:  Koocanusa Lake, Koocanusa Reservoir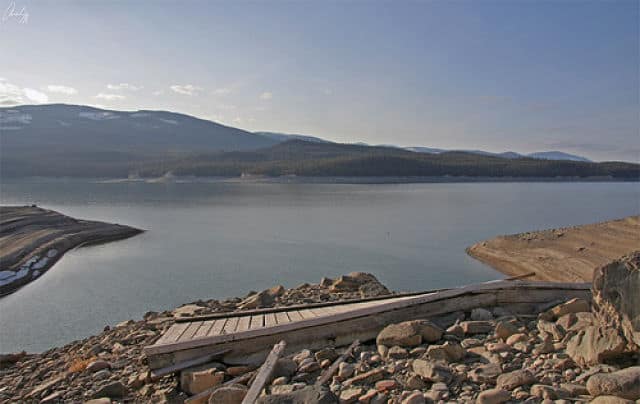 In the far north of the United States, tucked into the northwestern end of Montana, is the long, narrow Lake Koocanusa. This lake is actually a man-made reservoir, created by the damming of the Kootenai (or, alternatively, Kootenay) River in the late 1960's and early 1970's. The dam that was built was named Libby Dam, after the town of Libby, which is a few miles away. Lake Koocanusa was formed to help control major flooding problems. The lake is also used for hydroelectricity, and supplies power for many communities in Montana and various other states.
Lake Koocanusa is very long and narrow; it stretches to a length of ninety miles. About half of the lake lies in Montana; the rest reaches up into the Canadian province of British Columbia. One of the lake's interesting landmarks is the Koocanusa Bridge, which was built across the width of the lake. At 2,437 feet, the Koocanusa Bridge is the longest bridge in the state.
Lake Koocanusa's unique name has an interesting origin. When the reservoir was formed, its name was determined by a contest. The winner of the contest was Alice Beers, who came up with the name Koocanusa. How did she form such an interesting word? She took the koo from Kootenai River, added on can to stand for Canada, and, finally, put on the initials usa for the United States of America.
Lake Koocanusa is great place to enjoy various types of recreation, though it is drawn down in the summer, which reduces the level of the water available for boating and other activities. The lake has a variety of fish that anglers will enjoy trying to catch. Rainbow trout, brook trout, kokanee salmon, and cutthroat trout are some of the types of fish available. However, a Montana fishing license must be obtained before fishing on the lake.
Visitors to Lake Koocanusa can stay busy with their favorite water sports – canoeing, water skiing, boating, or whatever they like doing. Or, they can simply sit still and enjoy the gorgeous scenery: the sun reflecting on the still, clear water, and the rugged beauty of the surrounding hills and mountains, all of which create a wonderful picture of stunning Western scenery.
There are several campgrounds and day use areas near Lake Koocanusa for those who want to stay and enjoy the area. Some of these places have conveniences such as boat launches, picnic tables, walking trails, and swimming beaches. Lake Koocanusa also contains several islands, and one of these, Yarnell Island, has picnic tables and a few campsites as well.
All around the U.S. portion of Lake Koocanusa is the Kootenai National Forest. This vast expanse of land covers an area of 2.2 million acres, and provides an endless playground for hikers, campers, and anyone who enjoys spending time in the stillness and serenity of nature. There are miles upon miles of trails to hike, bike, or ride horseback on. The forest also contains dozens of campgrounds for those who enjoy staying overnight in the great outdoors. For a unique camping experience, you can rent a cabin or one of the unused lookouts located in the national forest.
If you're on the Canadian end of the lake, a good place to relax and have some fun is at the Kikomun Creek Provincial Park. The whole family can enjoy a variety of activities here – hiking, biking, boating, fishing, and more. The park contains a variety of amenities, including a boat launch, picnic areas, campsites, and a playground for the kids.
Lake Koocanusa is not as popular as some of the other lakes in Montana, and tends to get overlooked. But those who visit the lake will find a wealth of outdoor excitement and enjoyment.
Things to do at Lake Koocanusa
Vacation Rentals
Fishing
Boating
Swimming
Beach
Canoeing
Water Skiing
Camping
Campground
Picnicking
Cabin Rentals
Hiking
Biking
Horseback Riding
Provincial Park
National Forest
Playground
Fish species found at Lake Koocanusa
Brook Trout
Cutthroat Trout
Kokanee Salmon
Rainbow Trout
Salmon
Trout
---
Lake Koocanusa Photo Gallery
Lake Koocanusa Statistics & Helpful Links
At LakeLubbers.com, we strive to keep our information as accurate and up-to-date as possible, but if you've found something in this article that needs updating, we'd certainly love to hear from you!
Please let us know about it on our Content Correction form.
Spread the word! Share our Lake Koocanusa article with your fellow Lake Lubbers!