Kootenay Lake, British Columbia, Canada
Lake Locations:
Also known as:  Lake Kootenay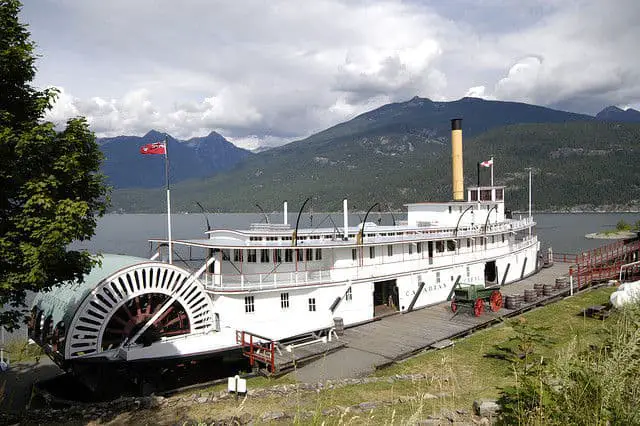 Kootenay Lake's deep, clear waters stretch over 60 miles and 96,000 acres, reflecting the icy peaks of Kokanee Glacier. The lake is beautiful, ringed with the Selkirk and Purcell Mountain Ranges. The lake is home to the Gerrard Rainbow Trout, the world's largest trout, known for their size and ability to put up a good fight.
Kootenay Lake is one of the largest natural lakes in British Columbia, and it's full of fish. In addition to the Gerrard Rainbow, the waters also hold Dolly Varden trout, kokanee salmon, and bull trout. A 29.5-pound Canadian record bull trout was caught in Kootenay Lake in 1997.
There are three dams that impound Kootenay Lake. Built in 1932 for power generation and water storage, the Corra Linn Dam is at the mouth of Kootenay Lake. The Duncan Dam was built in 1967 at the north end of the lake, and Libby Dam was built in 1973 on the Kootenay River. Both were built for water storage only. The main part of Kootenay Lake runs north to south, following the path of the Kootenay River. In many ways, it is just a place where the river paused to fill the valley.
About halfway up the main lake, the west arm extends 18 miles to the town of Nelson. With a maximum depth of 154 feet and a surface area of about 5,930 acres, it is a large lake in its own right. The west arm also has a very rich history and is still important today. The West Arm Provincial Park was created to preserve and protect the area's history of mining, railway development and paddle steamer sternwheelers. In addition to trails for hiking and biking, the 62,565-acre park has walk-in and wilderness camping.
In September of 1876, gold was discovered about nine miles from what would become the town of Nelson. Gold mining brought a small rush of people to the area, and in 1897, Nelson was established. Eventually the mines ran dry, but by then construction on the narrow gauge railway was underway. Named the "#1 Small Arts Town in Canada," today Nelson is a charming town with restaurants, shops and any amenities a visitor to Lake Kootenay might want, including lakeside vacation rentals.
Because they can carry loads and operate in shallow water, Sternwheelers were used to transport materials for the railroad and passengers from the late 1800's through the 1950's. The SS Moyie is the world's oldest intact passenger sternwheeler, and it served on Kootenay Lake for almost 60 years. The SS Moyie has been restored and is now part of a museum and visitor center in Kalso, another west arm town. Also established around mining, Kaslo is a charming Victorian village, and with real estate for sale, it would be a great place to live for anyone considering an extended stay at Kootenay Lake.
Kokanee Creek Provincial Park is also located on the west arm of Kootenay Lake. The park offers sandy beaches for swimming, trails for hiking and cross-country skiing, and camping. Kokanee Creek is the spawning ground for the lake's kokanee salmon. In August, the salmons' bodies turn a deep crimson and their heads turn emerald green before they spawn and die.
There are several provincial parks along the main part of Lake Kootenay as well. Established in 1922, Kokanee Glacier Provincial Park stretches over 79,160 acres in the Selkirk Mountains. Experienced climbers can explore the breathtaking Kokanee Glacier. Encompassing 9,227 acres from Lockhart Creek to Kootenay Lake, Lockhart Creek Provincial Park has trails for hiking, biking and horseback riding. It protects an old growth forest and offers fantastic views of the lake. The much smaller Kootenay Lake Provincial Park has seasonal camping, a picnic area and boat launch on the lake's shore. Northwest of Kootenay Lake, the Goat Range Provincial Park protects the only natural spawning ground of the Gerrard Rainbow Trout.
By far the largest provincial park near Lake Kootenay, the Purcell Wilderness Conservancy Provincial Park and Protected Area, is 500,905 acres of magnificent Canadian wilderness set aside for rock climbing, horseback riding, hiking, hunting and back-country ski touring. Canada's Governor General from 1904 through 1911, Earl Grey crossed the Purcell Mountains and was so enamored of the area, he built a vacation cabin for his family. The Earl Grey Trail follows part of his original route where the remains of the cabin are still visible.
Kootenay means "water people", a term that applies to visitors to the lake today. With miles of water to explore, there is room for canoes, kayaks, houseboats and power boats. The lake promises sailing regattas and windsurfing along with water skiing. The clean, clear water of Lake Kootenay and its high concentration of shipwrecks also makes it a great place to dive. With so much to do on Lake Kootenay, maybe catching the big fish really isn't that important, but it is sure worth a try.
Things to do at Kootenay Lake
Vacation Rentals
Fishing
Boating
Sailing
Swimming
Beach
Canoeing
Kayaking
Water Skiing
Camping
Picnicking
Cabin Rentals
Hiking
Rock Climbing
Biking
Cross-Country Skiing
Horseback Riding
Hunting
Provincial Park
Museum
Fish species found at Kootenay Lake
Bull Trout
Dolly Varden Trout
Kokanee Salmon
Rainbow Trout
Salmon
Trout
---
Kootenay Lake Photo Gallery
Kootenay Lake Statistics & Helpful Links
Spread the word! Share our Kootenay Lake article with your fellow Lake Lubbers!