Lake Gogebic, Michigan, USA
Welcome to the ultimate guide for history, statistics, local fun facts and the best things to do at Lake Gogebic.
If you're considering Lake Gogebic vacation rentals, we've made it super easy to explore accommodations and nearby hotels using the interactive map below. Simply click on a listing to compare similar properties, best rates and availability for your dates. Or keep scrolling to read our Lake Gogebic guide!
Lake Gogebic visitor and community guide
Lake Gogebic, located at the western tip of Michigan's Upper Peninsula (UP) is a hidden gem, far undervalued in the outdoor sports world. Lake Gogebic (pronounced Go-GIBB-ick) is a Native American word reported to mean "where trout rising make small rings upon the surface." Straddling the border of Gogebic and Ontonagon Counties, its 12,800 surface acres provide bountiful fishing and boating activities for the visitor and locals alike. At about 12 miles long, Gogebic has an average depth of 17 feet with a few holes as deep as 37 feet and a rocky bottom. A natural lake, formed when retreating glaciers blocked the natural drainage, the Upper Peninsula Power Company maintains the lake at about 1295 feet above sea level at their dam at Berglund. The time zone changes mid-lake, with the north half in the Eastern Time Zone and the south in the Central Time Zone. A popular snowmobiling tradition involves visiting two bars on the lake at their respective midnights on New Year's Eve, thus celebrating the New Year twice.
Fishing is such serious sport at Lake Gogebic that fishing-themed events are a regular part of life in the two small villages along the shore. Walleye is king here, and Spring and Fall Walleye tournaments draw anglers from great distances to compete for cash prizes and trophies. Five-pounders are not rare, although most tournament entries range between three and four pounds. Besides walleye, there are prizes for perch, northern pike and bass offered, followed by after-tourney celebrations.
In addition to the big tournaments, tagged fish provide a surprise cash prize for the leisure angler between May 15th and Sept 15th. Prizes range from $800-$1000 for the specially tagged Walleye, to $250 for each of twenty other pan fish. Catching last year's tagged fish will still pay, but only $25. Visitors can enter the contests by buying a $3 button from nearly all local merchants in Berglund. The proceeds go to the fish stocking program. Other monthly fishing contests present prizes such as fishing gear.
Water sports are available in great variety during the summer months: swimming, boating and just plain chilling by the lake cools off visitors from surprisingly warm summer days. Kayak rentals are a recent addition, and kayaking the small streams and inlets into the lake allow the nature lover the opportunity to examine shore birds, herons, a variety of ducks and abundant wildflowers up close. A leisurely kayak trip along the 44 mile shoreline is a photographer's dream come true, and the vacation pictures one brings back will provide enjoyment and memories for many years. For those wishing more comfort and a little less work, pontoon raft rentals are available for around $150/day.
One annual summer event is the kid's Cardboard Boat race. These are always hilariously funny events for participants and on-lookers alike. Because tourism is the area's bread and butter, special events and activities are planned for nearly every summer weekend.
Lake Gogebic, situated in the UP's snow belt region, often gets over 300 inches of snow a year. There are many miles of snow mobile trails and prime conditions for hunting deer, black bear and grouse in season. Ice fishing is a popular winter sport, and no Michigan lake winter would be complete without the annual ice fishing tournament.
Lake Gogebic is hardly a day trip-from anywhere. When you go to Lake Gogebic, you go for days or weeks. The closest major city is Duluth, Minnesota, a two-hour drive. The lake is located three hours from the Green Bay, Wisconsin area, in the historic iron mining and logging area of the Upper Peninsula. It takes more than a day to fully appreciate all of Lake Gogebic's beauty. Distance has preserved its pristine waters, although more and more "summer people" are building cottages. The west shore is mostly older small cottages, while the eastern shore is mostly newer, more up-scale construction, and there is a limited amount of undeveloped shoreline available. The locals thoroughly enjoy their visitors and their water sports. The main town, Berglund, has not yet succumbed to touristy money traps. There are a wealth of lodging choices, from small Mom & Pop motels to resort cottages and private waterfront rentals. Plenty of small cafes and taverns are available for the care and feeding of visitors. Prices at even the better restaurants are very reasonable and casual attire the norm.
Various camping accommodations are also available for the visitor at Lake Gogebic State Park, several county and township parks and state forest land. Several private campgrounds, often attached to cottage rental facilities are available. There are several formal and informal boat launch sites to choose from. For the visitor with some time to spend, the Porcupine Mountains are only thirty miles away and the majestic shores of Lake Superior about the same distance. Nearly a hundred waterfalls are located within a short drive. Lake Gogebic is the perfect family vacation spot for committed anglers; they can fish to their heart's content while the rest of the family hikes and tours the nearby sights.
One visit to the laid-back far north atmosphere of Lake Gogebic and you may find yourself, like many others, coming back year after year.
Custom Lake Gogebic house decor
Read our full review of these personalized lake house signs.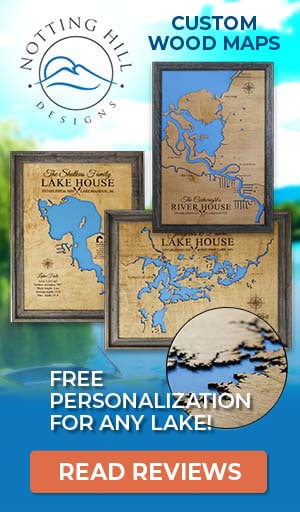 Things to do at Lake Gogebic
Vacation Rentals
Fishing
Fishing Tournaments
Ice Fishing
Boating
Swimming
Kayaking
Camping
Campground
Hiking
Snowmobiling
Hunting
Waterfall
Wildlife Viewing
Birding
State Park
State Forest
Fish species found at Lake Gogebic
Bass
Northern Pike
Perch
Pike
Trout
Walleye
---
Best hotels and vacation rentals at Lake Gogebic
The Lake Gogebic map shown above is a simple and stress-free way to search for trip accommodations. But if you want to take a deeper dive to find the ideal waterfront home, cabin, condo, hotel or resort, visit our favorite lodging partners by clicking the buttons below.
Note: These are affiliate links so we may earn a small commission if you book through them. While there is no extra cost to you, it helps provide resources to keep our site running (thank you)! You can read our full disclosure policy here.
---
Lake Gogebic photo gallery
New photos coming soon!
Lake Gogebic statistics & helpful links
We strive to keep the information on LakeLubbers as accurate as possible. However, if you've found something in this article that needs updating, we'd certainly love to hear from you! Please fill out our Content Correction form.
Advertise your Lake Gogebic vacation rental
LakeLubbers will soon offer homeowners and property managers the opportunity to to showcase their vacation rentals to the thousands of lake lovers searching our site daily for accommodations. If you'd like additional details, please contact our advertising team here.
Looking for the Lake Gogebic forum?
LakeLubbers previously offered visitors the ability to create accounts and participate in lake forums. When we overhauled the site's content management system in 2021 we had to disable those features. We're evaluating options and welcome your comments and feedback here.
We also encourage you to join our lake-lovin' community on Facebook and Instagram!
Spread the word! Share our Lake Gogebic article with your fellow Lake Lubbers!