Lake Hayes, South Island, New Zealand
Lake Locations:
New Zealand - South Island - Central Otago -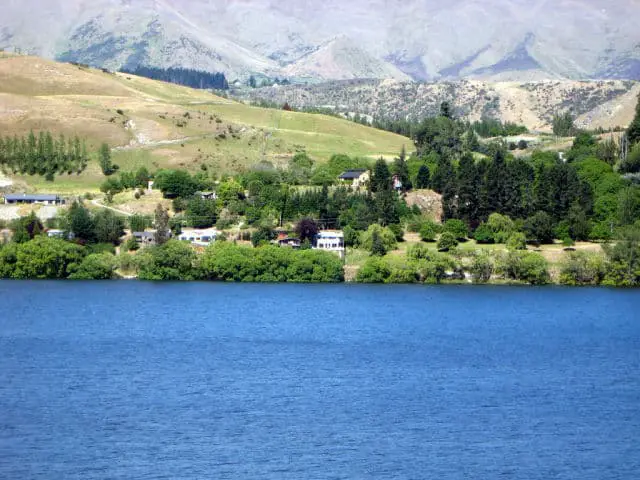 Picturesque when the poplars and willows adorning the lake are aglow with brilliant golds, Lake Hayes is a satisfying subject for photographers and nature enthusiasts alike. The lake is located in Central Otago of New Zealand's South Island, an area characterized by its high altitudes among the Southern Alps, and its vast and green sheep pastures. In fact, the name of Lake Hayes was derived from an Australian who came to New Zealand interested in sheep rearing. The man's name was Donald Hay, and the lake was originally called Hays Lake. Over time, though, it acquired the reference to a reportedly notorious Captain "Bully" Hayes, a pirate and blackbirder. The Maori had their own name for the lake altogether. It was called Wai-whakaata which means "water that reflects," an apt name for the lake which so clearly mirrors the images of its surrounding trees, rugged hills and expansive skies. In addition to its recreational offerings, Lake Hayes is a water supply for area homes and farms.
Located on a country road halfway between two dynamic towns, Arrowtown and Queenstown, the lake seems almost tucked away from the excitement of the tourist scene. Its tranquility is aided by the fact that it is a wildlife reserve for waterfowl, so although the lake is open to fishing for brown trout and perch, you can only boat without a motor. A large population of the black-feathered Australian coot live on Lake Hayes along with the endemic black teal duck, and the purple swamphen which the Maori call pukeko. The best way to explore Lake Hayes is by canoe or kayak.
Central Otago is wine country, there are a handful of award winning wineries in the Lake Hayes area and lucky for you, one of them is situated on the shores of Lake Hayes. There you can lounge and sip some of New Zealand's best wine along with the intoxicating scenery surrounding you. To fully appreciate the lake's views, go for a leisurely stroll or invigorating hike on trails that meander around the lake. For the more adventurous, mountain biking is popular in the Lakes Hayes-Queenstown area. Afterward, enjoy a refreshing swim in the lake.
And if the enchantment is just right, perhaps Lake Hayes is where you will have your marriage ceremony. It is not surprising that Lake Hayes is a popular backdrop for weddings. There is a chapel and landscaped garden at the home of a local artist on the banks of the lake that will at least offer a great deal of beauty to look at if in case marriage is not on your mind this time around.
Lake Hayes is a quiet treasure, but it certainly has been discovered, and you can find homes of various styles around its shore. Real estate options are plenty with estate subdivisions offering additional options to the south of the lake. For a long, invigorating, and peaceful stay at Lake Hayes, consider booking with one of the vacation rentals in the area. Self-catering family homes. romantic storybook cottages, and cozy baches will provide the privacy and refuge you need to complement a Lake Hayes trip.
Things to do at Lake Hayes
Vacation Rentals
Fishing
Boating
Swimming
Canoeing
Kayaking
Hiking
Biking
Wildlife Viewing
Fish species found at Lake Hayes
---
Lake Hayes Statistics & Helpful Links
Spread the word! Share our Lake Hayes article with your fellow Lake Lubbers!