Lake Hawea, South Island, New Zealand
Lake Locations:
New Zealand - South Island - Central Otago -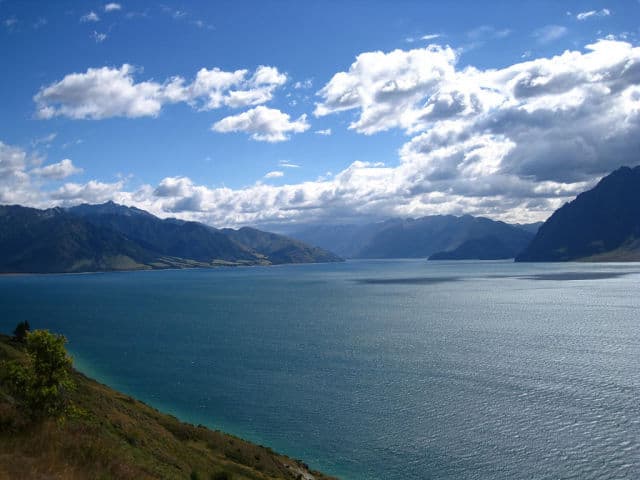 Surrounded by towering mountains in Central Otago of New Zealand's South Island, Lake Hawea is a lake that was formed by glaciers thousands of years ago. It is in the heart of what is often called a golden country. Central Otago was marked by a powerful gold rush of the 1860s that left a rich history in its passing; golden apricots and vibrant autumns also give the region its descriptive title.
A narrow isthmus called The Neck, separates Lake Hawea from Lake Wanaka. The Hunter River is Lake Hawea's main tributary and the outflow is the Hawea River, great for kayaking and fishing, which in turn empties into the Clutha River. The lake is part of the Roxburgh hydroelectric project that utilizes the Clutha River; you can find a dam that sits at Lake Hawea's outlet.
The beauty of Lake Hawea can be fully appreciated from its shores. The Explanade Reserve is on the lakefront, where you can admire the Manuka, flax and petisporum vegetation. Willow and blue gum trees surround enchanting picnic areas and there are camping sites on both the northern and southern shores.
The small town of Lake Hawea sits above the lake on the glacial moraine wall. From there, you can get panoramic views of the lake. In town, tennis, golf, and cricket awaits active limbs. Outside of town, horse riding and hunting offer hours of leisure. The town has plenty of holiday "baches," trademark New Zealand homes that grew out of the 1950s and were known for their rugged simplicity. The homes became popular over time as romantic getaway options and are the equivalent to the vacation rentals of other vacation locations.
The water of Lake Hawea itself is a beautiful lagoon-like blue and is so clear, making it a popular recreation location for boaters and fishers. The lake harbors landlocked salmon and trout. Windsurfing is also popular. The lake is a stunning 1,286 feet deep, testifying to the cavernous effects of moving glaciers. It lies 1,142 feet above sea level in New Zealand high country, land largely characterized by rolling sheep pastures. Hot summers bring sun bathers to the beaches, and winters send adventurers into the surrounding snow covered mountains to ski and snowboard. Whatever the season, Lake Hawea will have something that meets your satisfaction.
Things to do at Lake Hawea
Vacation Rentals
Fishing
Swimming
Beach
Kayaking
Golf
Tennis
Camping
Picnicking
Horseback Riding
Hunting
Fish species found at Lake Hawea
---
Lake Hawea Statistics & Helpful Links
Spread the word! Share our Lake Hawea article with your fellow Lake Lubbers!