Lake Wanaka, South Island, New Zealand
Lake Locations:
New Zealand - South Island - Wanaka -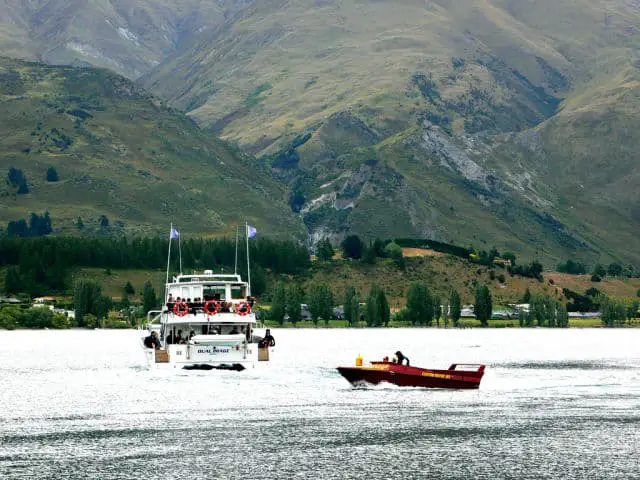 Formed by glaciers thousands of years ago and located on South Island, New Zealand, Lake Wanaka is New Zealand's fourth largest lake and contains crystal clear water. The name is from the Maori, the first settlers of the area, which means "place of Anaka" who was an early Maori Chief. The lake is fed by the Makarora River and is the source of New Zealand's largest river, the Clutha.
Lake Hawea, also carved by glaciers, lies beside Lake Wanaka and is separated by a narrow strip of land a little over a half mile wide known as The Neck. It is believed that the two lakes were once connected. Both lakes are dammed at their outlets to control the water levels and to ensure a water flow for Roxburgh power stations.
With pebbly beaches on the shoreline, and magnificent views of surrounding mountains, the lake is the beginning of Mount Aspiring National Park. Mount Aspiring, with its peak at 9,930 feet above sea level, is known and loved internationally by climbers and photographers. If you prefer easy hikes, there are many trails meandering through the park that offers excellent views of the mountains and valleys with campsites for extended stays.
At the southern tip of the lake, is the town of Wanaka whose fortune has changed over the years. In the 1870s, the discovery of gold inspired a rush of interest in the area. As the prospectors left the area, sheep farms and farming became a way of life. But today, Wanaka is a resort region and tourism is the new gold rush. In an effort to keep tourism booming, town leaders know that requires the environment to stay picture perfect. Therefore, the lake is protected by the Lake Wanaka Preservation Act of 1973, which established a group of guardians whose members are appointed by the Minister of Conservation to advise and protect the lake and surrounding area.
During the winter, the Lake Wanaka area is snow lovers paradise with internationally known ski resorts with downhill skiing, snowboarding, heliskiing, tubing, cross country skiing, freestyle skiing and ice climbing. In the warmer months of summer, these same areas become a mecca for mountain bikers, hiking, horseback riding, golf and rock climbing. Lake Wanaka is a top summer choice for swimming, sunning, boating, skiing, kayaking, sailing, and of course fishing for rainbow trout and brown trout. Fly-fishing is extremely popular for skilled anglers along the Clutha River for salmon. Tubing and rafting can be enjoyed along the river also. During the cooler days of autumn, the area seems to turn golden as the leaves of the poplars and willows turn vibrant hues that reflect off the clear water.
Looking for romance? Lake Wanaka has been voted in the top ten most romantic places to visit and is fast becoming a popular destination for honeymoons or those just seeking a romantic get away. You will be able to find many vacation rentals in the lake area from cabins, lodges, to full service resorts that will fit most budgets. Add in some local wines with dinner while gazing at the reflections in lake and life time memories are made.
Whether you are searching for outdoor adventure, majestic mountain scenery, or a romantic get away, Lake Wanaka in South Island, New Zealand will meet all of these requirements. It is all there waiting for you to enjoy!
Things to do at Lake Wanaka
Vacation Rentals
Fishing
Boating
Sailing
Swimming
Beach
Kayaking
Tubing
Golf
Camping
Cabin Rentals
Hiking
Rock Climbing
Ice Climbing
Downhill Skiing
Snowboarding
Cross-Country Skiing
Horseback Riding
National Park
Fish species found at Lake Wanaka
Brown Trout
Rainbow Trout
Salmon
Trout
---
Lake Wanaka Photo Gallery
Lake Wanaka Statistics & Helpful Links
Spread the word! Share our Lake Wanaka article with your fellow Lake Lubbers!