Lake Granby, Colorado, USA
Lake Locations:
USA - West - Colorado - Front Range -
Also known as:  Granby Lake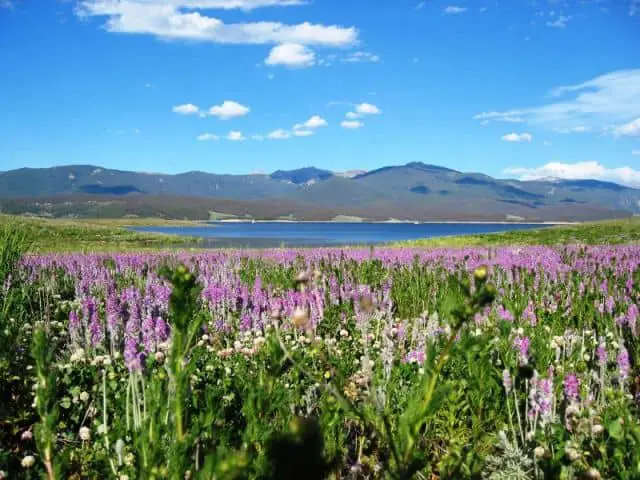 Nestled in the shadows of the majestic Rocky Mountains near the headwaters of the Colorado River, Lake Granby is a great place for a mountain getaway. With its fishing, boating, water sports, and spectacular scenery and wildlife, this lake has something for everyone.
Created in 1949 with the completion of the Granby Dam, Lake Granby is an impoundment of the Colorado River. The lake along with Shadow Mountain Reservoir, Willow Creek Reservoir, and Grand Lake, Colorado's largest natural lake, is part of the Northern Colorado Water Conservancy District. The lake and reservoirs are connected with canals, and water can be pumped from one to another as needed for irrigation. Together the lake, pumping stations, and tunnels make up the Colorado-Big Thompson Project including the Alva B. Adam Tunnel which carries water under the Continental Divide. The Department of the Interior, Bureau of Reclamation manages the project whose primary purpose is irrigation with no power generation.
Established in 1978, the land surrounding Lake Granby is the Arapaho National Recreation Area. The 36,000 acre recreation area near the west entrance to Rocky Mountain National Park is part of the Arapaho National Forest in the upper Colorado River Valley. In addition to Lake Granby, Arapaho National Recreation Area includes four other lakes, Meadow Creek Reservoir, Monarch Lake, Shadow Mountain Lake, and Willow Creek Reservoir. Together the five lakes are often referred to as the "Great Lakes of Colorado."
Visitors to Arapaho National Recreation Area can hunt for large and small game animals and waterfowl. There are trails for hiking, and although there aren't specifically groomed areas, in the winter there is snowmobiling and cross country skiing. There are also campsites for overnight lodging and boat-in camping on the northeast shores of Lake Granby.
Lake Granby is Colorado's second largest storage reservoir, and with its public boat ramps and marinas, it's very popular with boaters. There is motorized boating and sail boating, and visitors can water ski and windsurf. Anglers can fish for rainbow and mackinaw trout as well as kokanee salmon. From late December through mid February the ice on Lake Granby is usually strong enough for ice fishing.
Lake Granby borders Rocky Mountain National Park. Dedicated in 1915 by Woodrow Wilson, it is the nation's tenth national park. With mountain peeks as high as 1,400 feet, the scenery is unrivaled. In early summer the wildflowers put on a show for hikers, and in the winter visitors can snow shoe or cross country ski through the park to see the wildlife. Elk, mule deer, moose, big horn sheep, black bears, cougars and eagles all call Rocky Mountain National Park home.
The town of Granby has a rich ranching heritage. Truly the land of cowboys and Indians, the area was first inhabited by the Cheyenne and Arapaho Nations. In 1879 it experienced a minor gold rush. Visitors to Lake Granby can explore the area's history or find their inner cowboy at Granby's rodeo. There is one every weekend. It's also just a short drive to ski Winter Park or soak at Hot Sulphur Springs.
With the backdrop of the towering peaks of the Rocky Mountains, beautiful, clear water, and abundant fish and wildlife, Lake Granby is truly one of the "Great Lakes" of Colorado.
Things to do at Lake Granby
Vacation Rentals
Fishing
Ice Fishing
Boating
Sailing
Water Skiing
Camping
Hiking
Cross-Country Skiing
Snowmobiling
Hunting
Wildlife Viewing
Birding
National Park
National Forest
Fish species found at Lake Granby
Kokanee Salmon
Mackinaw Trout
Salmon
Trout
---
Lake Granby Photo Gallery
Lake Granby Statistics & Helpful Links
Spread the word! Share our Lake Granby article with your fellow Lake Lubbers!