Grand Lake, Colorado, USA
Lake Locations:
USA - West - Colorado - Front Range -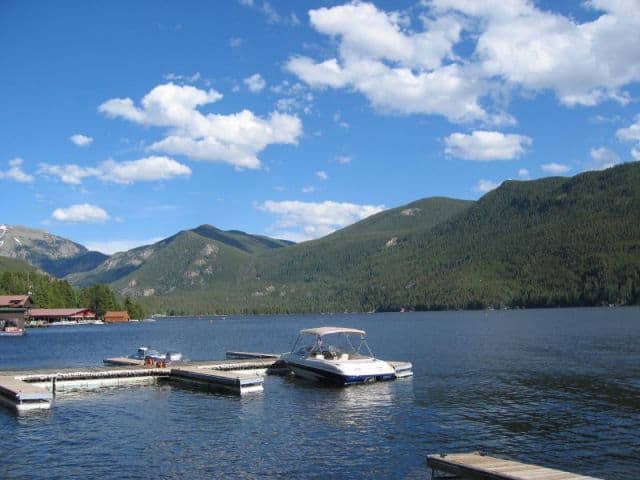 Nestled in the Rocky Mountains and filled with water from melting snow, Grand Lake is the headwaters of the Colorado River and one of the state's treasures. With its majestic scenery, pristine water and abundant wildlife, the lake is the perfect place for a Rocky Mountain getaway.
Surrounded by the Arapahoe National Forest, Grand Lake is the largest natural body of water in Colorado, and at 265 feet it is also the deepest. The lake was formed during a past ice age when glacial moraine or debris damned several streams. Until 1938 all the inflow into Grand Lake was pure snow melt. 1938 through 1957 marked the construction of the Colorado-Big Thompson Project making Grand Lake part of the state's largest transbasin diversion project. The Colorado-Big Thompson Project connected Grand Lake with Shadow Mountain Reservoir, a man made storage reservoir. Water flows from the lake and reservoir through the Alva B. Adams Tunnel and under the Continental Divide. By law, Grand Lake must remain full, but instead of just being filled with pure snow melt, occasionally water from the shallower Shadow Mountain Reservoir flows into the lake to maintain its levels.
With the exception of sailboats, most boats can use the connection to pass from Shadow Mountain Reservoir to Grand Lake. There are marinas on both lakes and Grand Lake boasts the "World's Highest Yacht Anchorage." Started in 1902, the Grand Lake Yacht Club is host to the Grand Lake Regatta and Lipton Cup Races. Held in late summer annually since 1912, racers compete for a cup given to the Yacht Club by Sir Thomas Lipton, the famous tea magnet. Boaters can also jet ski and water ski, and there is scuba diving including night diving.
Known as one of the best trout lakes in the state, fishermen will find plenty of fish to challenge them. The lake has Mackinaws, rainbow, and brown trout along with Kokanee salmon, and it's not uncommon to pull fish out of the lake weighing over twenty pounds. Grand Lake along with Shadow Mountain Reservoir and nearby Lake Granby make up the three lakes region of Grand County and have over 150 miles of shoreline to challenge fly fishermen.
Bordered on three sides by the Rocky Mountain National Park, Grand Lake offers plenty of opportunities to see wildlife including coyotes, black bear, moose, big horn sheep and cougars. There are miles of hiking and horse back riding trails nearby and in the winter snowshoeing and cross country skiing. With mountain peaks in excess of 14,000 feet, Rocky Mountain National Park is a majestic backdrop to Grand Lake.
Originally called Spirit Lake by the Ute and Arapahoe Indians who used it as their summer grounds, Grand Lake drew settlers west as a supplier for the mining and gold rush. When the rush ended Grand Lake stayed a tourist destination. Established in its present site in 1881 on the northern shores of the lake, the historic village of Grand Lake is the oldest resort community in Colorado.
Today visitors can explore the areas history at the Kauffman House Museum. Built in 1892 by Ezra Kauffman, the log hotel was run by the Kauffman family until 1946. Ice was cut from Grand Lake, packed in sawdust, and stored in the ice house for use by summer guests, and the hotel's first water system pumped water from the lake by hand into a tank in the attic. The museum is on the National Register of Historic Places and is run by the Grand Lake Historical Society.
Grand Lake's tradition as a resort community continues today. During warmer months visitors can play golf in the shadow of the snow capped peaks of the Continental Divide. During winter months there is skiing, snowmobiling, and all kinds of winter sports. With its fantastic fishing, boating, and rich history, Grand Lake is sure to become a repeat mountain destination.
Things to do at Grand Lake CO
Vacation Rentals
Fishing
Boating
Sailing
Jet Skiing
Water Skiing
Scuba Diving
Golf
Hiking
Cross-Country Skiing
Snowmobiling
Snowshoeing
Horseback Riding
Wildlife Viewing
National Park
National Forest
Museum
Fish species found at Grand Lake CO
Brown Trout
Kokanee Salmon
Salmon
Trout
---
Grand Lake CO Photo Gallery
Grand Lake CO Statistics & Helpful Links
At LakeLubbers.com, we strive to keep our information as accurate and up-to-date as possible, but if you've found something in this article that needs updating, we'd certainly love to hear from you!
Please let us know about it on our Content Correction form.
Spread the word! Share our Grand Lake CO article with your fellow Lake Lubbers!