Horsetooth Reservoir, Colorado, USA
Lake Locations:
USA - West - Colorado - Front Range -
Also known as:  Horsetooth Lake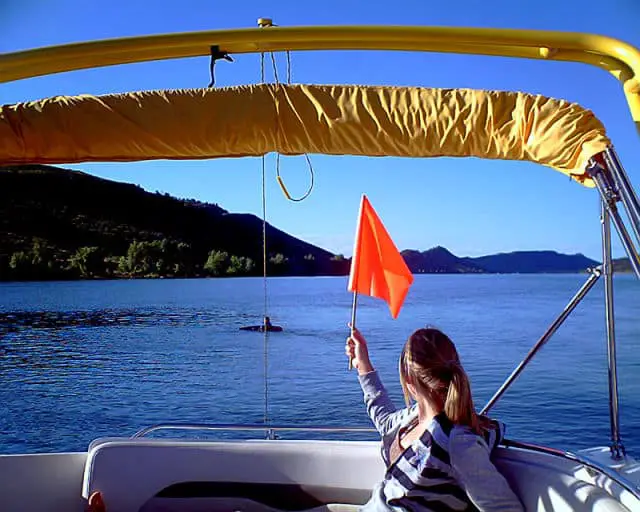 On the high, arid ridges and plains of Colorado's Front Range, Horsetooth Reservoir delights the visitor and refreshes the senses. Developed as a storage basin for that symbol of ingenious engineering – the Colorado-Big Thompson water reclamation project – Horsetooth Reservoir stores its millions of gallons of fresh water until they're needed for irrigation or as a secondary water supply. The impoundment receives nearly all of its water from Western Slope water diversion. Four dams, including Spring Canyon Dam, Dixon Canyon Dam, Soldier Canyon Dam and Horsetooth Dam, contain the pool and allow for water drawdown to meet local needs. Some excess water is channeled north to the Poudre River.
Recreation may have been an afterthought when engineers designed the system to capture snow melt from high above the Colorado River headwaters on the western side of the Rockies and to transport it to the drier eastern slopes: six power generation stations along the series of channels, pipes and pumps assure that all possible value is eked from the water along the route. However, here at Horsetooth Lake, recreation is what the great reservoir is now usually noted for. Over a half a million visitors come each year to enjoy fishing, boating and swimming. Because of the multiple usage of the waters, several agencies are involved in water control and cooperatively assure that all needs are met. Larimer County, home to Fort Collins, holds the responsibility for making sure that recreational water activities are provided for.
Water levels see extreme fluctuation due to seasonal drawdown and drought, with the highest levels in the spring and lowest levels in September. In all but the driest years, several boat launching ramps are available to the public-some charge a fee. Small coves around Horsetooth Reservoir make for excellent swimming, kayaking, canoeing and picnicking, along with being favored fishing holes. These are no-wake areas but the majority of the reservoir is open to all sorts of power boating, jet skiing, sailing, pontooning and water skiing. Two State Parks, Horsetooth State Park and Lory State Park along the western shoreline, contain camping areas, hiking and bicycling trails, nature trails and many photographic opportunities with wonderful rock formations and scenic vistas. Boat-in camping is available in designated areas. Several spots along the shore are popular bouldering locations.
Fishermen target bluegill, carp, crappie, lake trout, largemouth bass, perch, rainbow trout, smallmouth bass, splake, walleye and white bass in Horsetooth Reservoir. The lake is primarily a cool and cold-water fishery due to the extreme depths of the water. Lake monitors are carefully watching a mysterious mercury threat primarily among walleye; there is no known contamination point along the well-protected series of canals and pipes. As this occurs in several Colorado reservoirs simultaneously, more investigation may provide valuable insight into sources of contamination that science doesn't usually consider.
Visitors to Horsetooth Reservoir can find other famed sightseeing points nearby. Many visitors take a day to drive the Poudre Canyon Scenic route across the Continental Divide. More adventurous visitors may want to try whitewater rafting on the Cache La Poudre Wild and Scenic River. There are many hiking and cross-country skiing trails in the Poudre Canyon area and the all-season road is safe to drive in all but the worst weather. Rocky Mountain National Park is only a sixty mile drive away for a day trip. Make sure to pack the camera.
Just five miles west of Lory State Park the Roosevelt National Forest lands begin. The area abounds with both motorized and hiking trails, fly-fishing sites and primitive camping locations. The visitor should be aware that many of the hiking trails are steep and somewhat challenging. Unexpected bad weather or getting lost could be extremely dangerous. All visitors are advised to obtain a detailed map of the area before embarking on an adventure into some of America's most beautiful wilderness.
The lake's 25 miles of shoreline have limited real estate and private development, but visitors can find many fine vacation rentals and condos with views of the water. Few locations are far from a public access site and there is a concession marina available on the west shore. Other lodgings are available in nearby Fort Collins and in Loveland 15 miles away. Horsetooth Reservoir was named for Horsetooth Rock – a nearby rock formation that also is depicted on the Fort Collins City Logo.
Although a visitor is unlikely to encounter a rainy day, even the most astute outdoorsmen may yearn for more citified activities on occasion. Historical Fort Collins is a great way to acclimate to the laid-back western culture or to take advantage of art galleries and museums in the town. The Fort Collins Museum and Science Discovery center is an eclectic mix of old and new under one roof — kids love the activities provided there. The Fort Collins Municipal Railway Society provides restored streetcar rides on week-end afternoons on a rebuilt historical rail line. Downtown Fort Collins offers concerts, including a very popular jazz concert series, festivals, shopping and fine dining. The golf enthusiast will have no trouble finding the perfect course both in the city and in surrounding suburbs.
A bit farther south of Horsetooth Reservoir, the City of Loveland promises all the services the visitor could desire. It is worth the trip simply to visit the Historical Society exhibits and explore the galleries. At various times during the year, Native American Art is featured in some venues. It's the perfect time to pick up that unique piece of unusual art that will make you the envy of the neighborhood when you return home. For a big-city experience, both Boulder and Denver are about 75 miles south. For a change of pace, Cheyenne, WY is 60 miles north-and easy hour's drive.
Horsetooth Reservoir was drawn down to 7% in 2002 for repairs and upgrades – the water level has now returned to near-full levels. It's the perfect time to visit; the perfect time to stay awhile. Enjoy pleasant summer days and cool evenings overlooking beautiful Horsetooth Reservoir. Come and enjoy the coyotes howling their pleasure at the great reservoir in the evenings. You'll never want to leave.
Things to do at Horsetooth Reservoir
Vacation Rentals
Fishing
Boating
Sailing
Swimming
Canoeing
Kayaking
Whitewater Rafting
Jet Skiing
Water Skiing
Golf
Camping
Picnicking
Hiking
Biking
Cross-Country Skiing
State Park
National Park
National Forest
Museum
Shopping
Fish species found at Horsetooth Reservoir
Bass
Black Bass
Bluegill
Carp
Crappie
Lake Trout
Largemouth Bass
Perch
Rainbow Trout
Smallmouth Bass
Splake Trout
Sunfish
Trout
Walleye
White Bass
---
Horsetooth Reservoir Photo Gallery
Horsetooth Reservoir Statistics & Helpful Links
Spread the word! Share our Horsetooth Reservoir article with your fellow Lake Lubbers!