Lake Constance
Also known as:  Lake of Constance, Lake Bodensee
Welcome to the ultimate guide for history, statistics, local fun facts and the best things to do at Lake Constance.
If you're considering Lake Constance vacation rentals, we've made it super easy to explore accommodations and nearby hotels using the interactive map below. Simply click on a listing to compare similar properties, best rates and availability for your dates. Or keep scrolling to read our Lake Constance guide!
Lake Constance visitor and community guide
Lake Constance is a 132,448-acre lake situated in the northern foothills of the Alps between Germany, Austria, and Switzerland. The third-largest lake in central Europe in terms of total area, the scenery around Lake Constance is of striking beauty, with its sloping banks, green orchards and vineyards, and its border of old lakeside towns and attractive historic villages. Various areas of the lake have been declared nature reserves and offer the outdoor enthusiast miles of unspoiled wilderness to hike, bike and just enjoy. A trail, which encircles the entire lake, caters to walkers and bikers and allows you to experience the cultural differences that define each country on this lake.
160 miles of shoreline make water recreation a main attraction of Lake Constance. The lake has a number of beautiful harbors which encourage fishing, camping, swimming and sunbathing along the shore. Ports around the lake offer boat rentals and sailing schools. Although the wind usually blows steadily from east or west it is often gusty near the shore. Sailing on the lake is not for novices. Storms can blow up suddenly and attention should be paid to storm warning lights on the shore. Other water activities include kayaking, windsurfing, speed boating, water skiing and scuba diving.
Boat services on Lake Constance run from the middle of April to the middle of October. There are ferry services (passengers and cars) which run year round between many of the larger cities and islands on the lake. During the summer, resorts and large towns offer boat excursions of all kinds to include whole-day, half-day, shorter breakfast and lunch cruises as well as evening parties and special themed events.
Sections of Lake Constance shoreline have been declared landscape or nature reserves in order to maintain them in their relatively unspoiled condition. The Wollmatinger Ried Nature Reserve located where the Rhine flows from the lake into the Untersee is a 1,074-acre protected area that is a popular nesting area for many species of rare birds.
Fishing is a favorite pastime of locals and tourists and there are plenty of trout and salmon in Lake Constance. The lake is home to an extremely rare species called the Lake Constance Trout or Salmo tutra. Whitefish, zander, pikeperch and perch are also in the lake. As you might expect, fresh fish is the favored dish in most restaurants with a glass of local wine.
Walkers, horseback riders and bikers will enjoy the Lake Constance Trail which encircles the lake at varying distances from its shores and at varying heights for a total distance of 169 miles. There are several stables on the lake that rent horses.
Lake Constance is the home of three islands: Mainau, Reichenau and Lindau. The flower paradise of Mainau lies near the German town of Konstanz. This island is the property of Count Bernadotte of Sweden. This island features beautifully landscaped flower gardens and panoramic views of the lake. There is also a greenhouse with thousands of butterflies and a tropical climate. The Monastic Island of Reichenau lies between Untersee and Gradensee in southern Germany. It was classed as a World Heritage Site because of its ancient monastery, Reichenau Abbey. The island has also received recognition for its vineyards and vegetable farms. There is a large nature reserve next to the island that is home to many endangered birds. The island of Lindau in the eastern part of the lake has many attractions and ancient landmarks including a large promenade, a beautiful harbor marked by a stone lion and a lighthouse, a medieval old quarter, golf courses and an elegant casino.
There are hundreds of small towns on and around Lake Constance which offer all sorts of lodging, fine dining and tourist attractions. Notable towns on the Austrian side of the lake include Hard, Bregenz and Lochau. Bregenz is located on a plateau extending to the foot of Pfander Mountain. The city hosts a famous music festival each summer, the Bregenzer Festspiele. This area was first settled around 1500 BC. Attractions include St. Gallus Church, the Post Office Building, Martins Tower, the Art House and the Lake Promenade. Martins Tower houses the Military History Museum and has the biggest Baroque-style steeple in Central Europe.
Popular destinations on the German side of Lake Constance include the towns of Meersburg, Daisendorf, Unteruhldingen and Konstanz. Meersburg is famous for its ancient castle located on the lake. Daisendorf is also located in this area. It has an ancient chapel dating from 1508, which holds unique Renaissance frescoes. It also has many excellent restaurants and a popular wine festival, held in August of each year. Unteruhldingen is a hamlet popular for its open-air Museum of Archaeology. It showcases models of Neolithic and Bronze Age stilt houses. Konstanz is a university town with a population of around 80,000. It lies on the Rhine and is the perfect starting point for a tour of Reichenau and Mainau islands. The Munster cathedral dominates the town. Another attraction is a theatre built in 1610, the oldest theatre in the country still holding regular performances.
Notable towns on the Swiss side of Lake Constance include Rorschach, Horn, Steinach, Frasnacht and Arbon. Attractions in Rorschach include the Aviation Museum, Mariaberg monastery, the lakeside promenade and several historical castles. Miniature golf, swimming pools, and playgrounds can offer visitors a relaxing break from the area's history.
Visitors have several options when exploring Lake Constance – by scenic car ride, on a relaxing cruise, or to truly experience the area's personality – ride the bicycle trail and be sure stopping at every village on the route of three beautiful countries. Whatever mode of transportation you prefer, you will be enchanted by the atmosphere, the history, and the breathtaking views of the snow-capped Alps.
Custom Lake Constance house decor
Read our full review of these personalized lake house signs.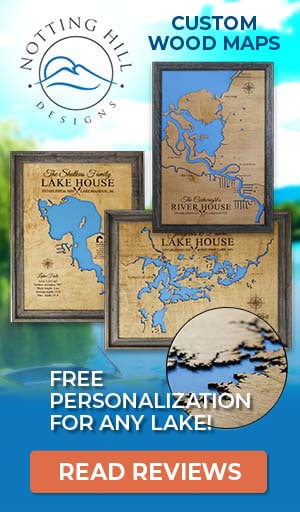 Things to do at Lake Constance
Vacation Rentals
Fishing
Boating
Sailing
Swimming
Swimming Pool
Kayaking
Water Skiing
Scuba Diving
Golf
Camping
Hiking
Biking
Horseback Riding
Birding
Museum
Playground
Miniature Golf
Casino Gambling
Fish species found at Lake Constance
Perch
Pike Perch
Salmon
Trout
Whitefish
Zander
---
Best hotels and vacation rentals at Lake Constance
The Lake Constance map shown above is a simple and stress-free way to search for trip accommodations. But if you want to take a deeper dive to find the ideal waterfront home, cabin, condo, hotel or resort, visit our favorite lodging partners by clicking the buttons below.
Note: These are affiliate links so we may earn a small commission if you book through them. While there is no extra cost to you, it helps provide resources to keep our site running (thank you)! You can read our full disclosure policy here.
---
Lake Constance photo gallery
New photos coming soon!
Lake Constance statistics & helpful links
We strive to keep the information on LakeLubbers as accurate as possible. However, if you've found something in this article that needs updating, we'd certainly love to hear from you! Please fill out our Content Correction form.
Advertise your Lake Constance vacation rental
LakeLubbers will soon offer homeowners and property managers the opportunity to to showcase their vacation rentals to the thousands of lake lovers searching our site daily for accommodations. If you'd like additional details, please contact our advertising team here.
Looking for the Lake Constance forum?
LakeLubbers previously offered visitors the ability to create accounts and participate in lake forums. When we overhauled the site's content management system in 2021 we had to disable those features. We're evaluating options and welcome your comments and feedback here.
We also encourage you to join our lake-lovin' community on Facebook and Instagram!
Spread the word! Share our Lake Constance article with your fellow Lake Lubbers!