Lake Wolfgang, Salzburg, Austria
Also known as:  Wolfgangsee Lake
Welcome to the ultimate guide for history, statistics, local fun facts and the best things to do at Lake Wolfgang.
If you're considering Lake Wolfgang vacation rentals, we've made it super easy to explore accommodations and nearby hotels using the interactive map below. Simply click on a listing to compare similar properties, best rates and availability for your dates. Or keep scrolling to read our Lake Wolfgang guide!
Lake Wolfgang visitor and community guide
One of the best loved and most popular of vacation lakes in Austria's Lake District is Lake Wolfgang. Called Wolfgangsee by the locals, the 3200-acre lake was created by glaciers thousands of years ago and has played a major part in the history of the Salzburg area ever since. The lake wasn't named for that other famous Austrian, Wolfgang Amadeus Mozart, but it is a fact that his mother was born here and his sister lived here for a time. The composer was born in Salzburg, only 25 miles away. Instead, the lake was named after Saint Wolfgang of Regensburg who tradition says built the first church along its shore in the tenth century. As part of the famed Salzkammergut Mountains resort region, tourism has reigned supreme in the former farming area for over a hundred years. Facilities for outdoor recreation and quaint lodgings are abundant, and festival and traditional events are a regular occurrence.
Lake Wolfgang lies in a northwest-to-southeast direction. It is separated into two basins by a peninsula of land called 'the Narrows' with shorelines that are only about 600 feet apart at the narrowest point before widening into a sizeable lake. Due to the surrounding mountains, a steady breeze blows at Lake Wolfgang most of the time, making it an excellent location for sailing and surfboarding. Three major villages, St. Wolfgang, Saint Gilgen and Strobl, are regular tourism hotspots and welcome good-sized crowds during major festivals and holidays. Smaller villages such as Abersee are home to many vacation villas, guest lodgings and such facilities as the local yacht club. Distances around the large lake are shortened by use of lake ferries that make regular stops at most villages. The same ferry boats make special trips during festivals and lakeside events, allowing most major festivals to encompass all of the larger villages in the celebration.
Boating is one of the most popular activities on Lake Wolfgang itself. Numerous small sailboats ply the water, taking advantage of the excellent winds. The yacht club sponsors regular regattas. Although no public marinas are internationally advertised, there are several smaller places for seasonal residents and visitors to store their boats. Several locations rent row boats, motor boats, sailboats, canoes, kayaks and paddleboats. Some locations teach water skiing and wake-boarding. Others specialize in fishing equipment and angling supplies. Many beaches, both public and proprietary, allow eager lakelubbers to enjoy a swim in the pristine waters. Despite its location just north of the Alps, the unique conditions at Lake Wolfgang allow the water to reach a temperature nearing 79 degrees during the summer, making for excellent swimming. Sandy beaches encourage sun bathing and beach volleyball. Fishermen enjoy angling for speckled trout, rainbow trout, brown trout, lake char, pike, lake trout, whitefish and aalrutten-a species of eel. The perlfisch also lives in the lake and is strictly protected year-round. A license is required for fishing and may be obtained at many of the resort hotels along the shore.
Festivals and holiday celebrations along Lake Wolfgang are varied. Many are general harvest festivals, with events such as the vintage tractor show and the traditional celebration when the villagers' cattle, wearing folk hats and decorations, are brought down from their summer mountain pastures to the lower elevation meadows for the winter. Almkirtag, or alpine country fair, is held with traditional customs, handicrafts and delicacies. The Advent celebrations encompass the entire lakeshore with Christmas trees, lanterns, lights and traditional fireplaces in the villages.
In recent years, the organizing authorities have made it clear that everyone is welcome at Lake Wolfgang's Advent except Santa Claus. In Austrian tradition, Santa Claus does not give gifts to children; the 'Christkind' (Christ-child) does. To prevent the dilution of Austrian tradition, Santa Claus has been banished! A related event is the Festival of Nikolaus, in which actors depict the Bishop Nikolaus, benefactor of the poor, and his ancient nemesis, the Krampus. Dressed in furs with a devilish mask, the Krampus actors make a great deal of noise to frighten the children until Nikolaus shows up with gingerbreads, nuts and treats. Most villages also perform a 'devil' run, with Nikolaus chasing the Krampus devils.
Many traditions around Lake Wolfgang involve running or cycling events. Among the traditional events is Glocklerlaufe. This celebration involves the young men of the town, elaborately costumed, performing a sort of running drama. Some of the more popular modern running events include the Wolfgang Challenge Triathlon race and the Schafberg Run, an extreme race consisting of racing the nearby cog railway train to the summit of Schafberg Mountain. Although that race is only 5.8 kilometers long, it covers 26% grades and a rise in elevation of 4,068 feet. For the past several years runners have beaten the train to the summit, although not by much. A similar mountain bike race is held each year, racing from the small village of Alberssee up the mountain. Lake Wolfgang thus attracts many young athletes to its shores each year.
Those with a desire for a slower pace of exercise can take advantage of the many miles of walking, hiking and horseback riding paths around Lake Wolfgang and into the nearby mountains. Cycling is also popular; bicycles can be rented in all villages. New electric bikes and regular charging stations make this sport accessible to those without the physical stamina for regular cycling. Other visitors will spend Monday evenings listening to folk music in a local cafe or visiting the annual arts and crafts market in Saint Gilgen. Visitors with children often enjoy the lake cruises available on sizable cruise boats. A cable car takes visitors to the top of an nearby mountain to enjoy the view.
Winter is a sports-filled adventure at Lake Wolfgang. Several ski resorts and ski schools are located nearby. Downhill skiing and snowboarding are joined by cross-country skiing, snowshoeing and ice skating during the colder months. Bus service is provided to local ski venues. Many of the resort hotels and private guest apartments are available year-round for lodging. In summer, several campgrounds near the lake offer the perfect spot to pitch a tent or park a caravan. The lake's close proximity to the City of Salzburg makes it an attractive holiday destination year round.
Salzburg is exciting, cosmopolitan and historic. The Salzburg Old City is a UNESCO World Heritage site, filled with lovely architecture and spectacular buildings such as the Salzburg Cathedral. Overlooking the city, Hohensalzburg Fortress is the largest preserved fortress in this part of Europe. Mozart's birthplace and exhibits add depth to the story of the famed composer. Music lovers will enjoy the Sound of Music exhibits featuring the story of the von Trapp family's forced emigration to America and their ultimate triumph. Stage productions of Sound of Music are often performed locally. And the annual Salzburg Festival celebrates the arts as only historic Salzburg can do. Salzburg can be reached by train from anywhere in Europe, and regular bus service serves Lake Wolfgang.
Lake Wolfgang is a worthy destination for any European traveler and one that should not be missed. Whether it is fishing, swimming, boating or cycling, one will never run out of things to do and see at Lake Wolfgang. Put this fantastic lake on your list today.
Custom Lake Wolfgang house decor
Read our full review of these personalized lake house signs.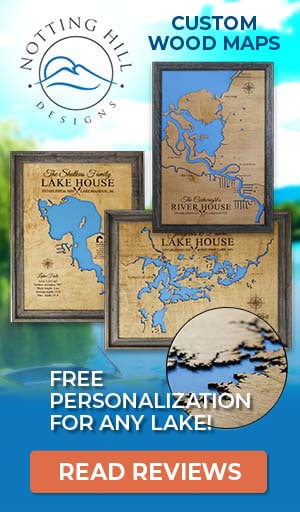 Things to do at Lake Wolfgang
Vacation Rentals
Fishing
Boating
Sailing
Swimming
Beach
Canoeing
Kayaking
Water Skiing
Camping
Campground
Hiking
Ice Skating
Biking
Downhill Skiing
Snowboarding
Cross-Country Skiing
Horseback Riding
Fish species found at Lake Wolfgang
Brown Trout
Char
Eel
Lake Trout
Pike
Rainbow Trout
Trout
Whitefish
---
Best hotels and vacation rentals at Lake Wolfgang
The Lake Wolfgang map shown above is a simple and stress-free way to search for trip accommodations. But if you want to take a deeper dive to find the ideal waterfront home, cabin, condo, hotel or resort, visit our favorite lodging partners by clicking the buttons below.
Note: These are affiliate links so we may earn a small commission if you book through them. While there is no extra cost to you, it helps provide resources to keep our site running (thank you)! You can read our full disclosure policy here.
---
Lake Wolfgang photo gallery
New photos coming soon!
Lake Wolfgang statistics & helpful links
We strive to keep the information on LakeLubbers as accurate as possible. However, if you've found something in this article that needs updating, we'd certainly love to hear from you! Please fill out our Content Correction form.
Advertise your Lake Wolfgang vacation rental
LakeLubbers will soon offer homeowners and property managers the opportunity to to showcase their vacation rentals to the thousands of lake lovers searching our site daily for accommodations. If you'd like additional details, please contact our advertising team here.
Looking for the Lake Wolfgang forum?
LakeLubbers previously offered visitors the ability to create accounts and participate in lake forums. When we overhauled the site's content management system in 2021 we had to disable those features. We're evaluating options and welcome your comments and feedback here.
We also encourage you to join our lake-lovin' community on Facebook and Instagram!
Spread the word! Share our Lake Wolfgang article with your fellow Lake Lubbers!