Grundlsee, Styria, Austria
Also known as:  Lake Grundlsee, Lake Grundl, Grundl, Styrian Sea, das Steirische Meer
Welcome to the ultimate guide for history, statistics, local fun facts and the best things to do at Grundlsee.
If you're considering Grundlsee vacation rentals, we've made it super easy to explore accommodations and nearby hotels using the interactive map below. Simply click on a listing to compare similar properties, best rates and availability for your dates. Or keep scrolling to read our Grundlsee guide!
Grundlsee visitor and community guide
Grundlsee (see = lake) is one of a small cluster of lakes surrounding the peaceful Austrian community of Bad Aussee. Located in upper Styria Province (also known as Steiermark), Bad Aussee lies at the geographic center of Austria. Being part of the Salzkammergut Lake District, Grundlsee is surrounded by breathtaking alpine mountains and lush forested valleys, but it is the people's culture and history that attracts visitors to Grundlsee, sometimes called the Styrian Sea.
Formed during the last ice age, this glacial lake is the largest lake in Styria and one of three lakes lying in a chain along a short stretch of River Traun. Locally called das Steirische Meer, Lake Grundl lies two miles northeast of Bad Aussee and has five villages lining its eight-mile shoreline. Picturesque Brauhof, Gossl, Archkogel, Untertressen and Grundlsee make up the municipality of Grundlsee.
The quiet simplicity and beauty of Grundlsee make this 1,023-acre lake a popular family retreat. Fed by mountain streams and snowmelt, the clear cold water is an invitation to swimmers, divers, windsurfers, sailors and paddlers. A long beach and hidden bays attract swimmers on a summer day with beach bonfires warming friends and family in the evening. Only electric motors are permitted on the water, helping to maintain the tranquility of lake life. Boat rentals, sailing and windsurfing lessons are readily available. During winter months portions of the lake are reserved for ice skating, and for the brave, ice diving into the 209-foot depths begins in January.
Fly fishermen will be thrilled with easy access from Grundlsee to River Traun, one of the best stretches of trout water in Europe. At Lake Grundl, fishery records date back to 1280 A.D. The lake's quality Arctic char were in such demand that they were served at the emperor's court in Vienna, 240 miles away. Prized for over 700 years, disaster struck the species in 2005 with an outbreak of Triaenophorus crassus, a fresh water parasite. Believed to have been introduced with the stocking of whitefish, pike or perch, this became the world's first recorded epidemic in Arctic char. With some restrictions, anglers continue to enjoy fishing Grundlsee while efforts are underway to restore Arctic char populations.
While at Grundlsee, continue up the River Traun for the "Three Lakes Tour." Lake Toplitzsee is the second lake, approximately one mile northeast of Grundlsee. Toplitzsee is a mile long with a depth of 338 feet. Fresh water covers the first 65 feet, and then becomes saline as salt leaches into the depths from the adjacent Hasel Mountains.
It isn't the water that makes Toplitzsee unique; it is the local history. A marker appears along the shore of Lake Toplitz identifying the area where Austria's Archduke Johann met and fell in love with a local peasant girl, Anna Plochl. They married in 1829 and continued their close ties to Bad Aussee and Styria. The prestige brought to Styria by the couple remains a source of local pride.
Not all of Toplitzsee's history is as romantic as the story of Archduke Johann and Anna. During the years following Hitler's 1938 invasion of Austria, Toplitzsee and surrounding mountainsides became a test site for German weapons and explosives. In 1945, during the last days of the Third Reich, Germany's SS guard dropped evidence of the testing along with documents and equipment into the depths of Toplitz. Several dives have taken place since the war uncovering a torpedo, ammunition, laboratory equipment, a printing press, counterfeit British money and secret military documents. While underwater salvaging is said to be complete, treasure hunters still find occasional bits of history abandoned by the SS.
The third lake on the tour is the tiny and breathtakingly beautiful Kammersee. Reached only by boat and a short hike, the only evidence of human activity is a channel carved out of a massive stone outcrop in the 16th century. In this deep green fairytale setting, Kammersee becomes the source of River Traun.
Pride in local tradition and history are at the heart of Grundlsee and Bad Aussee. Walk the streets of the towns and villages, and you will see residents dressed in traditional lederhosen and dirndl. Worn as everyday dress, not as costume, the garments are a local statement of cultural pride.
After a long winter, traditional festivals fill the spring days of the residents of Grundlsee. For over 50 years the blooming of fragrant white daffodils signals the beginning of Narzissenfest, one of Austria's largest flower festivals. This folk festival includes daffodil-decorated sculptures, parades, traditional costume, and local folk music.
Residents of Grundlsee share in Fasching, a pre-lenten spring festival celebrated in Bad Aussee. Reminiscent of Austrian peasant culture and masked balls of late-medieval and early Renaissance festivals, Fasching is filled with carnivals, masked costumes, masked parades, music and dancing.
Long winters don't stop the revelry at Grundlsee. In January, much in the tradition of America's Halloween "trick or treat," children go door to door gathering baked treats, fruits and nuts in a custom called Glockler und Berigeln. That evening, with faces covered and costumes on, adults open their homes to refreshments and entertainment while attempting to guess the identities of friends and neighbors.
Local traditions, mountain scenery, summer fun and winter sports make Grundlsee a unique destination among the lakes of the Salzkammergut Lake District. Area vacation rentals include holiday homes, guest houses, inns and hotels. Select your accommodation and hike between deeply chiseled mountain peaks, ski across alpine meadows or downhill slopes, sunbathe on the lakeshore, or dance in local parades. Pick your season or pick your festival and explore the legends, lore and attractions of Grundlsee.
Custom Grundlsee house decor
Read our full review of these personalized lake house signs.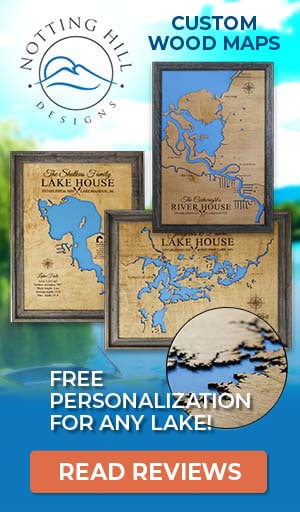 Things to do at Grundlsee
Vacation Rentals
Fishing
Boating
Sailing
Swimming
Beach
Hiking
Ice Skating
Hunting
Fish species found at Grundlsee
Char
Perch
Pike
Trout
Whitefish
---
Best hotels and vacation rentals at Grundlsee
The Grundlsee map shown above is a simple and stress-free way to search for trip accommodations. But if you want to take a deeper dive to find the ideal waterfront home, cabin, condo, hotel or resort, visit our favorite lodging partners by clicking the buttons below.
Note: These are affiliate links so we may earn a small commission if you book through them. While there is no extra cost to you, it helps provide resources to keep our site running (thank you)! You can read our full disclosure policy here.
---
Grundlsee photo gallery
New photos coming soon!
Grundlsee statistics & helpful links
We strive to keep the information on LakeLubbers as accurate as possible. However, if you've found something in this article that needs updating, we'd certainly love to hear from you! Please fill out our Content Correction form.
Advertise your Grundlsee vacation rental
LakeLubbers will soon offer homeowners and property managers the opportunity to to showcase their vacation rentals to the thousands of lake lovers searching our site daily for accommodations. If you'd like additional details, please contact our advertising team here.
Looking for the Grundlsee forum?
LakeLubbers previously offered visitors the ability to create accounts and participate in lake forums. When we overhauled the site's content management system in 2021 we had to disable those features. We're evaluating options and welcome your comments and feedback here.
We also encourage you to join our lake-lovin' community on Facebook and Instagram!
Spread the word! Share our Grundlsee article with your fellow Lake Lubbers!