Hallstatter See, Upper Austria, Austria
Lake Locations:
Austria - Upper Austria -
Also known as:  Lake Hallstatter, Lake Hallstatt, Hallstattersee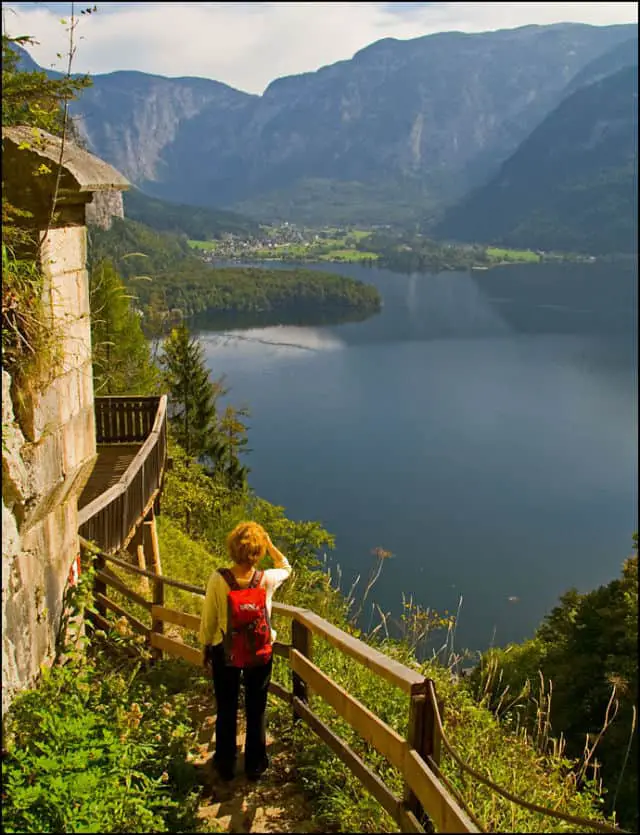 Lake Hallstatter (Hallstatter See or Hallstattersee in German) is one of the best known lakes in Austria's Salzkammergut resort area. A popular lake for scuba diving, scenic cruises and fishing, the surrounding mountains and alpine meadows also offer a variety of outdoor experiences including Nordic walking, hiking, cycling and paragliding. Hallstattersee is found in the Austrian state of Oberosterreich (Upper Austria) just over a one-hour drive southeast of Salzburg or two-hour drive from Munich.
The history of Hallstattersee, and the community of Hallstatt, begins with the area's rich salt deposit. Archeological findings place discovery of the salt as early as 5000BC. Evidence of continued habitation was discovered in 1846 when a prehistoric cemetery was uncovered near Hallstatt. A study of the cemetery remains helped define the Early Iron Age (800BC-400BC) which became known as "The Hallstatt Period." Over the centuries Illyrians, Celts, Romans and eventually European royalty held title to the precious mineral. It wasn't until the 19th century that a connecting road and railroad brought tourism to Hallstatt, meaning "estate of the salt chamber." In 1997 the valuable history of Hallstatt was recognized when Hallstatt-Dachstein-Salzkammergut became a UNESCO World Cultural Heritage Site.
Lake Hallstatt is a deep, glacially carved lake. With a surface area of 2,120 acres (8.58 square kilometers), Hallstattersee is the fifth largest lake in the Salzkammergut. Listed according to size, the four larger lakes are Attersee at 11,342 acres (45.9 square kilometers); Traunsee at 6,326 acres (25.6 square kilometers); Mondsee at 3,511 acres (14.21 square kilometers); and Wolfgangsee at 3,249 acres (13.13 square kilometers). The River Traun flows through Lake Hallstatter providing the majority of inflow and outflow while helping to maintain a maximum depth of 410 feet (125.2 meters) and average depth of 213 feet (64.9 meters).
With summer water temperatures at 66 degree Fahrenheit (19 degrees Celsius), Hallstatter See is a bit chilly for swimming. Those who choose to dip will find a naturist's area and multiple swimming (bathing) areas with changing facilities, sun bathing lawns, tables and playgrounds. Lake Hallstatter is a popular scuba diving lake. Designated diving sites are marked along the western and southern shore where the dramatic scenery above the lake continues into the depths of the clear water.
Boating on Lake Hallstatter is limited to canoes, kayaks and rafts with boat rentals readily available around the 13-mile shoreline. Power boats, water skiing, personal water craft and sailboats are not permitted. Taking a lake excursion on area cruise ships is highly recommended. Bring your camera and capture the dramatic cliffs and steep slopes of the Dachstein Mountains rising from this fjord-like lake to create one of the most photographed settings in Austria.
During the winter, temperatures get cold enough to freeze Hallstatter See. When the lake water is open you find shore anglers casting a line for river trout, lake trout, rainbow trout, arctic char, pike, carp, eel and many types of white fish. Fly-fishermen enjoy fishing for large grayling along the 95 mile (153 kilometer) River Traun. Whether you fish the lake or the river, a fishing permit is required and available at several stops in the lakeside communities.
Move beyond the shore of Lake Hallstatt and you will find what are described as the loveliest walks in the Salzkammergut. Trails cross working farms, alpine meadows, tree-covered slopes, and even across Hallstattersee on a suspension bridge. Additional paths and trails are open to cycling and mountain biking. Take the cable car past the village of Obertraun and explore Dachstein caves. Within the village of Hallstatt, take the opportunity to visit the historic salt mines and the Cultural Heritage Museum that hold the history of Hallstattersee.
If your adventurous spirit prefers an elevated view, you can climb the Dachstein Mountains, paraglide or enjoy a hot air balloon ride over the lake and rural countryside. From the heights you will find the villages of Obertraun (population approximately 750) and Hallstatt (population approximately 1,000) at the southern end of the lake and the market town of Bad Goisern (population approximately 7,600) immediately north of Lake Hallstatter. The view captures traditional Austrian architecture, historic buildings and a lush alpine setting that creates a perfect image of the Austrian countryside. Within the communities and along the banks of Lake Hallstatter, visitors will find an excellent selection of camp sites and caravan sites or vacation rentals including self-catering cottages, apartments, flats, homes and for those fortunate to call this fairy tale land home – real estate properties.
Whether you come to enjoy the summer scenery or ski and snowboard Krippenstein, a 6,890-foot (2100 meter) mountain towering over Lake Hallstatter, you will be surrounded by Austria's beautiful scenery and the warmth of its people. Whether you are drawn by dramatic landscape or endless adventure, the exceptional awaits at every turn leaving you with the memory of a perfect Austrian holiday.
.
Things to do at Hallstatter See
Vacation Rentals
Fishing
Boating
Sailing
Swimming
Canoeing
Kayaking
Water Skiing
Scuba Diving
Camping
Hiking
Biking
Museum
Playground
Fish species found at Hallstatter See
Carp
Char
Eel
Grayling
Lake Trout
Pike
Rainbow Trout
Trout
---
Hallstatter See Photo Gallery
Hallstatter See Statistics & Helpful Links
Spread the word! Share our Hallstatter See article with your fellow Lake Lubbers!