Lake Chelan, Washington, USA
Welcome to the ultimate guide for history, statistics, local fun facts and the best things to do at Lake Chelan.
If you're considering Lake Chelan vacation rentals, we've made it super easy to explore accommodations and nearby hotels using the interactive map below. Simply click on a listing to compare similar properties, best rates and availability for your dates. Or keep scrolling to read our Lake Chelan guide!
Lake Chelan visitor and community guide
From the Salish Indian word for "deep notch", Lake Chelan is the third deepest lake in the United States with a maximum depth of almost 1500 feet. Lake Chelan is long and narrow, stretching more than 50 miles in length with an average width of one mile. This north-central Washington lake nestled within the North Cascades National Park is a beautiful stretch of blue water and green shores, with a Cascade Mountains backdrop so perfect it almost seems painted. The lake's superb location and diverse aquatic offerings have made it a premier destination for vacationers of all kinds.
Lake Chelan is a glacier-fed lake located within an 80-mile long glacial valley. It took millions of years to form as tectonic plates shifted and the Cascade Mountains rose up. Glaciers formed as the mountain tops eroded, and today you will spot many of their remnants – cascading waterfalls and babbling creeks that flow into Lake Chelan. General belief holds that Native Americans inhabited this area for thousands of years before the arrival of white settlers and explorers in the 1800s. In the 1880s, even more setttlers came west in search of precious treasures to be found in the local mines. In the 1890s, settlers began to build homes at Lake Chelan, diverting waters to irrigate their fruit orchards. Today, the lake is known to be richer in amazing vistas and stunning scenery than it ever was in gold and silver.
The Chelan County Public Utility District has controlled water levels on Lake Chelan since 1955. Several dams were built at the southeastern tip of the lake, where water flows into the Chelan River, between 1892 and 1927 to provide flood control, water supply, hydroelectric power, and navigation along the Chelan River. The District draws down the water level in the winter to prevent flooding from melting snow in the spring.
If you can drag your eyes away from the cascading falls and towering mountains, you'll find that Lake Chelan offers myriad activities to fill your day. Boating and other water sports are among the most popular, and you'll often find young people (and the young at heart) diving off docks and splashing in the refreshing waters. For a slightly more sophisticated afternoon, consider renting a boat and setting off on a mission of exploration. Power boats and jet skis are available for adrenaline junkies, parasailing is a favorite among serious athletes, and for the rest of us, there are canoes, kayaks, tubes, paddle boats, and pontoon boats. If spending the day on the water sounds like your cup of tea, don't hesitate: Lake Chelan is large and is best explored by boat, so head to a marina and get your boating day started. Guided boat tours into the Lake Chelan wilderness are also available.
If fishing is your game, Lake Chelan will not disappoint. Known for its world-class fishing, the lake holds the record for Washington State Record Lake Trout — weighing in at a whopping 35 pounds, 7 ounces — as well as the personal records of many avid anglers. Each year, 100,000 Chinook salmon (king salmon), 60,000 rainbow trout, and 600,000 Kokanee (landlocked sockeye salmon) are released into the waters to join the burbot (freshwater lingcod), cutthroat trout, mackinaw (lake trout), and smallmouth bass that make their home here. Come catch your personal best!
(Update: A new state record for a Mackinaw trout was broken on February 4, 2013 at a whopping 35 pounds, 10 ounces!)
If hiking is a hobby, look no further than Lake Chelan. Both day hikes and overnight varieties are available, and you are guaranteed some of the most amazing sights you will ever see. Many of the trails do double-time as running paths, dog paths, and even cross-country-skiing trails in the winter. Explore mountain summits and ridges, be amazed by birds-eye views of Lake Chelan, search for serenity amongst flowering trees and bushes, and drink in the fresh, alpine fir-scented air.
If you want to get out into nature, but your family isn't ready for a hike, consider taking a horseback ride or the ever-popular horse & wagon (buggy) tours. You'll visit the Courtney cabin at the Stehekin landing, travel over old farmland and logging roads, and listen as an educated guide schools you on local history. The wagon ride is always a favorite with the youngest family members.
When you've stretched your legs and tickled your itch for nature photography, head back to Lake Chelan's inviting shores to indulge in some waterside picnicking and swimming. The lake's campgrounds are perfect for such afternoons, offering bathrooms, floating docks, picnic areas, and designated swimming areas.
In winter, Lake Chelan transforms into a winter wonderland of powdery white snow and trails galore. Test your skiing skills with miles of cross-country trails or get your heart racing at the Lake Chelan Ski club, which offers both downhill skiing and high speed tubing. For a bit of unique fun, rent a snowmobile and head out to any one of the area's several snowmobile areas. Offering miles of trails designed just for snowmobiling and scenic viewing, you'll find yourself lost in the beauty and tranquility of this stunning valley draped in snow.
Lake Chelan is a four-season playground, packed with enough outdoor activities to fill up your year. Of course, your day can be as full or as free as you choose, and you may soon find yourself waking up late and turning in early, a glass of wine your only company as you watch a brilliant lake sunset.
Custom Lake Chelan house decor
Read our full review of these personalized lake house signs.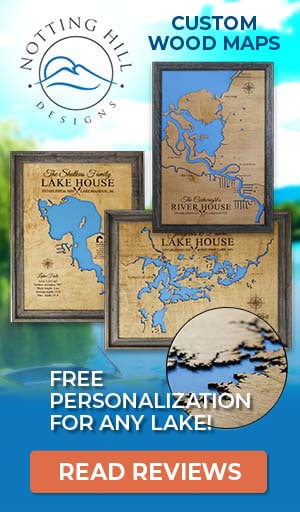 Things to do at Lake Chelan
Vacation Rentals
Fishing
Boating
Swimming
Canoeing
Kayaking
Jet Skiing
Parasailing
Tubing
Camping
Campground
Picnicking
Cabin Rentals
Hiking
Downhill Skiing
Snowmobiling
Horseback Riding
Waterfall
Birding
National Park
Playground
Fish species found at Lake Chelan
Bass
Black Bass
Burbot
Chinook Salmon
Cutthroat Trout
Kokanee Salmon
Lake Trout
Mackinaw Trout
Rainbow Trout
Salmon
Smallmouth Bass
Sockeye Salmon
Trout
---
Best hotels and vacation rentals at Lake Chelan
The Lake Chelan map shown above is a simple and stress-free way to search for trip accommodations. But if you want to take a deeper dive to find the ideal waterfront home, cabin, condo, hotel or resort, visit our favorite lodging partners by clicking the buttons below.
Note: These are affiliate links so we may earn a small commission if you book through them. While there is no extra cost to you, it helps provide resources to keep our site running (thank you)! You can read our full disclosure policy here.
---
Lake Chelan photo gallery
New photos coming soon!
Lake Chelan statistics & helpful links
We strive to keep the information on LakeLubbers as accurate as possible. However, if you've found something in this article that needs updating, we'd certainly love to hear from you! Please fill out our Content Correction form.
Advertise your Lake Chelan vacation rental
LakeLubbers will soon offer homeowners and property managers the opportunity to to showcase their vacation rentals to the thousands of lake lovers searching our site daily for accommodations. If you'd like additional details, please contact our advertising team here.
Looking for the Lake Chelan forum?
LakeLubbers previously offered visitors the ability to create accounts and participate in lake forums. When we overhauled the site's content management system in 2021 we had to disable those features. We're evaluating options and welcome your comments and feedback here.
We also encourage you to join our lake-lovin' community on Facebook and Instagram!
Spread the word! Share our Lake Chelan article with your fellow Lake Lubbers!