Enchantment Lakes, Washington, USA
Also known as:  Sprite Lake, Leprechaun Lake, Lake Viviane, Isolation Lake, Talisman Lake, Brisengamen Lakelets, Lake Brynhild, Lake Freya, Lake Rune. Crystal Lake, Shield Lake, Mesa Lake, Earle Lakes
Welcome to the ultimate guide for history, statistics, local fun facts and the best things to do at Enchantment Lakes.
If you're considering Enchantment Lakes vacation rentals, we've made it super easy to explore accommodations and nearby hotels using the interactive map below. Simply click on a listing to compare similar properties, best rates and availability for your dates. Or keep scrolling to read our Enchantment Lakes guide!
Enchantment Lakes visitor and community guide
The Enchantment Lakes are very different from the type of lake most people envision when thinking of lakefront vacations. There are no boats, no swimming beaches, and no sunbathers. In fact, there are very few people. That's because the delicate ecology of these alpine lakes in North Central Washington's Cascade Region requires the US Forest Service to limit visitors to permit only, with only 60 permits allowed at a time. Only the most physically fit of hikers can reach these spectacular lakes clustered above 7000 feet; even then, the majority of permits for camping are selected months ahead of the season by lottery. The hike is arduous, crossing several snow fields and loose rock, with major elevation changes. After the May to October permit season, only those experienced in ice climbing and avalanche survival dare attempt the ascent. But everyone who visits here claims they want to go back!
The Enchantment Lakes are a series of small glacially-fed lakes within two basins surrounded by some of the most rugged peaks in the North Cascades. Located within the Stuart Range, the entire area is within the Alpine Lakes Wilderness Area. The lakes in the lower basin are at an elevation of over 4400 feet, while those in the upper basin are closer to 7000 feet. Thus, the lakes in the two basins are in different climate and altitude zones, with very different vegetation.
The lower lakes, those within the Snow Lakes Basin, are in a forested area, with autumn being the favored time to visit due to the display of golden color produced by the larch trees surrounding them. The three largest lakes within the Snow Lake Zone are Upper Snow Lake, Lower Snow Lake, and Nada Lake. Upper and Lower Snow Lakes are divided by a dam placed by the Forest Service to control water levels to out-flowing Snow Creek which flows into Icicle Creek and in turn, the Leavenworth Fish Hatchery and nearby orchard irrigation.
Several campsites are located near the shores of the lakes; no campfires are allowed, so stoves must be backpacked in. This is one trek where dogs are not allowed, as the local mountain goats tend to be afraid of them. Wildlife officials are concerned that the mountain goats are losing their fear of humans and strongly recommend campers not try to approach them.
Moving higher in elevation, hikers enter the Core Enchantment Zone which holds what is usually referred to as the Enchantment Lakes. Surrounded by the majestic peaks of Little Annapurna, McClellan and Prusik Peak, the 10 lakes and several small tarns are known by at least two competing names, one bestowed by early hikers and the official later named by the US Forest Service. The names they are generally known by are a combination of the two lists: Sprite Lake, Leprechaun Lake, Lake Viviane, Isolation Lake, Talisman Lake (called Inspiration Lake on US Forest Service maps), Brisengamen Lakelets, Lake Brynhild, Lake Freya and Lake Rune. Crystal Lake is seen in the same basin to the south, while to the north, a day hike through Prusik Pass will lead the energetic hiker to Shield, Mesa and Earle Lakes. The Enchantment Zone is high enough in altitude that the treeline is left behind. Hikers are faced with a alien but beautiful landscape, barren and devoid of most vegetation. The Snow Creek Glacier can be seen off to the southwest between Little Annapurna and Dragontail Peaks. Snow in this area can fall at any time, with both June and late September noted for hikers encountering snow and freezing temperatures. In good weather, however, the scenery is fantastic, with clear still lakes reflecting the craggy peaks that surround them.
A number of informal spots are used as campsites, and a few pit toilets are located along the trails. There is no drinking water provided, and it is suggested hikers bring their own water in, although many find filtered lake water entirely suitable. No surveys have been done, so lake sizes and depths are not recorded. Most information is that reported by hikers, who are invariably long on praise but a bit short on scientific observations.
Heading yet higher toward the west, hikers are likely to encounter snow fields even during the summer months that can be treacherous to cross for inexperienced hikers. The Aasgard Pass leading toward Colchuck Lake can be especially strenuous and the trail poorly marked. The area around Colchuck Lake and neighboring Lake Stuart is well-supplied with small glaciers. Most visiting hikers wouldn't dream of leaving the Enchantment Lakes area without a side trip to marvel at these local ice fields. Visitors can access the Enchantment Lakes from either end of the trail, with the Snow Lakes Zone more level and easily accessible.
Many experienced hikers in these mountains bring fishing gear secured to their backpacks. The lakes hold cutthroat trout, brook trout and rainbow trout. Although called 'native' trout, the fish are not found naturally in the lakes; the local trout have not had time to ascend the steep creeks and many waterfalls in the relatively short period of time since the lakes became ice-free. Instead, the Civilian Conservation Corps began stocking alpine lakes in the 1930s under the Depression-era jobs program. Later a Seattle-area volunteer group called Trailblazers began backpacking stocking fry in to the lakes in cooperation with the US Forest Service. So the original trout stock arrived the same way that today's visitors do: hiking up the trail. Now, improvements in fish research allows stocking to be completed by helicopter.
There are no forms of lodging in the near vicinity of Enchantment Lakes; only primitive camping is allowed. The situation is much the same in the entire Alpine Wilderness Area. The small town of Leavenworth is only abut 15 miles from the Snow Lakes end of the trail and holds everything that visitors need. A number of farm-stays, golf course condos, hotels, retreats, chalets, cottages, inns and RV parks are located very near the Enchanted Lakes area. Leavenworth also holds several venues dedicated to the Arts including a theater, music center, town band and handbell ringer group. The town maintains a Bavarian atmosphere and possesses many specialty shops offering metalworking crafts and unique gifts.
In winter, cross country and downhill skiing are nearby. As home base for an Enchantment Lakes adventure, Leavenworth possesses everything a visitor will need except the skill and physical fortitude to make the trek itself. Real estate can be found for purchase near Leavenworth, but is in high demand in this growing recreation destination. So, pack up the hiking boots, gather up a permit and Forest Service map and come see the Enchantment Lakes. It's a trip that will leave you with memories for a lifetime.
Custom Enchantment Lakes house decor
Read our full review of these personalized lake house signs.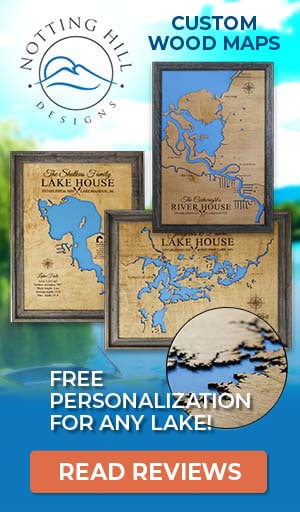 Things to do at Enchantment Lakes
Vacation Rentals
Fishing
Boating
Swimming
Beach
Golf
Camping
Hiking
Ice Climbing
Downhill Skiing
Waterfall
Wildlife Viewing
Fish species found at Enchantment Lakes
Brook Trout
Cutthroat Trout
Rainbow Trout
Trout
---
Best hotels and vacation rentals at Enchantment Lakes
The Enchantment Lakes map shown above is a simple and stress-free way to search for trip accommodations. But if you want to take a deeper dive to find the ideal waterfront home, cabin, condo, hotel or resort, visit our favorite lodging partners by clicking the buttons below.
Note: These are affiliate links so we may earn a small commission if you book through them. While there is no extra cost to you, it helps provide resources to keep our site running (thank you)! You can read our full disclosure policy here.
---
Enchantment Lakes photo gallery
New photos coming soon!
Enchantment Lakes statistics & helpful links
We strive to keep the information on LakeLubbers as accurate as possible. However, if you've found something in this article that needs updating, we'd certainly love to hear from you! Please fill out our Content Correction form.
Advertise your Enchantment Lakes vacation rental
LakeLubbers will soon offer homeowners and property managers the opportunity to to showcase their vacation rentals to the thousands of lake lovers searching our site daily for accommodations. If you'd like additional details, please contact our advertising team here.
Looking for the Enchantment Lakes forum?
LakeLubbers previously offered visitors the ability to create accounts and participate in lake forums. When we overhauled the site's content management system in 2021 we had to disable those features. We're evaluating options and welcome your comments and feedback here.
We also encourage you to join our lake-lovin' community on Facebook and Instagram!
Spread the word! Share our Enchantment Lakes article with your fellow Lake Lubbers!