Lake Champlain, New York, Vermont & Canada
Lake Locations:
Canada - Quebec - USA - Mid-Atlantic - New York - Adirondacks - New England - Vermont - Lake Champlain Valley -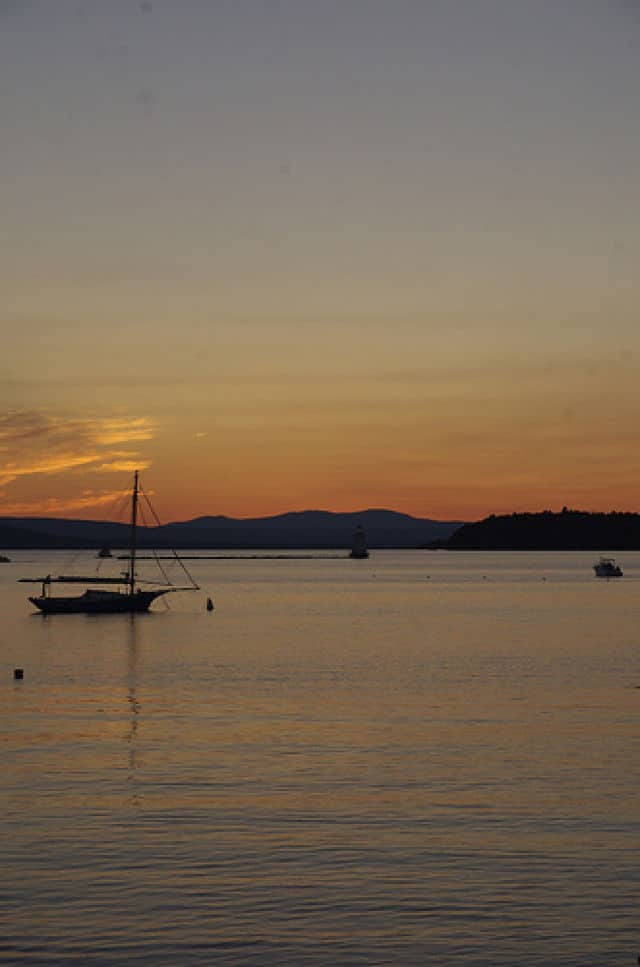 Lake Champlain, straddling New York and Vermont in the USA, and Quebec in Canada, is a natural freshwater lake seated 96 feet above sea level. Briefly designated a Great Lake by President Bill Clinton in 1998, Lake Champlain reaches a maximum depth of 400 feet, covers an impressive 435 square miles, stretches more than 100 miles in length, and boasts a width of 12 miles at its widest point. Collectively, Lake Champlain comprises 271,000 acres, with a relatively modest 587-mile shoreline. The lake is accented by 71 islands, including an entire Vermont county.
Lake Champlain's great expanse flows north from Whitehall, New York to the Richelieu River in Quebec. Due to its irregular shape, Lake Champlain consists of five segments with unique physical characteristics:
– The Main (or Broad) section of Lake Champlain is the deepest and widest area, holding most of the lake's water volume.
– South Lake Champlain is narrow and shallow, similar to a river.
– The Inland Sea (or Northeast Arm) of Lake Champlain lies east of the Champlain Islands.
– Missisquoi Bay at the northernmost section of Lake Champlain extends into Quebec. The bay's water flows south to the Inland Sea.
– Mallet's Bay, on the east side of Lake Champlain, is separated from the Main Lake by a railroad causeway.
The Lake Champlain Region of Burlington, Vermont is a year-round living and vacation destination that caters to all types of vacation and residential diversions. Voted by USA Weekday Magazine as "One of Four Outstanding Get-Away Locations in the Northeast," by Outdoor Explorer Magazine as the "Number One Place for Families that Love Outdoor Sports," by Reader's Digest as the "Sixth Best Family Friendly Place in the Nation," and by Zero Population Growth as the "Number One Child Friendly City in America," Burlington and the surrounding Champlain Lake valley have much to offer.
The Vermont part of Lake Champlain is dotted with excellent state parks. Start at Kamp Kill Kare State Park in St. Albans Bay, a 17-acre day park that boasts a picnic area, two public swimming areas (one with a beach and a sandy lake bottom), and a convenient access point to the Burton Island Ferry.
For a small fee, the ferry will take you on a scenic tour across the lake as you keep your eyes open for a glance at Lake Champlain's legendary lake monster, named "Champ." Before the arrival of Europeans, Iroquois Nation legends described a horned serpent lurking beneath the deep, cold waters of Lake Champlain. Since then, there have been more than 300 sightings of Champ, dating back to Samuel de Champlain in 1609. Champ is a friendly monster, reportedly shy and easily scared off by disturbances in the water. A 1977 photo, featured in Time Magazine and the New York Times, is the best evidence of Champ's existence.
North Hero State Park is another must-see, which some consider the crown jewel of the area's state parks. Clocking in at over 399 acres, North Hero State Park offers private campsites, picnic areas, hot showers, a rocky beach, and a public boat launch.
The summer months beckon visitors to drive and bike the evergreen mountains, explore the rivers, and hike the forests. Anglers, prepare yourselves: The EPA estimates that there are 90 species of fish in the lake and its tributaries. Lake Champlain's crystal blue waters teem with smallmouth bass, largemouth bass, lake trout, Atlantic salmon, pike, walleye, crappie, perch, catfish, and panfish. Tournaments target world-class bass. Boating along the beautiful waters is another summer pastime; you will enjoy plenty of space for that.
Lake Champlain will delight those who love wildlife viewing. There are bald eagles, migrating snow geese, nesting loons, map turtles and spiny softshell turtles, snowy owls, moose, 21 species of amphibians and 17 of reptiles, 300 species of birds, and more.
Winter months at Lake Champlain are packed with downhill skiing, snowboarding, ice fishing, ice climbing, and, of course, snowball fights. Locals recommend that all winter activities be immediately followed up by a cup of hot chocolate, preferably in front of the orange flames of a freshly-built fire in a fireplace near the lakefront.
Vacation rentals are plentiful in the Lake Champlain Valley, whether you prefer the privacy of a lakefront home, the convenience of a condominium, or the coziness of a cottage or cabin. So, book your family vacation or romantic weekend getaway today to experience the majesty of Lake Champlain.
Things to do at Lake Champlain
Vacation Rentals
Fishing
Ice Fishing
Boating
Swimming
Beach
Camping
Picnicking
Cabin Rentals
Hiking
Ice Climbing
Biking
Downhill Skiing
Snowboarding
Wildlife Viewing
Birding
State Park
Fish species found at Lake Champlain
Bass
Black Bass
Catfish
Crappie
Lake Trout
Largemouth Bass
Perch
Pike
Salmon
Smallmouth Bass
Trout
Walleye
---
Lake Champlain Photo Gallery
Lake Champlain Statistics & Helpful Links
Spread the word! Share our Lake Champlain article with your fellow Lake Lubbers!