Lake George, New York, USA
Welcome to the ultimate guide for history, statistics, local fun facts and the best things to do at Lake George NY.
If you're considering Lake George NY vacation rentals, we've made it super easy to explore accommodations and nearby hotels using the interactive map below. Simply click on a listing to compare similar properties, best rates and availability for your dates. Or keep scrolling to read our Lake George NY guide!
Lake George NY visitor and community guide
Sitting pretty at the base of New York's majestic Adirondack Mountains, Lake George's nickname is "Queen of American Lakes." The 28,000-acre glacial lake is dotted with islands and notable rock formations, and is surrounded by lovely mountains and scenic vistas. Though its history is rich, today the lake serves as a recreational playground for area residents and tourists from all over the world.
Lake George is long and narrow, approximately 32 miles long and up to 3 miles wide. Fed by rainfall and melting snow, the lake's water drains from its northern end into Lake Champlain by way of the La Chute River, dropping 230 feet over waterfalls and rapids. The Lake George Park Commission oversees the lake's water to maintain fairly constant levels for recreation and navigation. Water levels are drawn down every winter 12-16 inches in anticipation of spring snow melt. Levels fluctuate about 5-6 inches during the summer. Water levels are regulated by releasing water over the dam at the lake's outlet at the northern end along the La Chute River. The LaChute Hydro Company, a subsidiary of Enel North America, Inc. provides electricity to 4,000 New York households with this hydroelectric project.
The lake's existence was first noted by Samuel de Champlain in 1609, but the lake was not named until 1646, when Isaac Jogues dubbed it "Lac du Saint-Sacrement". In 1755, during the French and Indian War, Sir William Johnson renamed the lake Lake George, after King George II. Sir Johnson built a fort on the lake's southern end, calling it Fort William Henry, and on September 8, 1755, the Battle of Lake George was fought between Britain and France. The lake played a supporting role in several other battles and hosted many prominent historical figures, including Thomas Jefferson who wrote, "Lake George is without comparison, the most beautiful water I ever saw."
Those same beautiful waters attract thousands of yearly visitors, taking advantage of the lake's convenient location equidistant between New York City and Montreal (Canada). In fact, at the turn of the 20th century, Lake George was as popular a summer destination as Newport, Saratoga, and the Hamptons, echoed now by the palatial manors on Millionaire's Row in the village of Bolton on the lake's western shore.
When planning your trip to Lake George, keep in mind that its southern shore around the village of Lake George is hopping with outdoor and indoor events, including mini-golf, a Haunted House of Wax, museums, cruise ships, and other developed tourism offerings. Northern Lake George around the village of Ticonderoga is quiet, set into the Adirondacks and free from the hustle and bustle of its neighboring shore.
No matter where you stay, a trip out onto the lake is a must. From guided river rafting trips to lake cruises, Lake George and its surrounding area has built up an industry based on its aquatic offerings. At the core of this lies a love of water, and renting a boat to enjoy a day of sightseeing and thrill-seeking should be number one on your list. Several local marinas rent boats — kayaks, canoes, speedboats, and pontoon boats — allowing you to make what you want of your lake experience. If you go for a motor boat, consider grabbing some water skis or a tube, and join in with other skiers and water lovers on a high-speed ride.
Fishing is a Lake George favorite, hosting lake trout, landlocked salmon, largemouth bass, rainbow trout, smallmouth bass, and yellow perch. Both summer fishing and winter ice fishing are popular here, and the fish bite year-round, which has garnered Lake George a strong angling fan base. With over 28,000 acres to explore, there are plenty of dark holes and cubbies full of your next dinner.
Lake George prides itself on clean water. Because of the water purity and clarity, scuba diving is superb here, allowing you to dive in search of buried treasure. Old shipwrecks await, offering cannons, artifacts, and memories from the days of old. Keep in mind that all underwater treasures are protected, so you are permitted to take nothing away with you but the photos your underwater camera can take.
It's hard to deny the call of the outdoors here, and when you finally succumb, a hike or bike ride is just the ticket. With miles of biking and hiking trails weaving through the Adirondack Mountains and ambling along the lake's shoreline, hikers and bikers are treated to breathtaking views and a great escape from the energy of Southern Lake George. Prospect Mountain offers panoramic views of the lake, and is available to hikers, bikers, and motorists. The Warren County Bikeway offers 10 miles of quiet mountain trails at a level accessible to most riders and walkers. In addition, the Warren County Mountain Bike Trail System offers another 180 miles of trails that cover all ability levels and time commitments – if you like, you can venture out on a mountain bike trip that lasts for days.
If all the clean mountain air has you itching for a night out on the town, Lake George will still deliver: several communities surround the lake, pooling their resources to offer dancing, delicious cuisine, carnivals, quaint shops, mini golf, historical reenactments, and so much more. Whatever your yen, the lake's towns will go the extra mile to make you happy.
Lake George is a beautiful oasis surrounded by friendly people, rolling mountains, and plenty of nature. With diverse offerings that allow for a morning hike, afternoon swim, dinner cruise, and late night on the town all in one day, this New York lake will have your planning your next visit before the first has even finished.
Custom Lake George NY house decor
Read our full review of these personalized lake house signs.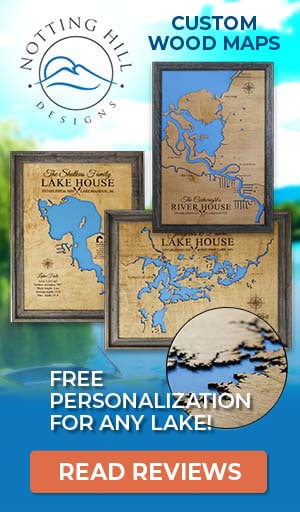 Things to do at Lake George NY
Vacation Rentals
Fishing
Ice Fishing
Boating
Swimming
Canoeing
Kayaking
Water Skiing
Tubing
Scuba Diving
Golf
Hiking
Biking
Waterfall
Museum
Playground
Miniature Golf
Fish species found at Lake George NY
Bass
Black Bass
Lake Trout
Largemouth Bass
Perch
Rainbow Trout
Salmon
Smallmouth Bass
Trout
Yellow Perch
---
Best hotels and vacation rentals at Lake George NY
The Lake George NY map shown above is a simple and stress-free way to search for trip accommodations. But if you want to take a deeper dive to find the ideal waterfront home, cabin, condo, hotel or resort, visit our favorite lodging partners by clicking the buttons below.
Note: These are affiliate links so we may earn a small commission if you book through them. While there is no extra cost to you, it helps provide resources to keep our site running (thank you)! You can read our full disclosure policy here.
---
Lake George NY photo gallery
New photos coming soon!
Lake George NY statistics & helpful links
We strive to keep the information on LakeLubbers as accurate as possible. However, if you've found something in this article that needs updating, we'd certainly love to hear from you! Please fill out our Content Correction form.
Advertise your Lake George NY vacation rental
LakeLubbers will soon offer homeowners and property managers the opportunity to to showcase their vacation rentals to the thousands of lake lovers searching our site daily for accommodations. If you'd like additional details, please contact our advertising team here.
Looking for the Lake George NY forum?
LakeLubbers previously offered visitors the ability to create accounts and participate in lake forums. When we overhauled the site's content management system in 2021 we had to disable those features. We're evaluating options and welcome your comments and feedback here.
We also encourage you to join our lake-lovin' community on Facebook and Instagram!
Spread the word! Share our Lake George NY article with your fellow Lake Lubbers!