Great Sacandaga Lake, New York, USA
Lake Locations:
USA - Mid-Atlantic - New York - Adirondacks - Capital-Saratoga -
Also known as:  Great Sacanadaga Reservoir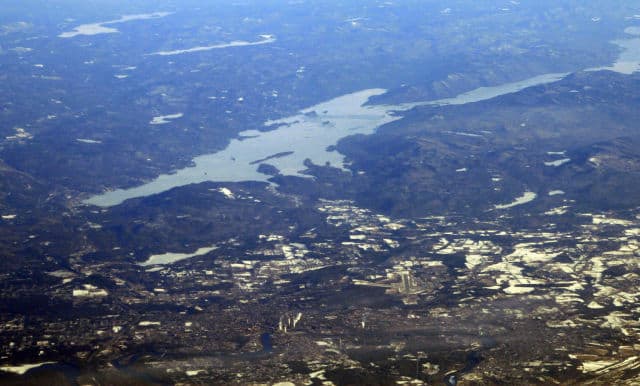 Great Sacandaga Lake, located in the Adirondack Mountains of New York, is a reservoir built to control flooding on the Hudson River and the Sacandaga River. But the functionality of the dam is often overlooked as residents and visitors alike think of Great Sacandaga Lake as a year-round recreational playground. Lake levels can fluctuate by 20 feet or more, depending on winter drawdown to make room for snowmelt and heavy rains. The lake is located on the border of the Capital-Saratoga and Adirondacks tourism regions of New York.
Located on the shores of Great Sacandaga Lake are many established rental properties, bed and breakfast inns, as well as numerous camping facilities. The Northampton Beach Campground, located on the northwest corner of Great Sacandaga Lake, is operated by the New York State Department of Environmental Conservation. There you can choose a campsite on the sandy shoreline or in the privacy of secluded trees. Northampton Beach Campground provides a natural sand beach with a guarded swimming area from mid-June to Labor Day. Rowboats, kayaks, and canoes can be rented here so that you may spend a quiet time on Great Sacandaga Lake. Or if you prefer more powerful watercraft, a public boat launch for large watercraft is provided there as well.
Many miles of trails wind through the Great Sacandaga Lake area. These trails are used for hiking, biking, and horseback riding. In the winter, these same trails come alive with avid snow lovers who cross-country ski, snowmobile, or snowshoe.
In warmer months, there are opportunities for boating, waterskiing, jetskiing, and, of course, fishing. The World Record Northern Pike, 46 pounds 2 ounces, was caught in Great Sacandaga Lake. Though no other pike have reached that record, locals state that 30+ pound pikes are caught often. Other fish in Great Sacandaga Lake are walleye, smallmouth bass, largemouth bass, pickerel, rainbow trout, brown trout, landlocked salmon, perch, and carp. Each year there are Fishing Contests at Great Sacandaga Lake. In the frozen water of winter, the fun does not stop. Ice fishing is great, making Great Sacandaga Lake a year-round fishing destination. For the novices or those seeking the "best spot" on Great Sacandaga Lake, many local guides are available to assist you in a successful fishing trip.
The area around Great Sacandaga Lake offers a wide variety of activities to keep you busy should you tire of the fun on the water. As you travel the area, history buffs will want to stop and read the numerous historical markers that tell of the great events of the area. Antiques, craft shops, and museums are abundant. Lakefront dining is available at many establishments. The Great Sacandaga Lake area has been voted the second best place in the country to be for nightlife by Snowgoer Magazine.
Great Sacandaga Lake is a great destination for year-round fun on and off the lake. Come visit us today!
Things to do at Great Sacandaga Lake
Vacation Rentals
Fishing
Ice Fishing
Boating
Swimming
Beach
Canoeing
Kayaking
Water Skiing
Camping
Campground
Hiking
Biking
Snowmobiling
Horseback Riding
Museum
Playground
Antiquing
Fish species found at Great Sacandaga Lake
Bass
Black Bass
Brown Trout
Carp
Largemouth Bass
Northern Pike
Perch
Pickerel
Pike
Rainbow Trout
Salmon
Smallmouth Bass
Trout
Walleye
---
Great Sacandaga Lake Photo Gallery
Great Sacandaga Lake Statistics & Helpful Links
Spread the word! Share our Great Sacandaga Lake article with your fellow Lake Lubbers!