Lake Annie, Florida, USA
Welcome to the ultimate guide for history, statistics, local fun facts and the best things to do at Lake Annie.
If you're considering Lake Annie vacation rentals, we've made it super easy to explore accommodations and nearby hotels using the interactive map below. Simply click on a listing to compare similar properties, best rates and availability for your dates. Or keep scrolling to read our Lake Annie guide!
Lake Annie visitor and community guide
Located in central Florida, Lake Annie is 90 miles west of the Atlantic's white sand beaches and 90 miles east of the Gulf of Mexico's parks and resorts. It is Lake Annie's central location that is transforming an agricultural region into a bedroom community for nearby Tampa, Orlando and Kissimmee. Not to be confused with Lake Annie in Highlands County, this Lake Annie was annexed into the charming rural community of Dundee in Polk County in 2008.
When white settlers were drawn to central Florida for the grazing land and pine forests, the region was home to the people of the Seminole Nation. It is believed that one of the first settlers of Dundee named Lake Annie, and several nearby lakes, after his daughters. As forests were depleted and the lumber and turpentine industries faded, rows of citrus trees filled the gently sloping hillsides as they do today. Residents of Lake Annie and Polk County take great pride in their rural heritage and work not only to preserve their small-town lifestyle but to also restore the unique habitats of central Florida.
Lake Annie, located in Peace Creek watershed, is one of 554 lakes found in Polk County. Lake Annie's inflow comes from Lake Lee, located only yards to the south, and rainwater runoff from surrounding land. A discharge ditch that once connected Lake Annie to Peace Creek's Drainage Canal no longer exists making Lake Annie a closed basin lake. Lake Annie's normal surface area is 539 acres but its shallow sloping shoreline makes for dramatic drops in surface area during drought conditions. A one meter drop in water level can result in 17 percent less surface area.
Fortunately, studies have shown that there is no correlation between Lake Annie's water level and number of available sport fish. Sport fishing is serious business in Polk County with 88 of the county's lakes providing public boating access. A small unpaved ramp found at the north end of Lake Annie is perfect for anglers to launch their jon boats in pursuit of Lake Annie's bluegill, largemouth bass and redear sunfish. Development is increasing along Lake Annie but the scene of surrounding citrus groves, cattails, grasses and water lilies make paddling the three-mile shoreline a pleasure for canoers and kayakers.
While Tampa, Orlando and Kissimmee offer world renowned attractions to Lake Annie residents, Polk County attractions are guaranteed to impress even the pickiest of visitors. Often ranked on "best places" lists, Polk County is prepared to welcome visitors with a large number of available luxury vacation rentals. For those who are visiting, or fortunate enough to call Lake Annie home, the attractions of this West Central Tourism Region are many. Come to Polk County and you will find Florida's only dude ranch; the world's largest single-site collection of Frank Lloyd Wright architecture at Florida Southern College; American Water Ski Hall of Fame; and 125 miles of hiking trails to experience nature's pleasures.
Lake Annie residents need not go far to enjoy the best of Florida's wildlife and natural wonders. Located 10 miles east of Lake Annie, Allen David Broussard State Park provides a glimpse into Florida's past. The park was established to protect the rare habitats that once covered a feature called Lake Wales Ridge. Covering over 1,100 acres of central Florida, including Lake Annie and Dundee, Lake Wales Ridge is actually the remnant of an ancient beach and sand dunes. Among the rare native plants found in the park are scrub morning glory, scrub plum, pygmy fringe tree and cutthroat grass. Wildlife watchers will be able to observe protected species including scrub-jays, bald eagles, gopher tortoises and Florida scrub lizards. Six miles of hiking trails and seven miles of equestrian trails allow visitors to follow a path through time and discover the region's rich natural heritage.
Twenty miles west of Lake Annie, on the shores of Lake Hancock, Polk County maintains the Circle B Bar Reserve. In a joint effort with Southwest Florida Management District, what was once a cattle ranch has been restored to its original marshy landscape. Within a few short years of completion, large bird populations returned to the reserve including wading birds, waterfowl, ospreys and bald eagles. Polk County operates their Nature Discovery Center within the reserve making the park a perfect place for families to pack a lunch and spend the day. Exhibits; programs; hiking, bicycling and equestrian trails educate and encourage visitors to understand the importance of preserving central Florida's unique habitats.
Tenoroc Fish Management Area, located 30 miles northwest of Lake Annie, is a fisherman's paradise. Empty mining pits and mounds of dredged soil from a closed phosphate mine have become a chain of lakes, marshes, grasslands and tree-covered hills. Twenty boat launching facilities, three fishing piers, 10 fishing platforms including ADA accessible facilities are found within Tenoroc. As with most lakes, a state fishing license is required to cast a line in pursuit of Florida largemouth bass, black crappie, bluegill, redear sunfish, channel catfish, yellow bullhead and brown bullhead. A catch and release policy is in place for largemouth bass. Be sure to plan ahead because this is a popular site and there is a limit on the number of boats permitted on Tenoroc lakes, including canoes and kayaks. In addition to fishing, hiking and equestrian trails, a sport shooting facility offers "rifle, pistol, and air gun ranges, trap/skeet and sporting clay stations, and ground level, elevated, and 3-D archery ranges." Tenoroc is also the gateway to the east section of the Great Florida Birding Trail. While at Tenoroc bird watchers may encounter moorhens, wood ducks, Florida mallards, blue-winged teal, hooded mergansers, snowy egrets, white ibises, anhingas, ospreys, red-shouldered hawks, black and turkey vultures, swallow-tailed kites, white pelicans, belted kingfishers, American kestrels, northern harriers and peregrine falcons.
Polk County's breathtaking natural beauty has attracted development to Lake Annie's shores. Lakefront real estate continues to become available with private docks, jetties and scenery that create a perfect vacation home for a week or a lifetime. Subdivisions extending out from Lake Annie's shores offer lake view and near-lake properties with shared lakefront facilities. For those who don't want to stray far from the cities, welcome to the simplicity and beauty of life on Lake Annie – a perfect retreat close to the natural wonders of Central Florida.
Custom Lake Annie house decor
Read our full review of these personalized lake house signs.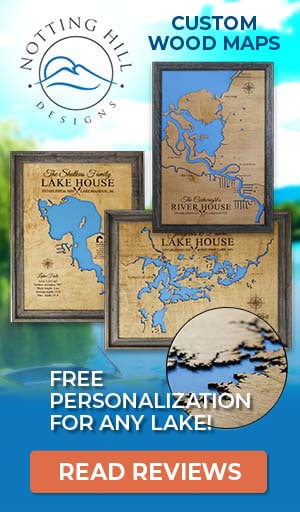 Things to do at Lake Annie
Vacation Rentals
Fishing
Boating
Swimming
Beach
Canoeing
Kayaking
Water Skiing
Hiking
Biking
Horseback Riding
Wildlife Viewing
Birding
State Park
Fish species found at Lake Annie
Bass
Black Bass
Black Crappie
Bluegill
Brown Bullhead
Catfish
Channel Catfish
Crappie
Largemouth Bass
Redear Sunfish (Shellcracker)
Sunfish
Yellow Bullhead
---
Best hotels and vacation rentals at Lake Annie
The Lake Annie map shown above is a simple and stress-free way to search for trip accommodations. But if you want to take a deeper dive to find the ideal waterfront home, cabin, condo, hotel or resort, visit our favorite lodging partners by clicking the buttons below.
Note: These are affiliate links so we may earn a small commission if you book through them. While there is no extra cost to you, it helps provide resources to keep our site running (thank you)! You can read our full disclosure policy here.
---
Lake Annie photo gallery
New photos coming soon!
Lake Annie statistics & helpful links
We strive to keep the information on LakeLubbers as accurate as possible. However, if you've found something in this article that needs updating, we'd certainly love to hear from you! Please fill out our Content Correction form.
Advertise your Lake Annie vacation rental
LakeLubbers will soon offer homeowners and property managers the opportunity to to showcase their vacation rentals to the thousands of lake lovers searching our site daily for accommodations. If you'd like additional details, please contact our advertising team here.
Looking for the Lake Annie forum?
LakeLubbers previously offered visitors the ability to create accounts and participate in lake forums. When we overhauled the site's content management system in 2021 we had to disable those features. We're evaluating options and welcome your comments and feedback here.
We also encourage you to join our lake-lovin' community on Facebook and Instagram!
Spread the word! Share our Lake Annie article with your fellow Lake Lubbers!