Lake Arbuckle, Florida, USA
Lake Locations:
USA - South - Florida - West Central -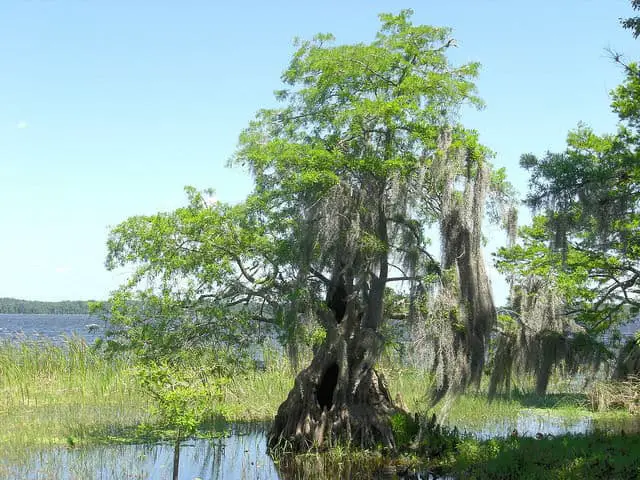 A rarity among West-Central Florida lakes, Lake Arbuckle is a natural lake without shoreline development. The lake is not dammed, with the only outflow into Arbuckle Creek which empties into big Lake Istokpoga 17 miles downstream. A water control structure maintains lake levels on the larger lake, so water levels are minimally controlled by this remote dam. Inflow comes from Reedy Creek at the northwest corner and from Blue Jordan Swamp on the northeast side. There are no residences along its 12-miles of shoreline; much of the shore is bordered by wetlands, bogs, swamps and other water-based environments. Cypress draped in moss frames the shore.
Lake Arbuckle is one of the drainage lakes of the Istokpoga Basin which drains Florida's sandy 'spine'-the Lake Wales Ridge. The unusual topography of the Ridge shows the succession of the Florida Peninsula from a group of isolated mid-ocean dune islands to the eventual emergence of the rest of the well-known peninsula. Because this ridge was separated from other land forms for thousands of years, plant and animal life evolved in unique ways. As science attempts to preserve these ancient variations, much of the area is under protection and development is strictly limited. The western side of the nearly 3,800-acre, shallow lake is within the Lake Wales State Forest Arbuckle Tract. The eastern and southern sides of the lake are a part of the McDill AFB Auxiliary Field and the Avon Park Air Force Range. Only on the northern side does a small strip of lake allow the Polk County Parks Department to provide camping and a boat ramp.
Reedy Creek is only occasionally navigable by canoe, so few water lovers enter from nearby Reedy Lake. Lake Arbuckle itself is perfect for small boats, air-boats, canoes and kayaks, although the boat ramps can handle larger bass boats. The Lake Arbuckle County Park has a small swimming area, bathhouse, restrooms and small store for camping supplies. The campsites are well-placed but have no electricity or water hook-ups. This family campground is ideal for those who want to experience South Florida nature at its finest. Several trails lead into the larger Lake Wales Ridge State Forest to the west. Although the lake is large enough to be choppy in windy weather, the margins are enjoyable for kayaks and canoes as there are profuse lilypad beds sheltering a variety of birds and wildlife. Lake Arbuckle has been the destination for many of South Florida's relocated alligators, so these ancient reptiles are increasingly seen here.
Lake Arbuckle is a productive bass fishing area. Fishermen are usually the most numerous boaters on the water. There is limited space for shore fishing, so a boat is necessary to search out the biggest bass which tend to lurk around the emergent water plants for shade and spawning. Trophy bass up to 15 pounds have been caught at Lake Arbuckle in recent years, making this the most commonly sought game fish locally. Black crappie are often overlooked, and the lake is an excellent place for catching a creel limit. All Florida fishing regulations are in effect, and proper license must be secured before fishing.
Formed to preserve some of the fast-disappearing dunes and pine/oak scrub, the Arbuckle Tract of the Lake Wales Ridge State Forest is a haven for all sorts of unusual and seldom-seen plants, birds and wildlife. Easily accessed from Lake Arbuckle Road, five miles south of the Town of Frostproof, numerous trails and primitive camping areas can be reached on foot from the parking areas. The Paula Dockery Trail and 18-mile backpackers loop of the Reedy Trail are favorites. Outdoors enthusiasts can often see scrub jays and gopher tortoises within the area. Several trailheads begin from School Bus Road and meander through areas that are home to bald eagles, short-tailed hawks, limpkins and migratory waterfowl. Although horses and bicycles are not allowed on the trails, the firebreaks are available for horseback and mountain bike riders. Trail maps and regulations are available in the area.
Arbuckle Wildlife Management Area (WMA) covers over 13,500 acres and contains a portion of the Great Florida Birding Trail. A short, under-a-mile nature trail allows for an easy experience; longer trails are numerous in the area. The Florida National Scenic Trail passes through the area, with Reedy Creek segment traveling a 27-mile road hike through more of an urban landscape along much of the route. The Arbuckle WMA is open for hunting during certain seasons, and regulations must be scrupulously followed. From the south end of Lake Arbuckle, one can enter the Lake Arbuckle Trail, a 15-mile backpacking loop that skirts the Avon Park Air Force Range. Three primitive campgrounds and many miles of trails on the Range can be utilized with appropriate permission from the Outdoor Recreation Office. This is an active artillery range, and access is only allowed during inactive periods. Not far north of Lake Arbuckle, the Lake Wales Ridge State Forest Walk-in-The-Water Tract is located two miles east of Frostproof and allows walk-in visitors only.
For those who think Central-South Florida is over-developed and only the site of amusement parks and tourist traps, visiting the Lake Arbuckle area is a complete change of pace. Visitors wishing more common attractions will find them within a two-hour drive. Orlando and the world's largest amusement parks are less than 75 miles to the north, and the Tampa Bay area just a bit further to the west. Many of the newer housing developments are less than an hour from Lake Arbuckle, and the entire area abounds with campgrounds, small motels, resort parks, hotels, resort hotels, bed & breakfasts and private short-stay rentals. Plenty of shops, restaurants and entertainment venues are located within driving distance.
Those who think they have seen everything Florida has to offer are in for a completely different kind of a treat, one geared to nature observation, solitude and plenty of exciting bass fishing. So, if you're looking for a different kind of Florida vacation, come and enjoy the unique sights at Lake Arbuckle and vicinity. Take a truly natural vacation here, and return home relaxed and refreshed as only a foray into the unspoiled wetlands can provide.
Things to do at Lake Arbuckle
Vacation Rentals
Fishing
Boating
Swimming
Canoeing
Kayaking
Camping
Campground
Hiking
Biking
Horseback Riding
Hunting
Wildlife Viewing
Birding
State Forest
Amusement Park
Fish species found at Lake Arbuckle
---
Lake Arbuckle Photo Gallery
Lake Arbuckle Statistics & Helpful Links
At LakeLubbers.com, we strive to keep our information as accurate and up-to-date as possible, but if you've found something in this article that needs updating, we'd certainly love to hear from you!
Please let us know about it on our Content Correction form.
Spread the word! Share our Lake Arbuckle article with your fellow Lake Lubbers!