Winter Haven Chain of Lakes, Florida, USA
Lake Locations:
USA - South - Florida - West Central -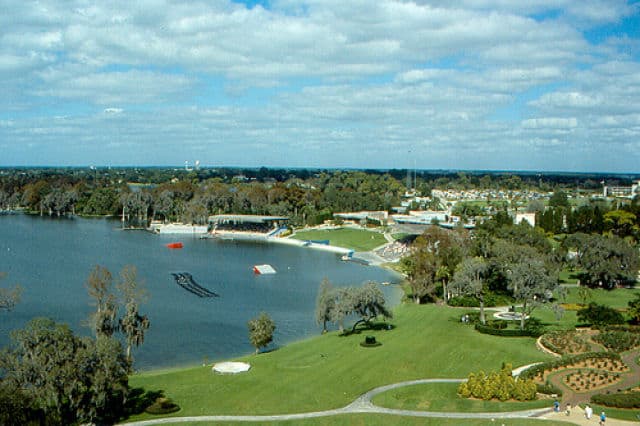 The Winter Haven Chain of Lakes is a very special place. These natural, spring-fed lakes in Florida's West Central region have delighted residents and visitors for over a hundred years. Before hordes of tourists descended on the coastal beaches to vacation and enjoy the salt air, this middle-Florida region saw development from the more leisurely kind of visitors . . the kind who came to fish, golf and enjoy the water sports denied them in the colder northern climates. Polk County is a veritable treasure-trove of freshwater lakes, with over 500 recorded in the county. What makes these lakes special is that they are all connected by man-made canals which allow for boating the entire chain. The two connected chains of lakes virtually surround the entire downtown area of the small City of Winter Haven.
Lakes in the two chains number about 23, although some reports claim only 16, while others go as high as 25 lakes. Two more lakes, Lake Blue and Lake Marianna, connect only during periods of exceptionally high water. All of the lakes are relatively shallow, with some including extensive wetlands on their perimeters. Lakes and channels are well-populated with lakeside homes and vacation cottages. The connecting channels were begun in 1915, with much of the work completed during the Depression by the Civilian Conservation Corps. Wooden pilings originally provided the seawalls to keep the soft soil from caving in, but many have since been replaced with steel and aluminum seawalls. The Southern Chain with about 16 lakes and the Northern Chain with another possible nine lakes were historically separate chains until the recent opening of a lock between the two chains in the last couple of years.
The Southern Chain consists of Lake Eloise (by far the largest with 1178 acres), Lake Cannon (377 acres), Lake Hartridge (443 acres), Lake Howard (614 acres), Lake Idylwild (100 acres), Lake Jessie (189 acres), Lake Lulu (304 acres), Lake May (43 acres), Lake Mirror (124 acres), Lake Roy (65 acres), Lake Shipp (284 acres), Lake Spring (25 acres), Lake Summit (56 acres) and Lake Winterset (554 acres). Little Lake Eloise and Little Lake Winterset are actually bays of the larger lakes of the same name but are sometimes counted as separate lakes. The Northern Chain includes Lake Conine (238 acres), Lake Rochelle (582 acres), Lake Haines (728 acres), Lake Smart (278 acres) and Lake Fannie (832 acres). Also connected to the Northern Chain are Lake Hamilton (2,184 acres acres), Middle Lake Hamilton (103 acres acres), Little Lake Hamilton (367 acres) and Lake Henry (848 acres) – all connected through Lake Fannie and Lake Hamilton but often not included as part of the chain. Two manual boat lifts ease the way for boats between Lake Smart, Lake Fannie and Lake Hamilton. The new lock connects Lake Hartridge in the Southern Chain to Lake Conine in the Northern Chain.
A number of public boat launch sites provide access to the waterway. Large Lake Eloise does not have a public launch site, but connecting Lake Summit does. Lake Eloise is likely the lake that made Winter Haven famous, as the famed Cypress Gardens on its shore drew millions of visitors to see the water skiing exhibitions, amusement park and lush grounds. Water skiing is one of the main attractions of the Winter Haven Chain, along with jet skiing, power boating, pontooning and sailing. A number of water ski schools give lessons in barefoot skiing along with the more traditional forms.
Fishing is also popular; the Winter Haven Chain of Lakes hold healthy largemouth bass, bluegill, and back crappie populations. Fishing tournaments are held on the lakes regularly. Some of the lakes have had man-made fish habitat structures installed to improve fish viability. The wetlands offer ideal spawning grounds for several species. At least 30 other lakes, mostly quite small, lie within a mile or two of the Chain, although these lakes do not connect. Several of these also have public boat launches. A couple marinas serve boaters, and several lakeside businesses provide bait, boating essentials and convenience foods.
As Florida has struggled with drought the past few years, some of the canals have become impassible to larger boats due to low water levels. Efforts are underway to deepen the channels by two feet to avoid the problem in the future. It's a large undertaking, as many of the older seawalls risk being undermined and must be replaced. The Winter Haven Chain residents are not deterred, however, and are going through with plans to complete as many of the channels as possible. In the near future, all of the canals will again be filled with water, boating from lake to lake will resume, and life will be back to normal fun at the Winter Haven Chain of Lakes.
Winter Haven is a very tourism-friendly city, with a number of campgrounds and RV parks near the lakes and a full complement of shops, restaurants and entertainment in the downtown area. The area supports several golf courses, numerous parks, and a nature park. A new amusement park (Legoland) has taken the place of the closed Cypress Gardens, geared toward families with children under age 12. Lovely and historic Bok Tower Gardens is nearby in Haines City, and the attractions surrounding Walt Disney's famous mouse are only 40 miles away. Both the Atlantic Ocean and the Gulf of Mexico can be reached within an hour and a half, and the interesting ecological features of the Lake Wales Ridge can be accessed from numerous parks and state lands a short distance away. Far less hectic than the beaches along the coasts, the Winter Haven area is perfect for a relaxing, laid-back vacation or even a permanent home. There are formal lodgings available, with a number of hotels, motels, resorts, private rentals and bed-and-breakfasts within a short distance. Some private properties are often available on the lakeshore or canals between the lakes. These often include watercraft in the rental agreement. And, with homes along so many miles of shoreline, there is nearly always real estate for sale.
* Statistical information is difficult to discern as catchment areas overlap. Surface acreage for the entire chain is the sum of all available acreages.
Things to do at Winter Haven Chain of Lakes
Vacation Rentals
Fishing
Fishing Tournaments
Boating
Sailing
Swimming
Beach
Jet Skiing
Water Skiing
Golf
Camping
Campground
Amusement Park
Fish species found at Winter Haven Chain of Lakes
Bass
Black Bass
Bluegill
Crappie
Largemouth Bass
Sunfish
---
Winter Haven Chain of Lakes Photo Gallery
Winter Haven Chain of Lakes Statistics & Helpful Links
At LakeLubbers.com, we strive to keep our information as accurate and up-to-date as possible, but if you've found something in this article that needs updating, we'd certainly love to hear from you!
Please let us know about it on our Content Correction form.
Spread the word! Share our Winter Haven Chain of Lakes article with your fellow Lake Lubbers!