Lake Amistad, Mexico & Texas USA
Lake Locations:
Mexico - North Mexico - USA - Southwest - Texas - Hill Country -
Also known as:  International Amistad Reservoir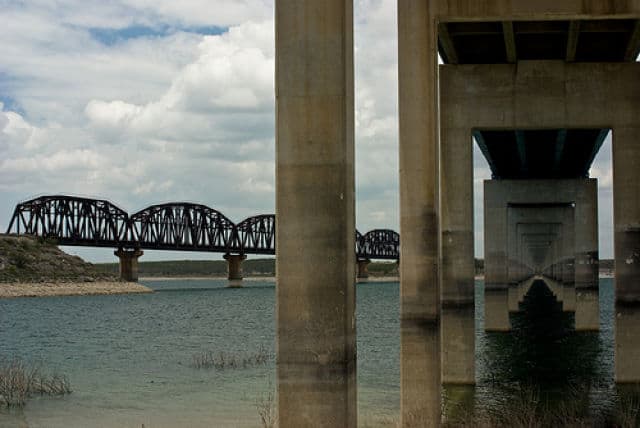 The Spanish word "Amistad" translates to "Friendship" in English … little wonder, then, that west Texas' Lake Amistad is one of the Lone Star State's most inviting water resources. Indeed, its reputation for recreation makes this 65,000-acre reservoir the crown jewel of the Amistad National Recreation Area. Construction of the Amistad Dam and Reservoir took five years to complete, from 1964 to 1969. The lake was built jointly by the American and Mexican governments for flood control, water conservation, irrigation, hydropower, and recreation at the confluence of the Rio Grande, Devils and Pecos Rivers. It was in this spirit of cooperation and goodwill that the project was named Amistad. Lake Amistad is also referred to as the International Amistad Reservoir. The International Boundary and Water Commission operates the dam.
As part of the U.S. National Park Service system, the amenities of the Amistad National Recreation Area are plentiful. Nestled along the shoreline of the three rivers, the recreation area lies 12 miles northwest of the city of Del Rio and constitutes the U.S. portion of the International Amistad Reservoir. The reservoir's shoreline spans an impressive 851 miles, of which 547 miles belong to Texas. Visitors may enter Mexico via the official port of entry along the Amistad Dam. This international lake is easily accessible via U.S. Highways 90, 277 and 377 … though its tranquility belies its convenience. Lake Amistad water levels fluctuate on average 5 to 10 feet a year. However, water levels dropped more than 50 feet during the decade long drought from 1993-2003.
Here, amidst striking limestone cliffs set under a serene blue sky, it's easy to see why generations of Texas Indians called this breathtaking land home. The convergence of the Pecos, Devil, and Rio Grande Rivers meld fluidly to provide the perfect backdrop for the 4,000 year-old Native American rock art that adorns the shelter walls of the lake's upper reaches. These amazing and mythical drawings –inspired, no doubt, by the lake's stunning scenery– are accessible via boat or land and lend insight into pre-colonial, pre-military Texas history. Pictograph tours culminating at the pristine Panther or Parida Caves are available, as are hiking expeditions through the nationally-renowned Seminole Canyon State Park and Historic Site. Local guides are typically on hand to offer beginner and advanced level treks through any of these prehistoric locales, or the countless others that dot the landscape of the Amistad National Recreation Area. Awe-inspiring flora, ancient Indian campsites, and carefully preserved artifacts abound.
Art history aside, Lake Amistad's most visible and popular attraction is its crystalline surface and the abundant fish populations below the surface. Fishing is a passion at Lake Amistad, particularly for largemouth bass, smallmouth bass, striped bass, and yellow catfish. Anglers on shore cast their lines for channel and blue catfish, crappie, and sunfish species. The ESPN national cable network established an annual elite level professional televised competition aptly deemed the "Battle on the Border." Since its 2006 debut, this tournament has attracted many of America's best anglers. Clearly, this contest combined with the bountiful bass supply has sealed Lake Amistad's status as a national fishing hotspot. Leisure and pro anglers alike are always welcome, provided they possess proper Texas or Mexican permits.
Not surprisingly, water sports reign supreme on Lake Amistad, and the area's mild climate ensures that houseboat and campground rentals are available year-round. Boaters, kayakers, swimmers, and jet skiers travel here to experience the expansive smooth waters. Scuba diving in the lake's clear water is popular for exploring underwater caves and rock formations. The Amistad National Recreation Area operates boat launch ramps at many shoreline locations; the main ramps are located at Diablo East, Rough Canyon, Box Canyon, and Southwinds (LAFB) Marina. The recreation area also provides four primitive campgrounds without RV hookups, available on a first-come-first-served basis. RV parks with full services are available in the Del Rio area.
Hunting and bird watching enthusiasts also descend upon Lake Amistad in droves, no doubt driven by the myriad of species in this bountiful nature-rich preserve. More than 200 native and migratory bird species have been documented in the Amistad National Recreation Area, including the endangered Interior Least Tern that breeds in the area in late spring. Monarch butterflies migrate through the recreation area in the fall, offering a colorful display as they roost in the trees by the thousands. And although residential and commercial development in the lake area is flourishing, the vast majority of the Texas shoreline remains beautifully unspoiled, making this reservoir an all-person, all-seasons kind of place!
The perfect getaway, Lake Amistad is a bona fide original Texas treasure. Much like an old friend, this stunning retreat beckons with scenic panoramas, sunlit art, sports contests, and aquamarine ripples.
Things to do at Lake Amistad
Vacation Rentals
Fishing
Boating
Swimming
Kayaking
Jet Skiing
Scuba Diving
Camping
Campground
Hiking
Hunting
Birding
State Park
National Park
Fish species found at Lake Amistad
Bass
Black Bass
Blue Catfish
Catfish
Crappie
Largemouth Bass
Smallmouth Bass
Striped Bass
Sunfish
---
Lake Amistad Photo Gallery
Lake Amistad Statistics & Helpful Links
Spread the word! Share our Lake Amistad article with your fellow Lake Lubbers!