Lake Chapala, Mexico
Lake Locations:
Also known as:  Lago de Chapala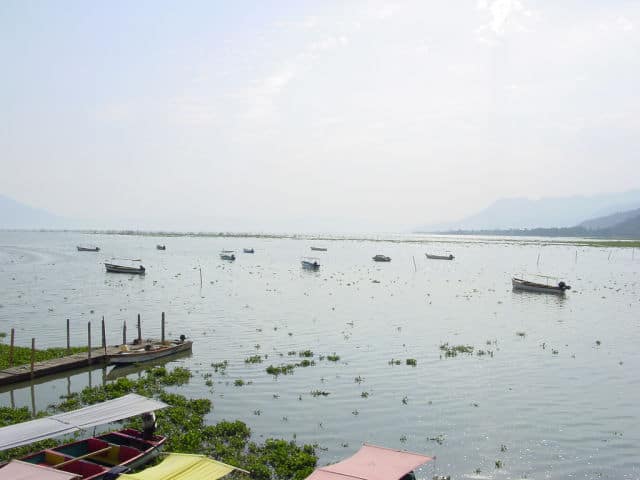 Lake Chapala, Mexico's largest freshwater lake, is renowned for its mild weather, picturesque villages and incredible sunsets. Located on a large plateau in the Sierra Madre mountain range and 25 miles south of the city of Guadalajara, it is a popular vacation destination for citizens of Mexico as well as international travelers.
Mostly located in the state of Jalisco but also extending into Michoacan, Lake Chapala is approximately 48 miles long by 10 miles wide with a surface area of 274,781 acres. Rio Lerma is the primary river flowing into the lake, and Rio Santiago flows out of the lake to the Pacific Ocean. Located about 5,000 feet above sea level, water levels fluctuate about four feet annually.
Lake Chapala's popularity began in the early 1900s when Mexican President Porfirio Diaz visited the area and fell in love with its beauty. He had an estate built, the Villa Montecarlo, which today serves as one of the lake's country clubs. A large number of American and Canadian retirees have made Lake Chapala their home. The cost of living in and around the Lake Chapala region is known for its affordability. The area's three main cities – Chapala, Ajijic and Jocotepec – are located on the lake's northern shore. Hotels and vacation rentals can be found in various towns throughout the area.
Lake Chapala is a favorite stop for many migrating birds, including the famous White Pelican. In addition, the ecosystem of the lake supports thousands of indigenous plants and animals. Unfortunately, pollution from industrial and agricultural sources has adversely affected the lake. Despite the lake's size, the lake is very shallow (34 feet at its deepest point) and is susceptible to infestations of sea weed and water hyacinth. Additionally, Guadalajara's great demand for fresh water has taken its toll and added to the lake's ecological concerns. Fortunately, several grassroots groups and international entities, including the scientific community, have initiated several conservation programs, which aim to protect the environment of Lake Chapala. The lake received Ramsar Protection Status on February 4, 2009.
Although swimming is not recommended in Lake Chapala, water-sports can still be enjoyed. Whitefish (Chirostoma), tilapia, carp, mojarra, and catfish are among the edible fish found in the lake. Boating and sailing are also popular.
Lake Chapala is the home to two islands: Mezcala Island and Scorpion Island. Mezcala Island, or Isla Presidio, is a national monument that boasts magnificent ruins of an old fort where Mexican forces fought the Spaniards from 1812 to 1816. Scorpion Island, or Isla Alacranes, has several restaurants that serve mouthwatering local dishes. Both islands are ideal sites for bird watching. You can easily charter or rent a boat to take you to these islands.
Another major Lake Chapala landmark to explore is the historic church of Chapala, the Iglesia de San Francisco. Built in 1528, the church is located two blocks south of the main plaza in Chapala. On the main street, Avenida Madero, there are plenty of restaurants, cafes and shops to enjoy. Weekends provide more shopping opportunities when local craftspeople set up booths with items to sell, including local handicrafts, musical instruments, ceramics, and leather goods.
Near the craft market is the Christiana Park known for its children's playgrounds, tennis courts, sports fields and swimming pool. Golfers will want to visit the nearby Chapala Country Club with its excellent nine-hole golf course.
The most popular city on Lake Chapala is Ajijic, a charming, old-world town of 15,000 people. Hillside villas, traditional dwellings and cobbled-stoned streets will make you feel like you've gone back in time. You will also find modern restaurants, a golf course and many organized lakeside activities.
Its perfect climate, beautiful scenery and abundance of water related sports and activities make Lake Chapala the perfect place to visit and explore or retire to and call home.
Things to do at Lake Chapala
Vacation Rentals
Fishing
Boating
Sailing
Swimming
Swimming Pool
Golf
Tennis
Birding
Ruins
Playground
Shopping
Fish species found at Lake Chapala
Carp
Catfish
Mojarra
Tilapia
Whitefish
---
Lake Chapala Photo Gallery
Lake Chapala Statistics & Helpful Links
Spread the word! Share our Lake Chapala article with your fellow Lake Lubbers!