Lake Avandaro, Mexico
Lake Locations:
Mexico - Central Mexico -
Also known as:  Valle de Bravo Reservoir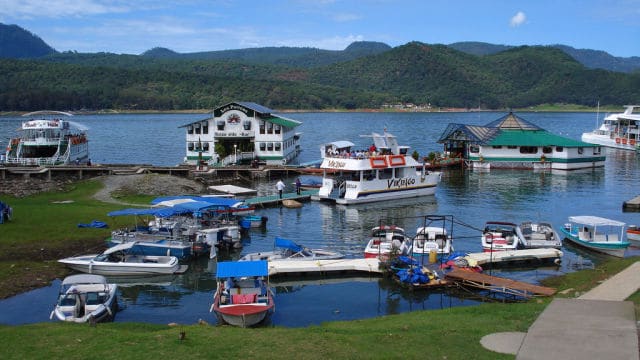 He had traveled a long way to reach Lake Avandaro in Mexico, flapping tissue paper wings and riding gentle air currents following the summer south. He was almost home, but he was hungry. Below him were colors that belonged in a field of flowers – blues, greens, white, large patches of red, and spots of every color in the rainbow. He dipped his orange and black wings and glided down to find flowers and the nectar that gave him energy. The blue was not flowers, but the acres of water that make up Lake Avandaro.
Undiscouraged, he continued across the water, past the floating restaurants, over cobblestone streets, and up the hill towards the patches of red and white. The white turned out to be white adobe walls and the red was the town's red tiled roofs. Just ahead, however, colors exploded heaped on tables and piled in baskets. Surely these would be the flowers he was looking for. What he found instead was the central plaza of Valle de Bravo on market day with fruit and vegetables of every shape and size from the fields outside the town and brightly colored pottery and hand crafts made by local artisans. He turned to leave unsure how far he had traveled off course when he saw a hanging basket full of brightly colored flowers. He wasn't at the winter grounds of the monarch butterfly yet, but he was close. Surely it wouldn't hurt to pause in beautiful Valle de Bravo on the shores of Lake Avandaro for just one night. Tomorrow he could find the pine trees and his fellow monarchs. Today he'd watch the people play in Valle de Bravo.
Avandaro is Tarascan, the language of one of Mexico's indigenous people, for "Fantasy Place," and Lake Avandaro and Valle de Bravo are almost fairytale beautiful. Cobblestone streets wind through the town, past adobe buildings bumped up against Franciscan chapels in this colonial-era town. In fact in 2005 the Mexican government named Valle de Bravo a "Pueblos Magicos." Just a two hour drive southwest of Mexico City, Lake Avandaro and the town on its shore has become a popular weekend playground for Mexicans. It is still, however, one of Mexico's best kept secrets from international tourists.
Valle de Bravo wasn't always on the lake. Lake Avandaro also known as Valle de Bravo Reservoir is a man-made reservoir providing hydroelectric power and part of the water supply for Mexico City. In 1937, the Federal Commission on Electricity designed the Miguel Aleman Hydroelectric System. Construction on the dam started in 1938 and the reservoir was completed in 1947 flooding 7,166 acres of farmland and catapulting Valle de Bravo into a tourist destination. Hotels, restaurants, shops and galleries sprung up to cater to the visitors that flocked to the town to relax on the water.
Lake Avandaro is a popular place to boat, water ski, sail and fish. Anglers can challenge themselves against healthy populations of catfish, mojarro, and carp. A boardwalk and dock extend around part of the lake with places for boat rentals, restaurants, and weekend art shows. Nearby golf courses and paragliding round out the activities.
Less than 45 minutes from Valle de Bravo Reservoir, Bosencheve National Park is a fantastic day trip. The 37,500 acres park is in a pine forest with two small lagoons, and it is a great place to hike through Mexico's natural beauty. Perhaps one of the area's most interesting day trips, however, is to the Piedra Herrada Sanctuary, a federal reserve created to protect the wintering grounds of the monarch butterfly. Visitors can rent horses and ride up the mountain then continue on foot to see the butterflies.
At the close of the day there are vacation rentals overlooking the lake and mountains. Guests can sit on decks watching the sailboats come to moor for the night and as night falls watch the town come back to life as the clubs and bars open. Real estate for sale in Valle de Bravo can make the dream of living in a Mexican paradise a reality. The charming town on the shore of Lake Avandaro guarantees that the monarchs won't be the only ones returning year after year.
Things to do at Lake Avandaro
Fishing
Boating
Sailing
Water Skiing
Golf
Hiking
Horseback Riding
National Park
Playground
Fish species found at Lake Avandaro
---
Lake Avandaro Photo Gallery
Lake Avandaro Statistics & Helpful Links
At LakeLubbers.com, we strive to keep our information as accurate and up-to-date as possible, but if you've found something in this article that needs updating, we'd certainly love to hear from you!
Please let us know about it on our Content Correction form.
Spread the word! Share our Lake Avandaro article with your fellow Lake Lubbers!