Lake Almanor, California, USA
Lake Locations:
USA - West - California - Shasta Cascade -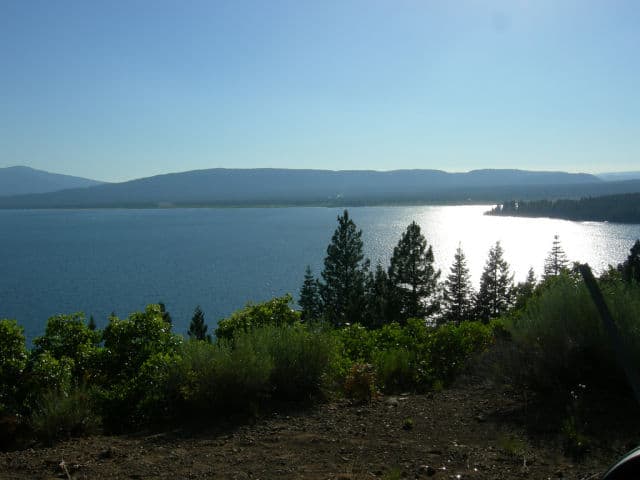 One of the largest artificial lakes in the state, Lake Almanor lays claim to approximately 28,000 acres of northeastern California. The lake was created when Great Western Power built a dam on the North Fork Feather River in 1927. The dam currrently provides hydroelectric power under the ownership of Pacific Gas and Electric. The name "Almanor" combines the names of the three daughters of one of Great Western Power's vice presidents: ALice, MArtha, and ElaNOR. The lake's beauty, recreational resources and excellent weather patterns have made Lake Almanor a popular weekend destination.
Safely snuggled between the Sierra Nevada Mountains and the Cascade Mountain Range, Lake Almanor offers its visitors and residents magnificent views and picturesque activities. Start your trip on the deep, crystal blue waters, indulging in some great boating fun. All kinds of boats dot the lake's surface, from leisurely canoes to high-speed power boats. You can slowly and quietly investigate Lake Almanor coves in a canoe or kayak, cozying up to jutting rocks and getting up-close views of shy wildlife. If adventure is your game, a speed boat is the ticket, allowing you to visit all 52 miles of lake shoreline.
The water fun doesn't end with a boat trip, as Lake Almanor is inviting to swimmers, water skiers, and wakeboarders alike. Hop behind a power boat and join in one of the lake's favorite pastimes and, if you're up for it, challenge yourself to drop a ski and slalom for a bit. When the sun has warmed your skin, find a quiet place to dive into the cool depths, refreshing yourself with a leisurely lake swim.
For anglers, Almanor Lake is an aquatic haven for brown trout, crappie, salmon, and smallmouth bass. Believed to be one of the lake's best kept secrets, the trout and bass fishing are what anglers dream of, with great populations of large specimens. Fishing is best done in summer and fall, when the night air is cool and the fish are biting, though you can expect to get lucky any time of day or year.
A visit to Lake Almanor is not complete without a visit to Lassen Volcanic National Park, a 106,000 acre expanse of ancient and still-active volcanoes. The last eruption was on May 22, 1915, when Lassen Peak erupted with a vengeance, spreading ash over a 200 mile radius. Today, as you hike or horseback ride along the park's 150 miles of trails, you'll witness bubbling mud pots, boiling pools, and hissing fumaroles that all hint at the powerful natural forces that keep these volcanoes alive. Hike the "Ring of Fire", ascending and descending the hilly terrain, and witness fields of wildflowers, a boiling coldwater lake, and spectacular panoramic views.
Lassen Volcanic National Park is truly a beautiful place, offering postcard-perfect views of cloudless sapphire skies, snow-covered mountains, and dark volcanic rock. Take advantage of your time here to go bird watching, keeping your eyes wide open for the 83 species of birds that make their homes here. Watch as hawks and eagles soar through the sky, their piercing cry echoing off the ridges. Try and catch a photo of colorful migratory birds, resting on their journey south. And when you've gotten a bit tired, hop in your car and take a scenic drive along the park's 35-mile road that loops through some of the most interesting and unique terrain you will ever see.
Lake Almanor is an aquatic paradise of cool waters, warm sun, great fishing, bountiful nature, snowcapped mountains, and breathtaking sunsets.
Things to do at Lake Almanor
Vacation Rentals
Fishing
Boating
Swimming
Canoeing
Kayaking
Water Skiing
Wakeboarding
Hiking
Horseback Riding
Wildlife Viewing
Birding
National Park
Fish species found at Lake Almanor
Bass
Black Bass
Brown Trout
Crappie
Salmon
Smallmouth Bass
Trout
---
Lake Almanor Photo Gallery
Lake Almanor Statistics & Helpful Links
Spread the word! Share our Lake Almanor article with your fellow Lake Lubbers!