June Lake, California, USA
Lake Locations:
USA - West - California - High Sierra -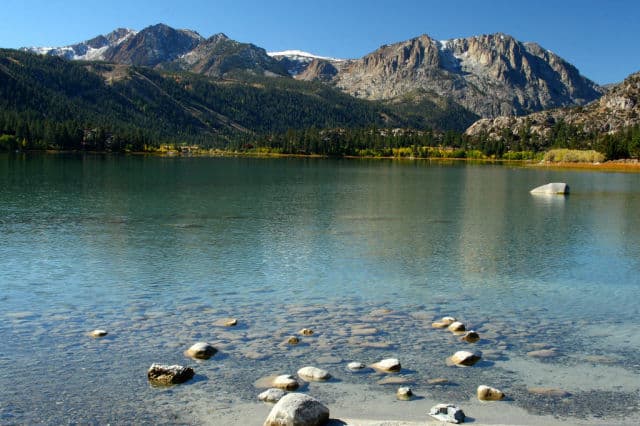 With Yosemite to the west, Kings Canyon to the south, Lake Tahoe to the north and Nevada to the east, there is no place to vacation like June Lake. Located in California's Eastern Sierra Nevada Mountains, June Lake borders the unincorporated resort community of June Lake Village. The village and four lakes are found along June Lake Loop. The loop is actually California State Route 158 which leaves U.S. Highway 395, loops 16 miles around a canyon and returns to Highway 395. Within the 16 miles you will find endless winter and summer activities. If you enjoy skiing, snowshoeing, snowmobiling, ice climbing, fishing, camping, hiking, boating, bicycling or birdwatching, June Lake Loop is waiting for you.
Originally inhabited by Paiute and Shoshone Native Americans, the June Lake area remained fairly isolated until road and rail construction started in the early 1900s. The initial attraction to June Lake Loop was not California's gold or silver, but hydropower. The construction of the first power house was completed west of June Lake in 1916. Soon afterward small fishing camps and resorts began to appear. By 1940 ski lifts and resorts began to appear, and June Lake flourished. In today's competitive tourism market June Lake continues to provide a small assortment of cabins, lodges, resorts, vacation rentals and real estate properties while maintaining its quiet rural lifestyle. Follow Highway 395 south of June Lake, and in ten miles you will enter the ski resort community of Mammoth Lakes.
If you turn south off Highway 395 at North June Lake Junction, you will pass the first of four lakes along June Lake Loop. Grant Lake is the largest lake serving as a reservoir on the Los Angeles Aqueduct System. Known as one of the Sierra's leading trout fishing lakes, a 10 mph limit is enforced upon boaters until 10:00 a.m. each morning to accommodate early morning anglers. After 10:00 a.m. the lake is open to boaters and water skiers. Next is Silver Lake, home to fine fishing, summer vacation homes and several trail heads connecting to the Ansel Adams Wilderness, Yosemite, Pacific Crest Trail and John Muir Trail. The third lake on the loop is Gull Lake, smallest of the four lakes. The heart of June Lake Village lies between Gull Lake and nearby June Lake. A boat ramp, park, playground and tennis courts can be found along the shores of Gull Lake, home to trout, crayfish and Sacramento perch.
The fourth lake is June Lake. Sitting at an elevation of 7,621 feet, this beautiful lake offers a commanding view of the towering granite mountains surrounding June Lake Loop. June Lake is a natural 320-acre glacial lake filled by spring water. The lake's average depth of 60 feet and maximum depth of 168 feet are stocked with rainbow trout and cutthroat trout by California's Department of Fish and Game. Additional species include brook trout, brown trout, Alpers trophy trout, and Lahontan cutthroat trout unique to June Lake. A marina provides boat rentals and a wide selection of services during fishing season which runs from April through October.
June Lake water is cold, but on warm summer days two lakeside beaches attract sunbathers and swimmers. The first beach is located at the north end of the lake, and the other is near the marina along the southeastern shore. If the water feels too cold for a swim, consider sailing or kayaking around the three-mile shoreline.
Part of California's High Sierra Tourism Region, the tall granite peaks and large stone columns surrounding June Lake Loop attract hikers, rock climbers and mountain climbers. Parker Lake Trail is the easiest climb with a distance of two miles and 400 foot elevation. Fern Lake, Reversed Peak, and Agnew Lake Trails are difficult vertical climbs not recommended for novices. Back country trails connect hikers to the Ansel Adams Wilderness Area. Equestrian outfitters and trails are readily available for those who prefer a ride into the back country.
Ansel Adams Wilderness Area lies immediately west of June Lake Loop and covers 228,500 acres divided between the Inyo and Sierra National Forests. Photographers, mountain climbers and experienced hikers will enjoy the rugged mountainous landscape covered with wildflowers in the spring and colorful quaking aspens in the fall. Peaks reaching over 13,000 feet in the Ritter Range display several small glaciers and mountain lakes.
A 25-mile drive northwest of June Lake takes you to the entrance of Yosemite National Park. Known for its breathtaking natural beauty, spectacular waterfalls, sheer granite cliffs and giant sequoias, Yosemite attracts 3.5 million visitors a year. Those willing to hike beyond the major attractions will be treated to over 800 miles of hiking trails through woodlands, subalpine and alpine habitats supporting a variety of rare plant and animal life. A park not to be missed, the outstanding scenery and diversity found in Yosemite led to its designation as a UNESCO World Heritage Site.
On your way to Yosemite you will pass by the eerily beautiful Mono Lake Tufa State Natural Reserve. This saline lake is one of the oldest lakes in America with the lake and wetlands providing habitat for over 80 species of migratory birds. In 1941 Los Angeles County diverted water from Mono Lake, resulting in a drop of the lake level and exposing towering deposits of calcium-carbonate. The deposits are called tufas and at 200 to 13,000 years old, the towering figures make a spectacular scene surrounded by the Sierra's snow-covered mountains.
Over the years the rugged mountain landscape of the Eastern High Sierras has become known as the "Switzerland of California." With such a name it is not surprising that June Lake Loop and nearby Mammoth Lakes provide a playground for winter sport enthusiasts. Whether your preference is skiing, snowboarding, snowshoeing, snowmobiling or ice climbing, you will find it close to June Lake.
Sitting within Mono County and Inyo National Forest, June Lake Loop has hosted visitors since 1915. June Lake's year-round recreation, stunning views, and blissfully remote location continue to create the perfect vacation environment. Several private and two U. S. Forest Service campgrounds surround June Lake. Over 50 percent of the private residences in June Lake are second homes. Additional small intimate resorts, cabins, vacation rentals and real estate properties complete the selection of June Lake Loop accommodations. Select your favorite spot and watch the day fade away over the mountains knowing that new mountain adventures awaits you each morning.
Things to do at June Lake
Vacation Rentals
Fishing
Boating
Sailing
Swimming
Beach
Kayaking
Water Skiing
Tennis
Camping
Campground
Cabin Rentals
Hiking
Mountain Climbing
Ice Climbing
Biking
Snowboarding
Snowmobiling
Horseback Riding
Waterfall
Birding
National Park
National Forest
Playground
Fish species found at June Lake
Brook Trout
Brown Trout
Cutthroat Trout
Perch
Rainbow Trout
Sacramento Perch
Trout
---
June Lake Statistics & Helpful Links
Spread the word! Share our June Lake article with your fellow Lake Lubbers!